Jason Momoa desmiente rumor de que sale con Kate Beckinsale luego de darle su abrigo en la fiesta de los Oscar
"Ahora no le daré mi abrigo a nadie"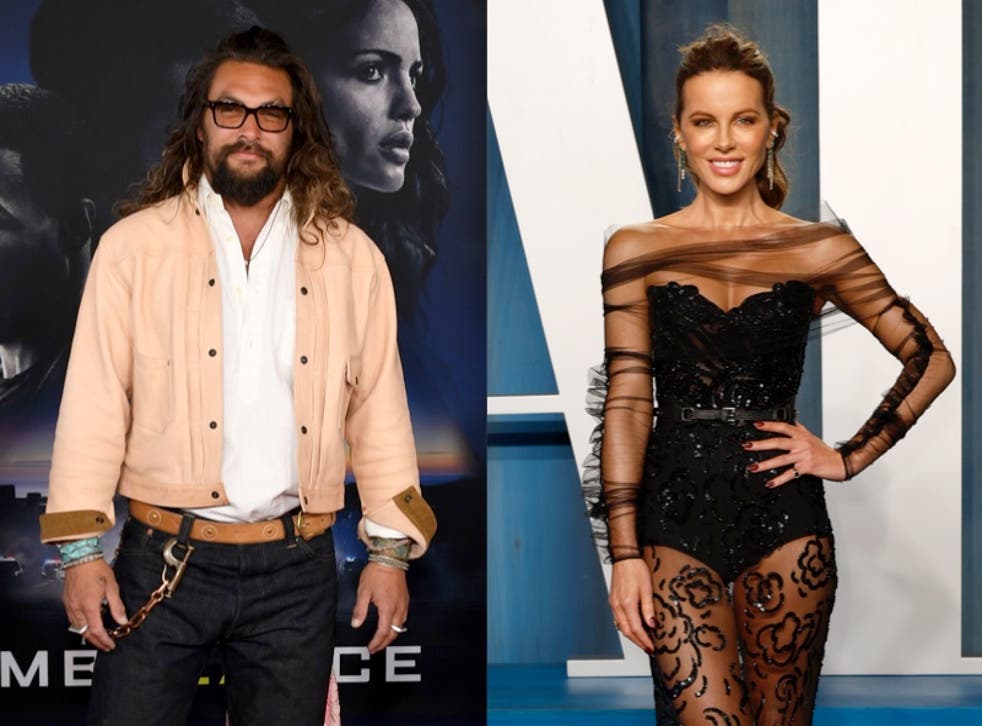 Read in English
Jason Momoa habló sobre los rumores de que está saliendo con Kate Beckinsale después de que la pareja fuera fotografiada durante una fiesta posterior a los Oscar.
El 27 de marzo, la estrella de Aquaman, de 42 años, y Beckinsale, de 48, fueron vistos juntos en la fiesta de Jay-Z posterior a los Oscar, durante la cual fueron fotografiados de pie mientras la estrella de Underworld vestía la chaqueta de Momoa.
En ese momento, las fotografías generaron rumores de que Momoa, quien recientemente anunció que él y Lisa Bonet terminarían su matrimonio después de cinco años y más de una década juntos, y Beckinsale estaban saliendo.
Sin embargo, desde entonces Momoa ha negado las insinuaciones de una relación, y el actor afirmó que Beckinsale estaba usando su abrigo por "caballerosidad" y porque ella "tenía frío".
El actor habló sobre los rumores en una entrevista para Extra durante el estreno en Los Ángeles de la película Ambulance el lunes, donde dijo sobre los chismes: "Fue una locura".
Según Momoa, en ese momento él y Beckinsale estaban teniendo una conversación sobre Inglaterra, la tierra natal de la actriz, ya que es donde él estaba filmando Aquaman 2, pero eso no impidió que todos asumieran que la pareja estaba saliendo.
"Tengo una conversación con una mujer sobre su país, yo estaba en Inglaterra haciendo Aquaman 2 [y] todos dicen: '¡¿Están saliendo?' No, no, era caballerosidad, la mujer tenía frío", comentó el actor.
Momoa luego reiteró que él y Beckinsale no están juntos y agregó: "Absolutamente no, no estamos juntos. Ella es muy amable, yo estaba siendo muy amable, solo estaba siendo un caballero".
Luego, el actor agregó en broma: "Ahora no le daré mi abrigo a nadie".
Hace unas semanas, Momoa y Bonet, que tienen un hijo de 13 años juntos, Nakoa-Wolf, y una hija de 14, Lola, anunciaran en un comunicado conjunto en enero que terminarían su matrimonio.
En ese momento, la pareja dijo que "todos hemos sentido la presión y los cambios de estos tiempos de transformación" y que "se está desarrollando una revolución y nuestra familia no es una excepción".
El actor de Game of Thrones luego expresó su agradecimiento por la "privacidad continua" en una publicación de Instagram, donde compartió fotos de él y sus hijos cuando asistieron al estreno de The Batman en apoyo de su hijastra Zoë Kravitz.
Después de compartir elogios para Kravitz, Momoa escribió: "Pasamos un tiempo maravilloso en Nueva York", y luego agregó: "Mahalo a los fanáticos y la prensa por ser generosos y darnos espacio para los niños, ya es bastante difícil separarse bajo el escrutinio del público. Apreciamos la privacidad continua durante estos tiempos".
Hasta el momento, Beckinsale, quien estuvo casada con Len Wiseman de 2004 a 2019 y tiene una hija de 23 años, Lily, con su ex Michael Sheen, no ha comentado sobre los rumores.
Register for free to continue reading
Registration is a free and easy way to support our truly independent journalism
By registering, you will also enjoy limited access to Premium articles, exclusive newsletters, commenting, and virtual events with our leading journalists
Already have an account? sign in
Register for free to continue reading
Registration is a free and easy way to support our truly independent journalism
By registering, you will also enjoy limited access to Premium articles, exclusive newsletters, commenting, and virtual events with our leading journalists
Already have an account? sign in