Elizabeth MacDonough recorta plan demócrata para medicamentos en la Ley de Reducción de la Inflación
El plan haría que los fabricantes reembolsaran a Medicare si aumentaran los precios de los medicamentos por encima de la inflación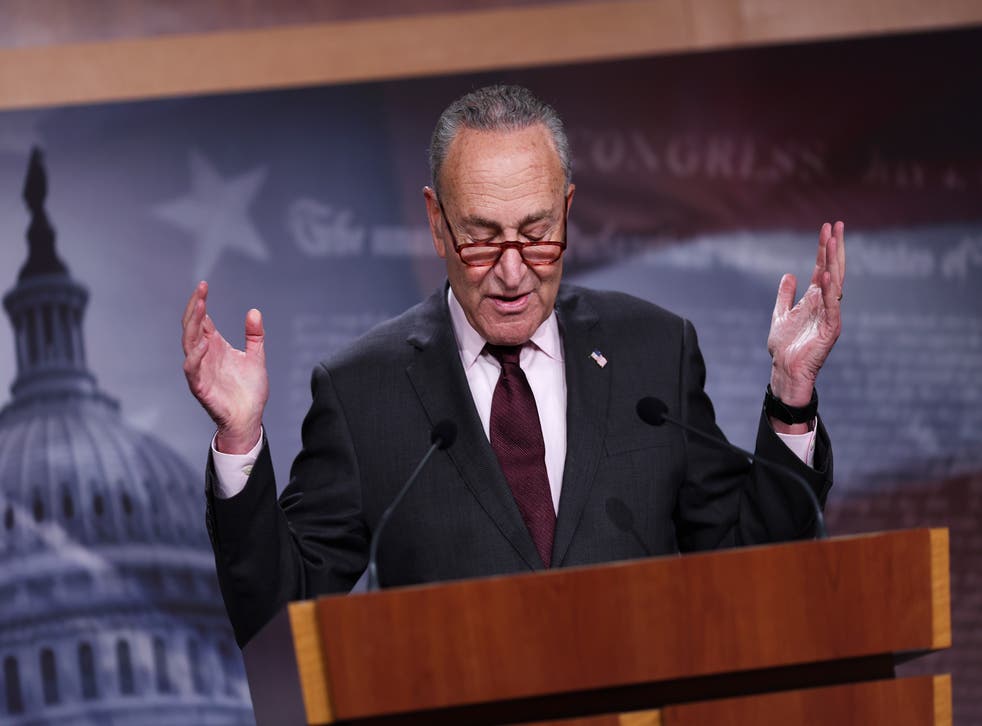 Read in English
La "parlamentaria" (experta en asuntos parlamentarios) Elizabeth MacDonough del Senado eliminó el sábado un aspecto clave del plan propuesto por los demócratas para permitir a Medicare negociar los precios de los medicamentos recetados.
El líder de la mayoría del Senado, Chuck Schumer, anunció el sábado por la mañana que Elizabeth MacDonough dio a conocer su orientación diciendo que el aspecto del reembolso por inflación de la legislación de los demócratas, llamada Ley de Reducción de la Inflación, debería tener un alcance más limitado.
"Si bien hubo un fallo desafortunado en el sentido de que el reembolso por inflación tiene un alcance más limitado, el programa general permanece intacto y estamos un paso más cerca de enfrentarnos finalmente a las grandes farmacéuticas y de reducir los precios de los medicamentos de venta con receta para millones de estadounidenses", señaló.
Schumer y el senador Joe Manchin, de Virginia Occidental, anunciaron su acuerdo sobre la legislación el pasado miércoles, siendo una parte clave de la misma que se permitiera a Medicare negociar los precios de los medicamentos.
Además, la legislación habría exigido a las compañías farmacéuticas que devolvieran a Medicare la diferencia entre la tasa de inflación y el aumento del precio de los medicamentos si subiera los precios por encima de la tasa de inflación.
A pesar de las indicaciones de la parlamentaria, el presidente de la Comisión de Finanzas del Senado, Ron Wyden, dijo que gran parte de la legislación sigue intacta.
"Hemos podido mantener las reformas clave, en particular la negociación, que a lo largo de los años va a producir un billón de dólares", declaró a The Independent.
Pero la senadora Elizabeth Warren se mostró decepcionada por la orientación de McDonough.
"La parlamentaria suprimió una gran parte de este proyecto de ley y eso es doloroso", expresó la demócrata de Massachusetts a The Independent. "Pero tenemos elecciones en noviembre y, si conseguimos dos demócratas más en el Senado de los Estados Unidos y nos quedamos con la cámara, podemos deshacernos del filibusterismo y entonces la parlamentaria no podrá tomas estas decisiones".
Los demócratas, que solo tienen 50 escaños en su bancada, y esperan aprobar la legislación a través de un proceso llamado "Byrd Bath", o reconciliación presupuestaria, que les permitiría evitar un filibusterismo (u obstrucción parlamentaria) republicano para aprobar la legislación por mayoría simple y que la vicepresidenta Kamala Harris rompa el empate.
Para ello, la parlamentaria del Senado debe someter el proyecto de ley al proceso "Byrd Bath" en el que determina si la legislación es pertinente para el presupuesto o si se considera un "asunto extraño". La orientación de la parlamentaria del Senado no es vinculante, pero requiere que el vicepresidente anule a la parlamentaria, lo que es poco probable que ocurra.
El líder de la mayoría del Senado, Chuck Schumer, dijo que mantuvo el Senado fuera de sesión el viernes para dar a McDonough la oportunidad de revisar a fondo la legislación, pero que el Senado votaría la moción de proceder, que iniciaría el debate, el sábado.
Los demócratas están esperando que McDonough dé a conocer su orientación sobre la legislación del senador Raphael Warnock en el proyecto de ley que limitaría el precio de la insulina para las personas con diabetes a US$35. Warnock se enfrenta a una dura reelección en Georgia este noviembre.
Register for free to continue reading
Registration is a free and easy way to support our truly independent journalism
By registering, you will also enjoy limited access to Premium articles, exclusive newsletters, commenting, and virtual events with our leading journalists
Already have an account? sign in
Register for free to continue reading
Registration is a free and easy way to support our truly independent journalism
By registering, you will also enjoy limited access to Premium articles, exclusive newsletters, commenting, and virtual events with our leading journalists
Already have an account? sign in