Hallan brillante anillo de luz escondido alrededor de un agujero negro supermasivo
Oculto detrás de un anillo de fuego, había un anillo de luz más fino alrededor del primer agujero negro que se haya fotografiado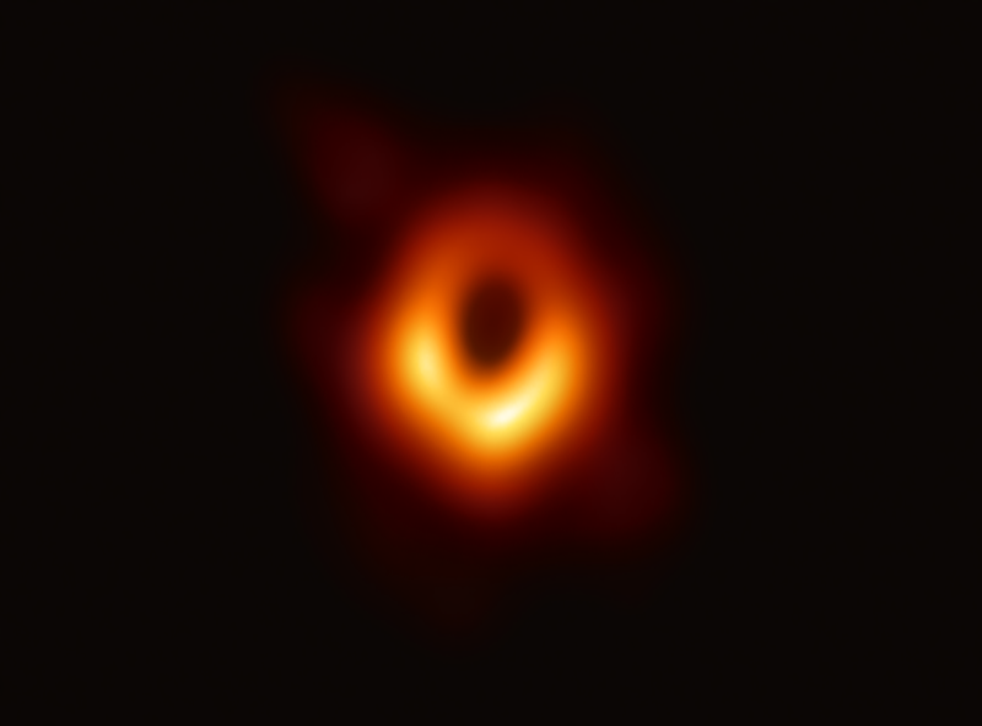 Read in English
Los científicos que estudian la primera imagen tomada de un agujero negro supermasivo han descubierto un brillante anillo de luz que se esconde bajo el ardiente resplandor anaranjado que lo rodea, lo que confirma una antigua teoría sobre los agujeros negros.
En 2019, los científicos utilizaron el EHT (Telescopio Event Horizon) para crear la primera imagen del agujero negro supermasivo en el corazón de la galaxia M87, a unos 53 millones de años luz de la Tierra. La imagen resultante de un círculo oscuro borroso envuelto en lo que parece una llama naranja fue inmediatamente comparada con el "Ojo de Sauron" de The Lord of the Rings por uno de los científicos que trabajaron en el proyecto.
El resplandor anaranjado que se ve en la imagen de 2019 es el resultado del intenso calentamiento del gas y el polvo cuando se arremolina en órbitas cada vez más estrechas antes de desaparecer por las fauces unidireccionales del agujero negro.
Pero los científicos sabían que, en teoría, también debería haber una banda de luz brillante alrededor del agujero negro en M87, un anillo hecho de partículas de luz, o fotones, doblados alrededor del agujero negro por su inmensamente poderosa gravedad.
Ahora, un equipo dirigido por el astrofísico de la Universidad de Waterloo, Avery Broderick, ha vuelto a procesar los datos originales del Telescopio Event Horizon y ha revelado el anillo previsto, una cinta brillante de luz alrededor del perímetro de un agujero negro 6.000 millones de veces más masivo que nuestro Sol. Los resultados se publicaron el lunes en The Astrophysical Journal.
"Apagamos el reflector para ver las luciérnagas", dijo el Dr. Broderick en un comunicado. "Hemos sido capaces de hacer algo profundo: resolver una firma fundamental de la gravedad alrededor de un agujero negro".
La imagen directa de un agujero negro, y el nuevo procesamiento de esa imagen, fueron posibles gracias a la construcción del Telescopio Event Horizon, un conjunto mundial de radiotelescopios que funcionan juntos como una lente gigantesca en el cielo de radiofrecuencias.
El hecho de que el telescopio procese radiofrecuencias, en lugar de visuales, y coordine una miríada de telescopios individuales, facilitó el tipo de procesamiento de datos en el que se basó el equipo del Dr. Broderick. Como instrumento científico "esencialmente computacional", dijo, "depende tanto de los algoritmos como del acero. Los desarrollos algorítmicos más avanzados nos han permitido sondear las características clave de la imagen, mientras que el resto se representa en la resolución nativa del EHT".
Mientras el equipo del Dr. Broderick profundiza en la imagen de 2019, el Telescopio Event Horizon sigue tomando nuevas imágenes del cosmos, incluida la primera imagen del agujero negro supermasivo en el centro de nuestra propia Vía Láctea, publicada en mayo. Los científicos creen que los agujeros negros supermasivos pueden estar al acecho en el centro de la mayoría de las galaxias y pueden desempeñar un papel importante en la evolución galáctica.
Register for free to continue reading
Registration is a free and easy way to support our truly independent journalism
By registering, you will also enjoy limited access to Premium articles, exclusive newsletters, commenting, and virtual events with our leading journalists
Already have an account? sign in
Register for free to continue reading
Registration is a free and easy way to support our truly independent journalism
By registering, you will also enjoy limited access to Premium articles, exclusive newsletters, commenting, and virtual events with our leading journalists
Already have an account? sign in