La prometida de Brooklyn Beckham se pondrá "dos vestidos de Valentino" el día de su boda
Según se informa, la pareja se casará en abril en Florida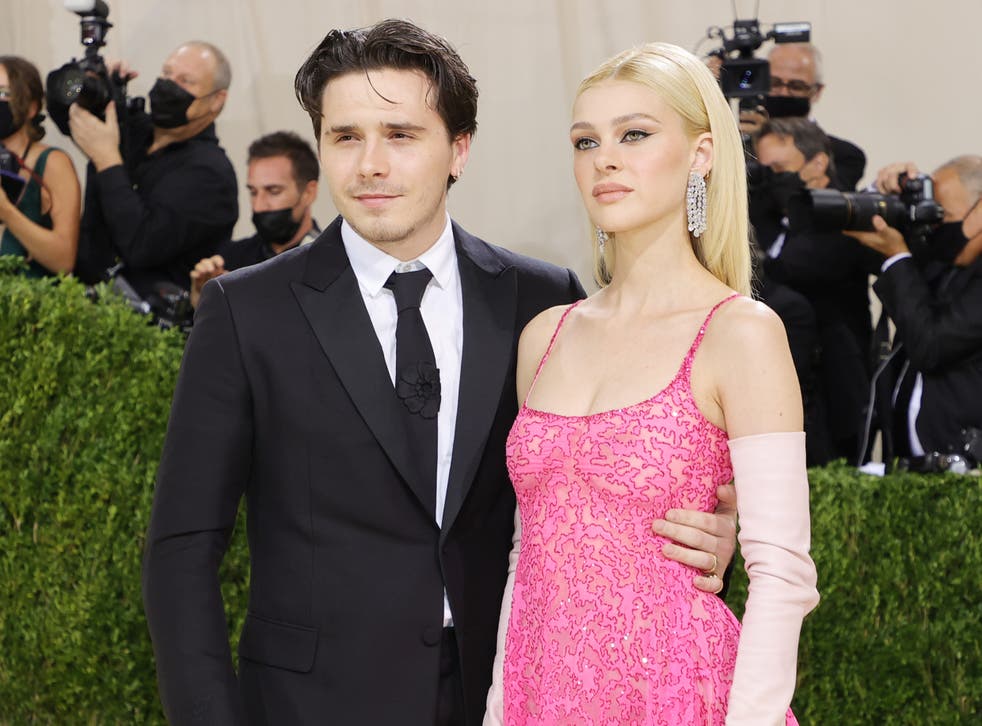 Read in English
Se espera que la boda de Brooklyn Beckham y Nicola Peltz sea un acontecimiento lujoso al que asistirá una lista de invitados repleta de estrellas y que, al parecer, tendrá lugar el 9 de abril.
Según The Sun, el enlace de la famosa pareja será cubierto por la revista EE.UU. y la ceremonia se celebrará en la finca del multimillonario padre de Peltz en Palm Beach, Florida.
Pero la pregunta que todo el mundo se hace es a quién recurrirá la protagonista de Bates Motel, de 27 años, para diseñar su vestido de novia, y algunos reportes sugieren que podría ser su futura suegra, Victoria Beckham.
Victoria, que tiene su propia marca de moda, diseñó el vestido amarillo que llevó Peltz cuando Brooklyn le pidió matrimonio en julio de 2020.
Pero para su gran día, The Sun cita una fuente que dice que Peltz está planeando no uno, sino dos vestidos de Valentino "de cuento de hadas", añadiendo que Victoria es "totalmente partidaria de la medida".
En una entrevista con CR Fashion Book en noviembre de 2021, Peltz reveló que había volado a Roma dos veces al estudio de Valentino para trabajar en su look de novia.
Declaró a la publicación: "La primera vez que fui a Roma, llevé a mi madre y a mi hermano Brad, que es en realidad mi hombre de honor, y luego a Leslie Fremar, que es una de mis mejores amigas en todo el mundo".
Peltz añadió que participó en el diseño del vestido, a pesar de no haber pensado antes en "un vestido específico con el que quería casarme".
"Así que descubrir lo que es eso con Valentino fue realmente increíble. El proceso creativo ha sido divertido, como encontrar el ajuste y el tejido perfectos".
Según se informa, la revista Vogue tendrá los derechos exclusivos para cubrir la boda, después de que el director de entretenimiento de la revista, Sergio Kletnoy, haya "cortejado fuertemente a la pareja".
La fotógrafa Annie Leibovitz, que suele fotografiar para la emblemática revista de moda, también ha sido contratada para tomar imágenes del gran día.
La fuente añadió: "Es comprensible que Nicola y Brooklyn quieran que todo el día sea perfecto y su atención a los detalles es bastante sorprendente".
"Obviamente, el dinero no es un problema, pero quieren que el día sea una celebración del amor, no de la riqueza".
Register for free to continue reading
Registration is a free and easy way to support our truly independent journalism
By registering, you will also enjoy limited access to Premium articles, exclusive newsletters, commenting, and virtual events with our leading journalists
Already have an account? sign in
Register for free to continue reading
Registration is a free and easy way to support our truly independent journalism
By registering, you will also enjoy limited access to Premium articles, exclusive newsletters, commenting, and virtual events with our leading journalists
Already have an account? sign in