'Descompuesto sin remedio': 150 ejecutivos, incluida Sheryl Sandberg, se unen a The Independent para exigir el fin de la pena de muerte
Los ejecutivos, los consumidores y los empleados quieren cada vez más que las empresas adopten una postura, y pocos temas son más urgentes que la pena de muerte. Josh Marcus escribe sobre los motivos por los que The Independent y decenas de líderes piden un cambio
martes 19 octubre 2021 22:01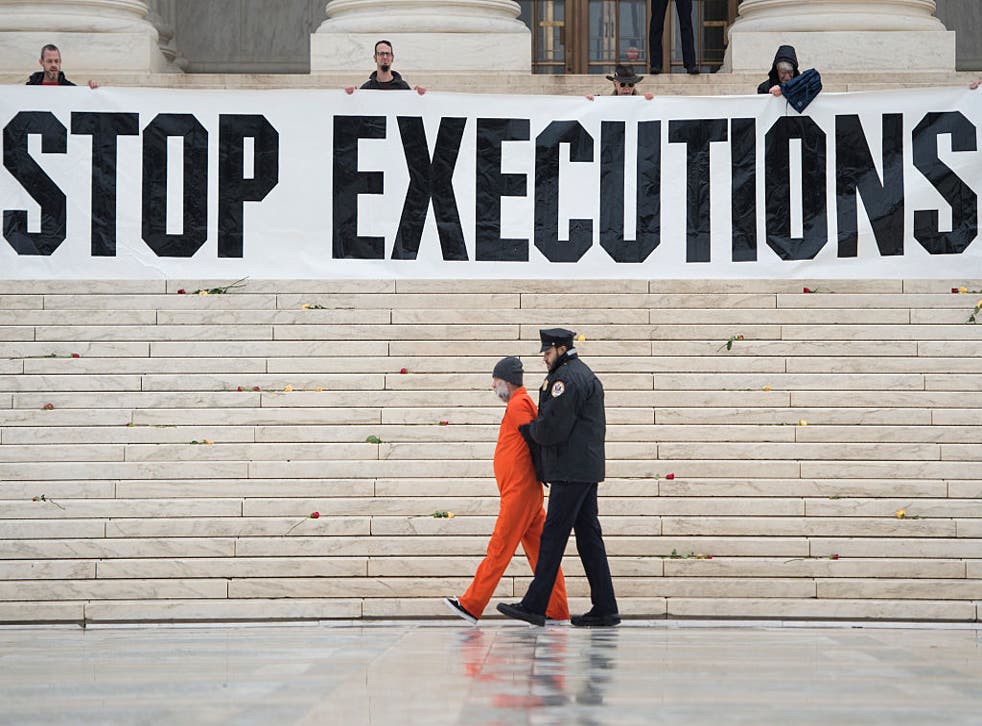 Read in English
El joven, apenas un niño, se enfrentaba a una decisión mortal. Celia Ouellette, su abogada defensora, le dijo al adolescente negro de 18 años de los Apalaches, Kentucky, que no le quedaban buenas opciones: Podía aceptar un acuerdo de culpabilidad que le mantendría en prisión hasta la mediana edad, o podía arriesgarse a ir a juicio y que le impusieran la pena de muerte por un crimen en el que solo estaba implicado indirectamente. El adolescente, cuya identidad Ouellette no puede divulgar por razones legales, formaba parte de un grupo de cinco implicados en una venta de marihuana durante la cual alguien resultó muerto. Su cliente no estaba en la casa donde ocurrió. No fue acusado de ser el asesino. Su crimen fue esperar fuera de la escena del crimen. Los cinco miembros del grupo se enfrentaban potencialmente a la ejecución.
"Estas opciones son una mierda", se lamentó, según recuerda la señora Ouellette. Ninguno de los jóvenes se había propuesto matar a nadie. Habían pensado que solo estaban haciendo un negocio de drogas de bajo nivel. Todo se torció en un instante.
Ella le explicó que lo mejor que podía hacer como abogada -lo mejor que el sistema ofrece a muchos jóvenes negros en su situación- era cambiar una larga condena de prisión por conservar su vida. Él aceptó el acuerdo, pero dejó a Ouellette con una misión. Le dijo que saliera a hacer que los chicos como él tuvieran una segunda oportunidad tras cometer errores, incluso mortales, y no la pena de muerte.
"Tienes que cambiarlo", dijo. "Si no tienes el poder de arreglar esto, tienes que encontrar a alguien que lo tenga". Y eso es lo que hizo.
En 2017, Ouellette, una veterana abogada de defensa de la pena capital, lanzó la organización sin fines de lucro con sede en el Reino Unido RBIJ (Responsible Business Initiative for Justice). Su objetivo es inspirar a los líderes de las empresas y los medios de comunicación para que presten su voz para acabar definitivamente con la pena capital. La gente presta atención a quienes tienen la mayor plataforma. La RBIJ quería que los que ya están bajo los reflectores ayudaran a iluminar uno de los rincones más oscuros del sistema de justicia penal.
"Nosotros, como movimiento, reconocimos el valor que pueden aportar las empresas", dijo a The Independent. "Cuando lancé la RBIJ en 2017, hubo un marcado aumento del interés de las empresas en temas de justicia social, justicia racial y derechos humanos en ese momento. Teníamos la teoría de que, si colgábamos nuestra placa y abríamos nuestra puerta, ellos estarían allí, y eso ha sido cierto."
Pronto, los teléfonos no dejaron de sonar.
Hasta ahora, la campaña de RBIJ ha atraído a más de 150 conocidos firmantes de su declaración Líderes empresariales contra la pena de muerte, que se lanzó a principios de este año en South by Southwest, una importante conferencia que se celebra anualmente en Texas. Ejecutivos de alto nivel como Ariana Huffington, Sheryl Sandberg de Facebook y el fundador del Virgin Group, Richard Branson, forman parte ahora de la iniciativa. (The Independent también se ha unido a la declaración, con el compromiso de destacar las injusticias de la pena de muerte en nuestra cobertura).
La pena de muerte, como institución, tiene múltiples facetas: Es el resultado final e irrevocable de las políticas criminales estatales y federales, de la actuación policial y de numerosos sistemas judiciales interconectados. Es un castigo que afecta a cuestiones de justicia racial, ética, fe, el valor de una vida humana. Por ello, el creciente número de líderes empresariales que se han manifestado en contra de la pena capital lo han hecho por diversas razones. Para algunos, es el hecho de que la pena de muerte se ha demostrado una y otra vez que se aplica de forma desproporcionada a los hombres de color; para otros, que no hay ninguna relación probada entre la pena capital y la reducción de la delincuencia.
"La pena de muerte está rota sin remedio, y es evidente que no hace justicia desde cualquier punto de vista razonable", ha escrito Branson sobre su decisión de oponerse a este castigo. "Está marcada por la crueldad, el despilfarro, la ineficacia, la discriminación y un riesgo de error inaceptable. Al hablar en este momento crucial, los líderes empresariales tienen la oportunidad de ayudar a poner fin a esta práctica inhumana y defectuosa". Explicó su pensamiento con más detalle durante una entrevista con The Independent: "Creo que, para ser un país verdaderamente civilizado, hay que darse cuenta de que matar a la gente como forma de intentar enseñar a la gente a no matar a la gente no es la forma de hacerlo. Es inhumano y está mal".
Para otros firmantes, se trata de que en la era moderna se exonera a casi una persona del corredor de la muerte por cada 8,3 que se ejecutan, una tasa de error que consideran demasiado grande cuando hay vidas en juego.
"Eliminar la pena de muerte es un imperativo moral por derecho propio", dijo el director general de Unilever, Alan Jope, sobre su decisión de unirse a la misión de RBIJ. "Y cuando a la privación de la vida se suma el conocimiento de inocentes a los que se les impone tal sentencia, es aún más horrible."
El enfoque es emblemático de un cambio más amplio en la cultura empresarial de Estados Unidos, según Tom CW Lin, profesor de la facultad de Derecho de la Universidad de Temple y autor del libro de próxima aparición The Capitalist and the Activist: Corporate Social Activism and the New Business of Change.
"Cada vez vemos más, sobre todo por parte de los consumidores más jóvenes, que quieren comprometerse con empresas que consideran buenos ciudadanos corporativos, y no solo buenos motores de beneficios para los servicios y proveedores de productos", dijo el profesor Lin.
Se trata de una idea que, de una forma u otra, lleva tiempo rondando. Todo el mundo, desde la Conferencia Internacional de Cricket hasta las instituciones financieras, utilizó el mordisco económico de los boicots y las sanciones para presionar a Sudáfrica para que pusiera fin al apartheid. Las empresas le costaron a Carolina del Norte cientos de millones de dólares cuando se retiraron del estado en protesta por una ley que negaba a las personas transgénero el acceso a los baños que coincidían con su identidad de género, hasta que el estado anuló la ley en 2017.
"Sucedió gradualmente", añadió el Sr. Lin. "No hay un punto de inflexión en particular, pero yo diría que, en el transcurso de las últimas dos décadas más o menos, simplemente ha habido una línea de tendencia cada vez más hacia esta noción de que las empresas deben obligaciones a las partes interesadas más allá de su estrecha base de accionistas."
Sin embargo, en los últimos años se ha dado un paso más, ya que las grandes marcas están prácticamente obligadas a adoptar posturas sociales en cuestiones como Black Lives Matter y la crisis climática para ser consideradas legítimas, tanto dentro como fuera de la empresa. Una encuesta reveló que tres cuartas partes de los trabajadores esperan que sus empleadores adopten una postura sobre temas de actualidad, y casi la misma cantidad consideraría cambiar de trabajo si sus empresas no lo hicieran.
"Creo que si tomas la generación anterior a la mía, los líderes empresariales solo pensaban que estaban ahí para ganar dinero. Pero nosotros tenemos voz", dijo Richard.
Según la RBIJ, quienes se han unido a ella en su lucha contra la pena de muerte responden a algo más que a las expectativas de los consumidores o de los empleados. Una vez que estas empresas comprenden los abusos más flagrantes de la pena de muerte, empiezan a actuar con verdadera urgencia moral.
"Es muy difícil no verlo", dijo Ouelette. "No tenemos reparos en decir que lo que queremos es trabajar con las empresas para hacer cosas y crear un cambio. Si la respuesta a esta pregunta no es afirmativa, debemos dedicar nuestro tiempo a otra cosa."
La campaña celebró un gran éxito a principios de este año, cuando sus partidarios empresariales de Ohio y otros lugares ayudaron a presionar al estado para que aboliera las sentencias de cadena perpetua sin libertad condicional para niños y delincuentes juveniles, una especie de pena de muerte en vida. Es el tipo de política que, si se aplica a nivel nacional, podría hacer que los adolescentes ya no tengan que elegir entre la cadena perpetua y la muerte en prisión.
Y es solo el principio. La organización está poniendo sus miras en un objetivo aún más ambicioso: Conseguir que el presidente, Joe Biden, cumpla su promesa electoral de buscar el fin de la pena de muerte. Como presidente, Biden tiene un gran poder para "despejar la fila", como dicen algunos, conmutando las sentencias de muerte de todos los delincuentes federales, por no hablar de un púlpito para impulsar una legislación duradera.
Hasta que Estados Unidos se una a los más de 170 Estados miembros de las Naciones Unidas que han abolido la pena de muerte en la ley o en la práctica, la RBIJ seguirá intentando hacer honor al cargo que le impuso un adolescente en Kentucky hace tanto tiempo: "Si no tienes el poder de arreglar esto, tienes que encontrar a alguien que lo tenga." Por suerte, ahora tienen algunos poderosos aliados de su lado.
Este artículo fue modificado el 13 de octubre de 2021. Anteriormente afirmaba de forma inexacta que una de cada nueve personas condenadas a muerte resultaba ser inocente. El estudio al que se hace referencia determinó que por cada 8,3 personas ejecutadas entre 1972 y este año, una persona había sido exonerada. Sin embargo, hay muchas más personas condenadas a muerte de las que se ejecutan. Alrededor del 2% de las personas condenadas a muerte durante ese periodo han sido exoneradas posteriormente.
The Independent y la organización sin ánimo de lucro RBIJ (Responsible Business Initiative for Justice) han lanzado una campaña conjunta para pedir el fin de la pena de muerte en Estados Unidos. La RBIJ ha atraído a más de 150 conocidos firmantes de su declaración de Líderes Empresariales contra la Pena de Muerte, siendo The Independent el último de la lista. Nos unimos a ejecutivos de alto perfil como Ariana Huffington, Sheryl Sandberg de Facebook y el fundador del Virgin Group, Richard Branson, como parte de esta iniciativa, y nos comprometemos a destacar las injusticias de la pena de muerte en nuestra cobertura.
Lista completa de firmantes de la RBIJ
RICHARD BRANSON
Fundador de Virgin Group
ADEEL SAEED
Director general, Adeel Saeed
ALAN JOPE
Director general, Unilever
ALESSANDRO BOGLIOLO
Ex director general de Tiffany & Co
ALEXLOVE
Fundadora y Directora general, AlexLove Consulting, LLC
ALI NIAZ
Cofundadora, BPureSounds
ALICE DYSON
Directora de operaciones, One Media IP LTD
ALLAN W MOSKOWITZ
Director general, Transformative Wealth Management, LLC
ALPA PATEL
Fundadora y Directora general, 9th House
AMANDA PACQUETTE
Directora, Business2Technology
AMIT AMIN
Socio, Amit & Naroop
ANDERS HOLCH POVLSEN
Director general, Bestseller
ANDRÉ HOFFMAN
ANDREW N. LIVERIS
Expresidente y Director general de Dow Chemical | Fundador de la Liveris Academy for Leadership and Innovation
ANNE WOJCICKI
Cofundadora y consejera delegada de 23andMe, Inc.
ARIANNA HUFFINGTON
Fundadora y consejera delegada de Thrive Global | Cofundadora de The Huffington Post
ATITI SOSIMI
Directora general, Eyato London
BEN COHEN
Cofundador de Ben & Jerry's Ice Cream
BERT JACOBS
Director general, LIFE IS GOOD
BRAD S. KARP
Presidente de Paul, Weiss, Rifkind, Wharton & Garrison
BRITTANY DAMICO
Directora de desarrollo comercial, Change Finance
CASEY J. MULLIGAN
Propietaria, Mulligan & Mulligan PLLC
CATHERINE KIMMEL
Codirectora general, The Artemis Agency
CHRIS DAW QC
Abogado, locutor y autor de Justice on Trial
CHRISTINA BROOKS
Fundadora y Directora general de Ruebik
CHRISTOPHER COX
Subdirector, Seventh Generation Interfaith Coalition for Responsible Investment
CHRIS DUTTON
Fundador, The CEO Magazine
DAN MEYER
Presidente y Director general, Nehemiah Manufacturing
DANIEL DART
Director general, Dart Capital & Co
DAVID BRONNER
Director general, Dr Bronner's
DAVID W. CRANE
Director general, Climate Real Impact Solutions | Ex director general y Presidente, NRG
DAVID PACQUETTE
Director general de Business2Technology
DAVE PHILLIPS
DORRIT LOWSEN
Presidenta y Directora de operaciones, Change Finance
Dr. MO IBRAHIM
Fundador, Mobile Systems International | Fundador, Celtel | Presidente fundador, Satya Capital Limited | Fundador y Presidente, Mo Ibrahim Foundation
DR. PHILIP TEE
Fundador y Director general de Moogsoft Inc.
ED FLETCHER
Codirector de Shape History
ELISSA SHUCK
Presidenta y Directora general de ES-STRATEGIC, LLC
ELIZABETH CHAMBERS
Socia operativa, Searchlight Capital
ELLIE KANNER
Directora general, Forever Sunny Productions | Just To Be Clear Productions | The Game Plan Game LLC
EVE WILDRICK
Fundadora y presidenta de Executive Interiors Inc.
FELIX PFREUNDTNER
Propietario, Xilev UG
FLOYD ALBEE
Director general, Prevalent Projects
FRANCOIS-HENRI PINAULT
GARETH PARKER
Director general, Raphael Rowe Foundation
GEORGE TURNER
Cofundador y Director general de Carneys Community
GINA LYNELL SMITH
Fundadora, BizDesign.digital
GORI YAHAYA
Fundador y Director general, UpSkill Digital
GUILHERME LEAL
Cofundador y copresidente de Natura & Co | Cofundador del Ethos Institute
HELENE GAYLE, MD, MPH
Presidenta y Directora general de The Chicago Community Trust | Expresidenta y Directora general de CARE USA
HUBERT JOLY
Expresidente y Director general de Best Buy | Profesor de la Harvard Business School
HUGH LENON
Presidente de la Private Equity and Prison Charity
IQRA SHAIKH
Fundadora y Directora general de Tutoring in Teams
ISABELLE KOCHER
JACK D'AURORA
Socio, The Behal Law Group LLC
JAMES FELLOWES
Fundador, The Bridge of Hope (Portal de talento inclusivo)
JARED SMITH
Cofundador, Qualtrics
JASON FLOM
Director general, Lava Media
JATIN MAHINDRA
Fundador, Jatin Mahindra
JAUME MIQUEL NAUDI
Presidente y Director general, Tendam Global Fashion Retail
JAVIER GARCIA SAZ
Director general y fundador, AnunciaWebs
JEAN OELWANG
Presidente y Director general fundador de Virgin Unite | Ex codirector general de Virgin Mobile Australia
JEFFREY SCALES
Director general de JSA Sustainable Wealth Management
JERRY GREENFIELD
Cofundador de Ben & Jerry's Ice Cream
JOANNA REES
Socia directora, West Ventures
JOHN C. HARRINGTON
Presidente y Director general de Harrington Investments, Inc.
JOHN KAY
Director general, Realize Strategies
JOHN O'FARRELL
JOHN REPLOGLE
Socio fundador de One Better Ventures | Ex director general de Seventh Generation Inc.
JOHN ROST
Fundador y Director general, Ace Oasis Ltd
JOHN RUSH
Fundador y Director general, CleanTurn | 180 Demo | Third Way Café
JOHNNY WEBB
Director general, HiddenLight Productions
JON WRIGHT
Cofundador, Innocent Drinks
JONATHAN OUELLETTE
Cofundador y Director creativo, KILL 2 BIRDS
JOE DELOSS
Fundador, Hot Chicken Takeover
JOSH ZINNER
Director general, Interfaith Center on Corporate Responsibility
JULIA ALBEE
Directora financiera, Prevalent Projects
JULIO SALINAS LOMBARD
Fundador y Director general, Salinas Consultores
KATIE DAVIES
Editora de Estados Unidos, The Independent
KETZ HARIA
Ketz Haria, Director, Dey, King, Haria
KRISTINA TOUZENIS
Socia directora, BST Impact
KRIZ TAN
Copropietario y Director, AlphavertexCommunications Pte Ltd
KYLER CARTER
Profesor de discapacidades del desarrollo
L. WILLIAMSON
Director de operaciones, CAA Family Office
LAUREN McCANN
Fundadora y Directora general, Calliope Advisors
LOGAN MARTIN
Presidente, Skyline Strategies, LLC
LUCKY XAZI
Fundador, Smart LUX Marketing
MAC BARTINE
Director general, SmartRIA
MAMIE KANFER STEWART
Fundadora, Meeteor
MARC BENIOFF
Presidente y Director general, Salesforce
MARCUS BULLOCK
Director general, Flikshop
MARISA TENDERO
Presidenta no ejecutiva, NOABRANDS
MARK HAMADE
Cofundador, CanEth
MARTHA LANE FOX
Presidenta, WeTransfer | Directora, Twitter | Directora, Chanel | Rectora, Open University
MARY-CLAIRE MULLIGAN
Socia y Directora de litigios judiciales
MATTHEW STEPKA
Socio director, Machina Ventures
MATS GRANRYD
MELISSA FRIESENBOURG
Propietaria, Balanced Spirit Pilates
MERCK MERCURIADIS
Fundador y Director general, Hipgnosis Songs Fund
MICHAEL CONN
Fundador, Bigger Than Us
MICHAEL KRAMER
Socio director, Natural Investments
MICHELLE CIROCCO
Jefa de impacto y Directora ejecutiva, Televerde | Televerde Foundation
MIKE NOVOGRATZ
Fundador y Director general de Galaxy Digital
MILES DALLY
Director general, RCL FOODS
MO CHOUMIL
Director general, Safi Virtual
MORDECHAI GABAI
Jefe de estudio, Schizotypy Game Development Ltd
NICK McKEOWN
NICOLAS DEBRAY
Presidente, América, The Body Shop
NICOLAS GIROTTO
NICOLAS PATRICK
Director mundial de negocios responsables, DLA Piper
OSCAR WESTRA VAN HOLTHE
Fundador, Teamcoach Zuidas
PAUL GRAHAM
Fundador, Y Combinator
PAUL J. FRIBOURG
PAUL POLMAN
Cofundador y presidente de IMAGINE | Ex director general de Unilever
PEDRO HERNANDES
Fundador, HBFS
PEDRO PARENTE
Presidente y Ex director general de BRF | Socio fundador de EB Capital | Ex director general de Petrobras
PIERRE DUBUC
Cofundador y Director general de OpenClassrooms
RAPHAEL ROWE
Fundador de la Raphael Rowe Foundation
RICCARDO BELLINI
Presidente y Director general de Chloe
RIZVAN RAJA
Fundador y Director general de Rizuma Ltd.
ROBERT F. SMITH
Fundador, presidente y Director general de Vista Equity Partners
RON CONWAY
Fundador, SV Angel
RYAN BALL
Director, Ryan Ball Photography
SALLY JEWELL
Ex directora general de REI
SANDRO SALSANO
Presidente, Salsano Family Office | Presidente, Salsano Group
SANJAY AGGARWAL
Fundador y Director general de IPS
SATISH AGGARWAL
Fundador, S&J Leisure Group
SARA PRICE
Fundadora, Actually
SARAH ADOLPHSON
Co-directora general, The Artemis Agency
SARAH BEST
Director general, Sarah Best Strategy
SARAI JACOB-WHELAN
SCOTT BUDNICK
Director general, One Community | Fundador, The Anti-Recidivism Coalition
SHENALY AMIN
Directora, Iconik Ltd
SHERYL SANDBERG
Directora de operaciones, Facebook | Fundadora, LeanIn.org
SITAL PUNJA
Fundadora, Threads-London
SONIA KOWAL
Presidenta, Zevin Asset Management
STEFANIE REINHOLD
Fundadora, HorseHaus LLC
STEPHANIE MELODIA
Directora general, Bloom Consulting Ltd
STEPHEN LUCKMAN
Socio, Sheridans
STEVE BENNETT
Cofundador, Health Results
STRIVE MASIYIWA
Fundador y Presidente ejecutivo, Econet Group
SUSAN OZAWA PEREZ
Gestora de carteras, Impact Investors
SUSAN WHITMORE
Fundadora y Directora general de Grief Haven
SVEIN TORE HOLSETHER
Presidente y Director general de Yara International
SYLVIA COLEMAN
Cofundadora y directora de BPureSounds
TERESA HENNING
Directora, Moneymasternow
TOM LYTTON-DICKIE
Fundador y Director general, Meaningful Business
TONY FERNANDES
Director general del AirAsia Group | Presidente y Fundador, Tune Group
VANESSA BAKEWELL
Socia de clientes mundiales, Facebook
WERNER BAUMANN
Director general, Bayer
WOUTER MURRAT
Fundador, propietario y Director general, Vof Mepilan
YINKA SONUBI
Directora general, TJR&M
Register for free to continue reading
Registration is a free and easy way to support our truly independent journalism
By registering, you will also enjoy limited access to Premium articles, exclusive newsletters, commenting, and virtual events with our leading journalists
Already have an account? sign in