Pippa Middleton está embarazada de su tercer hijo
La hermana menor de la duquesa de Cambridge estrenó su panza en el concierto Party at the Palace el sábado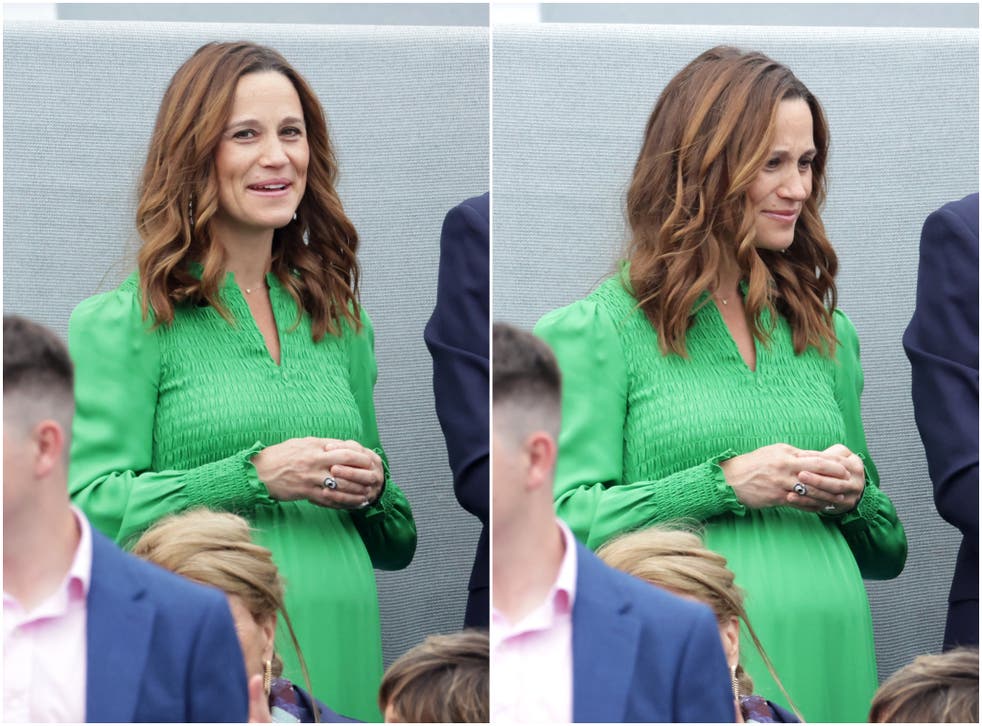 Read in English
Pippa Middleton y James Matthews están esperando su tercer hijo.
La hermana menor de la duquesa de Cambridge estrenó su pancita el sábado por la noche durante el concierto Party at the Palace, que es parte de las celebraciones del jubileo de platino.
La mujer, de 38 años, estaba radiante con un vestido verde brillante y el pelo rizado mientras se sentaba junto a Matthews, su hermano menor, James Middleton, y su esposa Alizée Thévenet.
Middleton y Matthews ya son padres de Arthur, de tres años, y de Grace, de uno.
Los padres de los hermanos Middleton, Carole y Michael, también estuvieron presentes en el evento; sin embargo, los Middleton no compartieron el palco real con Kate, el príncipe William o sus hijos, el príncipe George, la princesa Charlotte y el príncipe Louis.
El embarazo significa que Middleton espera su tercer hijo poco más de un año después de dar a luz a su hija Grace en marzo de 2021.
Pippa siguió los pasos de su hermana mayor al dar a luz en el Ala Lindo del Hospital St. Mary.
Middleton y Matthews se casaron en mayo de 2017 en la iglesia de San Marcos de Englefield.
La fiesta en el Palacio parece ser el único evento en el que Middleton y Matthews participaron durante el fin de semana del jubileo.
Otros eventos incluyeron el Trooping the Colour y el encendido de los faros de platino el jueves, un Servicio de Acción de Gracias el viernes, un Derby el sábado y el desfile del jubileo de platino el domingo.
Los otros primos de George, Charlotte y Louis, Archie y Lilibet, también están en el Reino Unido con sus padres, el duque y la duquesa de Sussex.
Durante el servicio de acción de gracias del viernes, Meghan Markle y el príncipe Harry hicieron su primera aparición pública junto a los miembros de la firma desde que dejaron de ser miembros de la realeza mayor en 2020.
El sábado también se celebró el primer cumpleaños de su hija Lilibet, que lleva el nombre de la Reina.
El duque y la duquesa de Cambridge fueron los primeros en dar su apoyo a Lilibet.
Register for free to continue reading
Registration is a free and easy way to support our truly independent journalism
By registering, you will also enjoy limited access to Premium articles, exclusive newsletters, commenting, and virtual events with our leading journalists
Already have an account? sign in
Register for free to continue reading
Registration is a free and easy way to support our truly independent journalism
By registering, you will also enjoy limited access to Premium articles, exclusive newsletters, commenting, and virtual events with our leading journalists
Already have an account? sign in