¿Tendrá Putin que dejar de usar Botox por las sanciones a Rusia?
Los rumores sobre el uso del producto por parte del líder ruso comenzaron tras su visita a Kyiv en 2011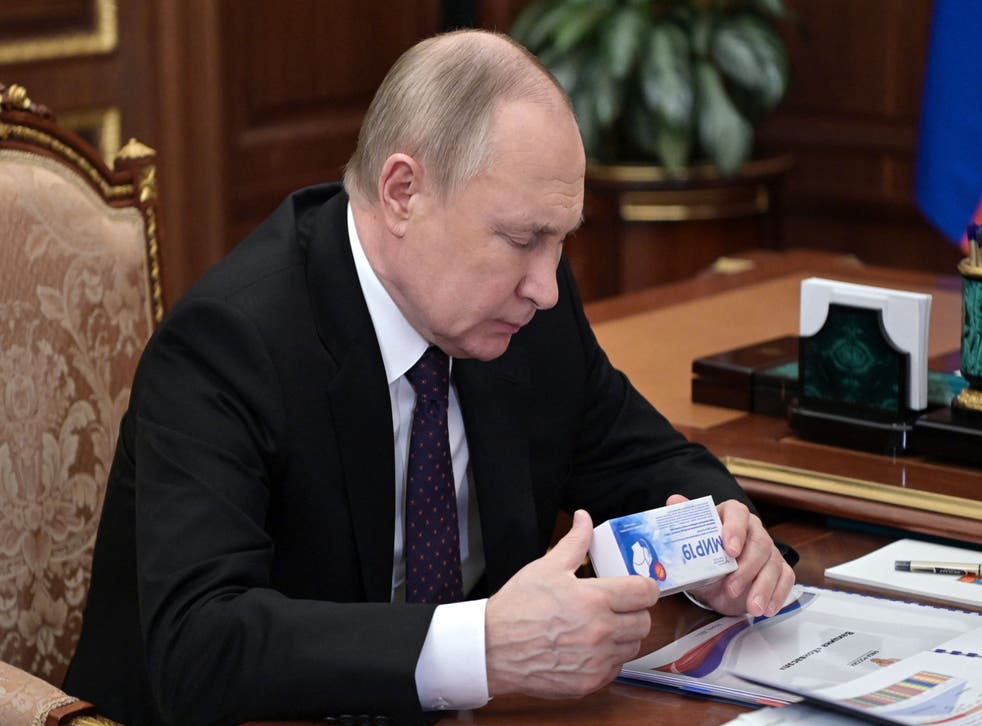 Read in English
El famoso ceñudo Vladimir Putin podría quedarse sin suministro de Botox debido a las sanciones impuestas a Rusia por las compañías farmacéuticas mundiales.
En anuncios de los que solo se han hecho eco los medios de comunicación económicos, una serie de fabricantes de medicamentos, como Eli Lilly and Co, Novartis y Abbvie Inc, están reduciendo sus operaciones en Rusia como parte de las sanciones impuestas al país por su invasión de Ucrania.
Eli Lilly and Co, por ejemplo, dijo que seguiría suministrando medicamentos críticos para el tratamiento del cáncer y la diabetes, pero que detendría los productos "no esenciales", según informó Reuters esta semana.
AbbVie, propietaria del célebre tratamiento antiarrugas Botox, señaló que ha suspendido temporalmente las operaciones de todos sus productos estéticos en el país.
¿A quiénes puede afectar especialmente este último acontecimiento en Rusia? Tal vez al propio Vladimir Putin, el hombre cuya decisión de invadir Ucrania el mes pasado desencadenó una serie de sanciones sin precedentes por parte de muchas naciones occidentales.
Como recordó The Daily Beast a sus lectores, se ha reportado desde hace mucho tiempo que el líder ruso de 69 años es un usuario de Botox y puede estar a punto de que le corten el suministro.
Hace una década, un artículo de The Guardian cubrió los rumores que circulaban en las redes sociales sobre el uso del producto por parte del líder ruso.
Irónicamente, los rumores comenzaron tras una visita a Kyiv en octubre de 2011, cuando era primer ministro de Rusia, "cuando se presentó a una reunión con un enorme hematoma azul y amarillo alrededor del ojo", y los blogueros de toda Rusia decidieron que tenía que ser el resultado de inyecciones de Botox.
Tal fue el clamor, que el portavoz de Putin se vio obligado a desmentirlo. "Es probable que la luz haya caído así. El primer ministro está cansado", comentó.
Añadió que la revista rusa New Times había tratado el tema a principios de año con un artículo titulado "¿Qué pasó con la cara de Putin?".
Decía que cuatro cirujanos plásticos entrevistados por la revista afirmaban que el líder ruso probablemente se había sometido a cirugía estética y que era probable que se hubiera inyectado Botox en la frente.
No hubo respuesta inmediata a las preguntas de The Independent por parte de la misión rusa de la ONU en Nueva York, su embajada en Washington DC o su ministerio de Asuntos Exteriores en Moscú.
Abbvie Inc, con sede en Illinois, tampoco respondió inmediatamente a las preguntas sobre si su suspensión de ventas en Rusia pretendía afectar específicamente a Putin.
En un comunicado publicado en su sitio web, la empresa mencionó: "Nuestros pensamientos están con el pueblo de Ucrania y los afectados en toda la región. Como empresa biofarmacéutica mundial, tenemos una responsabilidad con los pacientes que dependen de nuestros medicamentos".
"Nos comprometemos a garantizar que nuestros pacientes en Ucrania, Rusia y en toda la región sigan teniendo acceso a nuestros medicamentos esenciales que salvan vidas".
Y añadió: "Mientras los trágicos acontecimientos continúan desarrollándose en Ucrania, AbbVie ha suspendido temporalmente las operaciones de todos nuestros productos estéticos en Rusia."
Register for free to continue reading
Registration is a free and easy way to support our truly independent journalism
By registering, you will also enjoy limited access to Premium articles, exclusive newsletters, commenting, and virtual events with our leading journalists
Already have an account? sign in
Register for free to continue reading
Registration is a free and easy way to support our truly independent journalism
By registering, you will also enjoy limited access to Premium articles, exclusive newsletters, commenting, and virtual events with our leading journalists
Already have an account? sign in