Kim Kardashian comparte carta "desgarradora" de los hijos de Melissa Lucio e intenta detener la ejecución
Ha habido crecientes llamados para cancelar o conmutar la sentencia de muerte de Lucio.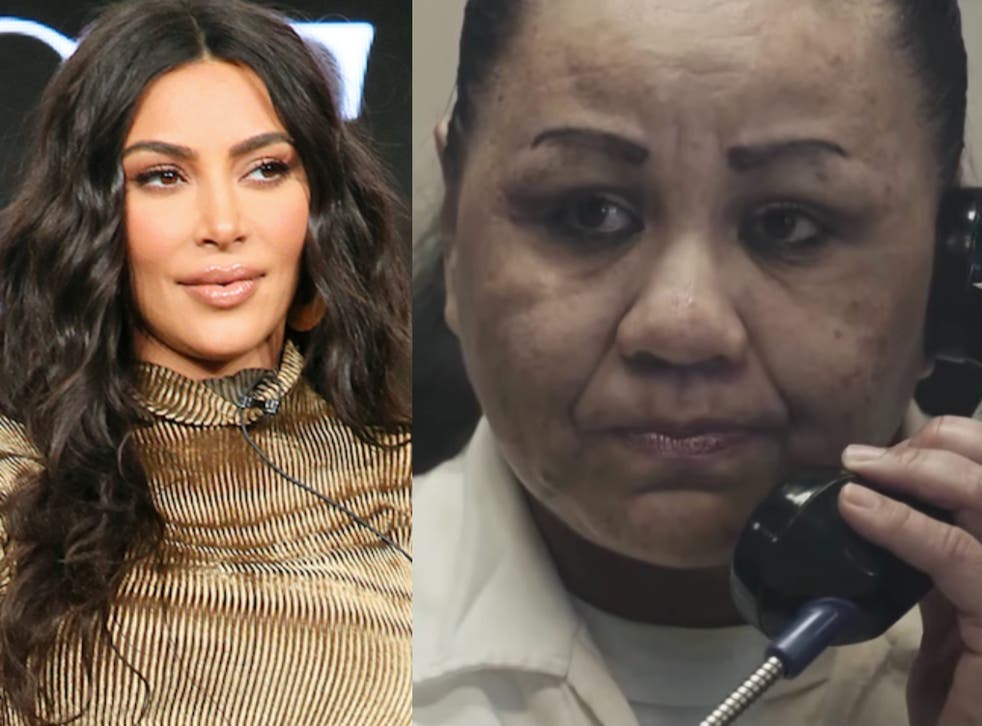 Read in English
Kim Kardashian copartió una carta de los hijos de Melissa Lucio, a medida que los llamados para detener la ejecución programada de Lucio en Texas han ido en aumento.
"Es tan desgarrador leer esta carta de los hijos de Melissa Lucio que le ruegan al estado que no mate a su madre", tuiteó Kardashian el jueves 7 de abril junto con la carta.
"Hay tantas preguntas sin resolver en torno a este caso y la evidencia que se utilizó para condenarla".
Añadió: "Esta es una de las muchas razones por las que estoy en contra de la pena de muerte, y por las que rezo para que se conceda el deseo de sus hijos y se salve la vida de su madre".
Lucio fue condenada en 2008 por la muerte de su hija de dos años, Mariah Alvarez. Los defensores han sostenido que Lucio confesó falsamente mientras la interrogaban y que ella era especialmente vulnerable porque es una sobreviviente de abuso sexual y violencia familiar. Lucio ha sostenido que es inocente.
Ha habido cada vez más llamados para cancelar o conmutar la sentencia de muerte de Lucio a medida que se acerca la fecha prevista para su ejecución, el 27 de abril.
La carta, firmada por las hijas y los hijos de Lucio, está dirigida al gobernador de Texas, Greg Abbott, y a la Junta de Indultos y Libertad Condicional de Texas.
"Les pedimos que perdonen la vida de nuestra madre, Melissa Lucio", se lee en la carta. "Les pedimos un cierre. Les pedimos paz".
"La muerte de nuestra hermana Mariah y el enjuiciamiento de nuestros padres destrozó a nuestra familia. Las heridas nunca sanaron del todo. Probablemente nunca lo harán".
"Les pedimos que no vuelvan a abrir esas heridas. Por favor, dennos la oportunidad de un cierre. Por favor, dennos una oportunidad de tener paz. Permítannos resignarnos a la muerte de Mariah y recordarla sin nuevos dolores, angustias o penas".
Mariah Alvarez murió en 2007. Lucio fue acusada de asesinato capital por su muerte, que según los fiscales fue el resultado de maltrato físico. Lucio siempre ha negado esas acusaciones y ha sostenido que Mariah murió después de caerse por las escaleras.
La Dra. Gisli Gudjonsson, una de las principales expertas del mundo en confesiones falsas y profesora emérita de psicología forense en el King's College de Londres, calificó el caso como "un ejemplo extraordinariamente potente de cómo una persona vulnerable puede ser manipulada psicológicamente para implicarse falsamente en un delito, como respuesta a la presión de un interrogatorio" en un artículo para The Independent.
"Hoy en día, la evidencia forense sugiere que el traumatismo craneal de la niña probablemente fue causado por una caída desde un tramo de escaleras dos días antes de su muerte, la cual fue presenciada por uno de sus hermanos", agregó la Dra. Gudjonsson, quien trabajó en el caso con The Innnocence Project.
"Pero los investigadores se negaron a aceptar que había ocurrido una caída o que el traumatismo craneal fue causado por otra cosa que no fuera el maltrato físico. Entonces, antes de que se realizara una autopsia o una investigación real, los oficiales centraron su atención y sus sospechas en Lucio".
En un episodio reciente del podcast Uncommon Ground with Van Jones, Kardashian habló con Van Jones sobre su defensa de la reforma de la justicia penal en general, sin referirse específicamente al caso de Lucio.
"Literalmente, dondequiera que mires en el sistema de justicia, te encuentras con un obstáculo", comentó. "Y deseas que [pudiera ser] diferente, desde mínimos obligatorios hasta reglas para los casos de asesinato como delito grave. Podría profundizar en cada rincón y decirte el caos que hay".
Enfatizó que "se debe dejar salir a las personas adecuadas y no debemos dejar de luchar por las personas por quienes nadie quiere luchar".
Register for free to continue reading
Registration is a free and easy way to support our truly independent journalism
By registering, you will also enjoy limited access to Premium articles, exclusive newsletters, commenting, and virtual events with our leading journalists
Already have an account? sign in
Register for free to continue reading
Registration is a free and easy way to support our truly independent journalism
By registering, you will also enjoy limited access to Premium articles, exclusive newsletters, commenting, and virtual events with our leading journalists
Already have an account? sign in