Donatella Versace homenajea a su difunto hermano Gianni en el 25º aniversario de su asesinato
"25 años de extrañarte, Gianni", escribe en una publicación de Instagram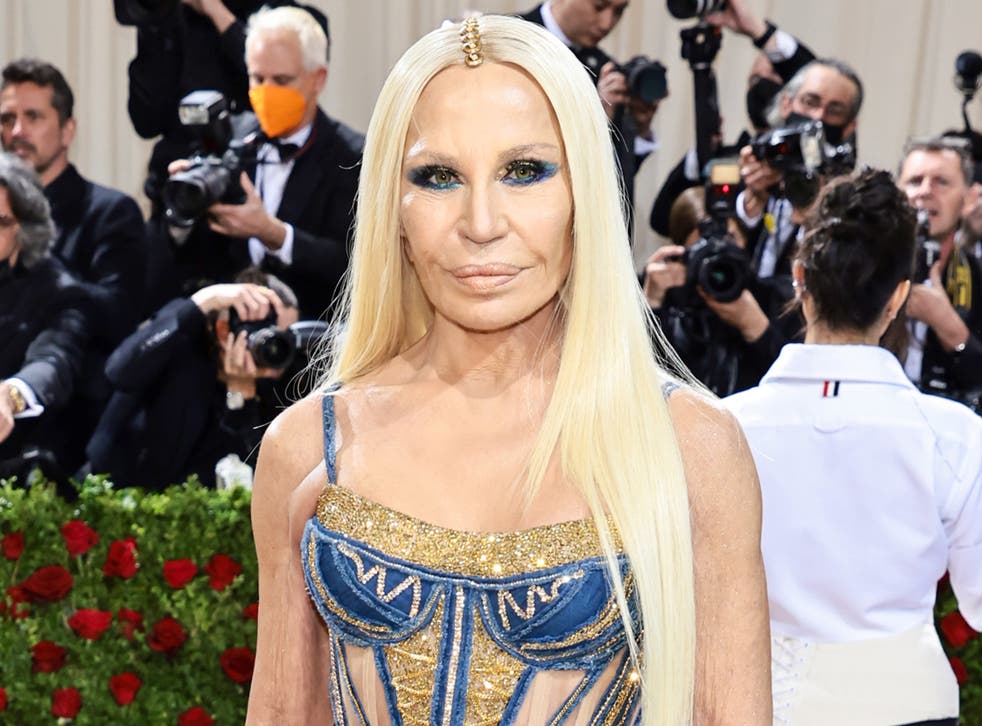 Read in English
Donatella Versace homanejeó a su difunto hermano y famoso diseñador de moda Gianni Versace en el 25º aniversario de su asesinato.
El 15 de julio, Donatella publicó una secuencia de fotos del empresario en su Instagram. Junto con dos fotos en blanco y negro de los hermanos, la diseñadora de 67 años compartió una foto individual de Gianni. En el pie de foto, dijo cuánto extraña a su hermano mayor.
"25 años de extrañarte, Gianni. Todos los días, desearía que todavía estuvieras aquí", escribió.
En los comentarios, los amigos expresaron su apoyo a Donatella, así como su admiración por Gianni.
"Te envío mucho amor", escribió la modelo de talla grande Precious Lee.
"Fue un pionero de la moda que el mundo de la moda necesitaba", agregó otro fan. "Elevó la vara de la moda para el mundo y le agradecemos por eso".
En las redes sociales, otros rostros famosos rindieron homenaje al diseñador de moda, quien fue declarado muerto el 15 de julio de 1997 tras recibir un disparo fuera de su mansión.
En una publicación de Instagram, la supermodelo Naomi Campbell publicó fotos antiguas con Gianni, junto con imágenes de ella con un vestido rosa que él había diseñado.
"GIANNI VERSACE, HOY HACE 25 AÑOS nos fuiste arrebatado", escribió. "Su familia, seres queridos y amigos nunca olvidaremos ese sentimiento de terror y pérdida. La fotografía con el vestido rosa fue en la Plaza de España en septiembre del 97. Homenaje a Gianni... siempre estarás en mi corazón para la eternidad".
La compañía Versace, que fue fundada por Gianni en 1978, también compartió una publicación en Instagram para honrar la muerte de su fundador.
"En memoria de Gianni Versace en el 25º aniversario de su fallecimiento", escribió la marca en el pie de foto. "Con amor de parte de todos en Versace".
Durante la mañana del 15 de julio de 1997, Gianni dio un paseo desde su mansión en Miami Beach hasta el News Café. Cuando regresaba a casa, Andrew Cunanan le disparó a quemarropa en la cabeza y el cuello. En el momento de ese tiroteo, Cunanan ya era un asesino en serie en la lista de los diez más buscados del FBI. Ocho días después, se pegó un tiro en la cabeza y murió en una casa flotante en South Miami Beach.
El asesinato se convirtió en la trama de la segunda temporada de la serie de crímenes reales de FX, American Crime Story. El programa, que se llamó The Assassination of Gianni Versace: American Crime Story presenta a Édgar Ramírez como Gianni, a Penélope Cruz como Donatella y a Darren Criss como Cunanan.
Register for free to continue reading
Registration is a free and easy way to support our truly independent journalism
By registering, you will also enjoy limited access to Premium articles, exclusive newsletters, commenting, and virtual events with our leading journalists
Already have an account? sign in
Register for free to continue reading
Registration is a free and easy way to support our truly independent journalism
By registering, you will also enjoy limited access to Premium articles, exclusive newsletters, commenting, and virtual events with our leading journalists
Already have an account? sign in