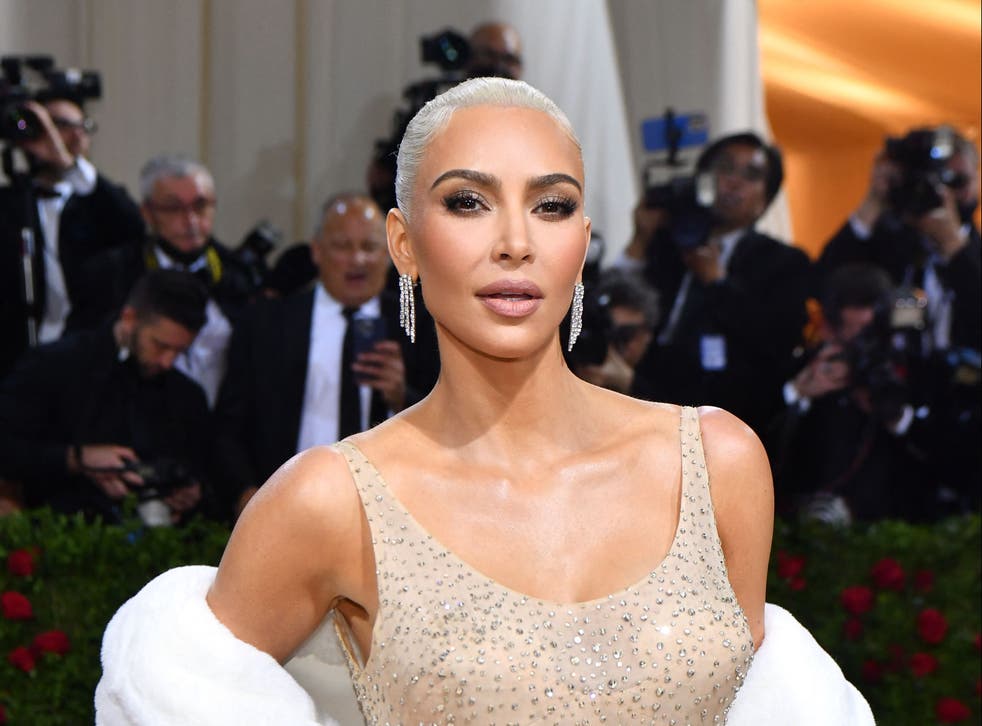 Kim Kardashian afirma que perder peso para usar el vestido de Marilyn Monroe le enseñó algo sobre la "salud"
La fundadora de Skims reveló que ha perdido 21 libras (9,5 kilogramos) en total desde antes de la Met Gala, donde usó el icónico vestido de Marilyn Monroe
Read in English
Kim Kardashian afirmó que perder 16 libras (7,2 kilogramos) para que le quedara el vestido de Marilyn Monroe que usó en la Met Gala "[le] enseñó mucho sobre [su] estilo de vida y [su] salud", y admitió que desde entonces ha perdido 21 libras (9,5 kilogramos) en total.
La estrella de The Kardashians, de 41 años, reflexionó sobre su controvertida pérdida de peso durante una participación en el programa Today el martes, donde reveló que había perdido peso en las tres semanas previas a la Met Gala 2022 porque "realmente quería" usar el icónico vestido de "Feliz cumpleaños" de Monroe.
"Lo tomé como un papel y realmente quería usar este vestido", admitió Kardashian. "Fue muy importante para mí".
Luego, Kardashian les dijo a las presentadoras de Today Savannah Guthrie y Hoda Kotb que su pérdida de peso antes de la gala le enseñó mucho sobre su salud, y afirmó que esto la animó a cambiar su "estilo de vida".
"De hecho, me enseñó mucho sobre mi estilo de vida y mi salud y, desde entonces, continué comiendo muy sano. He bajado 21 libras [9,5 kilogramos] hasta ahora. No estoy tratando de perder más peso, pero tengo más energía que nunca", dijo Kardashian. "Dejé mucha azúcar, mucha comida chatarra que estaba comiendo, no me daba cuenta, como muchas comidas fritas. Y cambié por completo mi estilo de vida".
Anteriormente, algunos fans habían criticado a Kardashian después de la Met Gala, donde reveló mientras usaba el icónico vestido de Monroe que se comprometió a perder peso para poder usar el vestido.
En una entrevista para Vogue, Kardashian dijo en ese momento que "era esto o nada" y que para lograr su objetivo "usaba un traje de sauna dos veces al día" y "eliminó por completo todo el azúcar y todos los carbohidratos", y comía solo las "verduras y proteínas más limpias".
Los comentarios "dañinos" también provocaron una reacción violenta de varios colegas de Kardashian, incluidos Jameela Jamil y Lili Reinhart.
Sin embargo, en una entrevista para The New York Times, Kardashian defendió recientemente los esfuerzos que hizo para que le quedara el vestido que Monroe usó en 1962 para darle una serenata al presidente John F. Kennedy en su cumpleaños número 45. En dicha entrevista, comparó sus métodos con los que usan los actores para un papel.
"Para mí fue como: 'Está bien, Christian Bale puede hacerlo para un papel en una película y eso es aceptable'. Incluso Renée Zellweger ganó peso para un papel", le dijo al medio. "Todo es lo mismo para mí. No estaba diciendo: 'Hola a todos, ¿por qué no van a perder este peso en un corto período de tiempo?'".
También sostuvo que perdió peso de manera saludable y le dijo a The Times : "No hice nada que no fuera saludable".
Durante su participación en el programa Today, Kardashian también abordó las acusaciones de que dañó el infame vestido durante el corto período de tiempo que lo usó en los escalones de la alfombra roja del Museo Metropolitano de Arte, y la estrella del reality afirmó que los rumores son falsos.
Register for free to continue reading
Registration is a free and easy way to support our truly independent journalism
By registering, you will also enjoy limited access to Premium articles, exclusive newsletters, commenting, and virtual events with our leading journalists
Already have an account? sign in
Register for free to continue reading
Registration is a free and easy way to support our truly independent journalism
By registering, you will also enjoy limited access to Premium articles, exclusive newsletters, commenting, and virtual events with our leading journalists
Already have an account? sign in