Abogada de Depp califica afirmaciones falsas de Heard sobre abuso doméstico de crueles
"Lo que Heard declaró en este tribunal es la historia de demasiadas mujeres. Pero la abrumadora evidencia, el peso de esa evidencia, muestra que no es su historia", señaló la abogada de Depp, Camille Vasquez, al jurado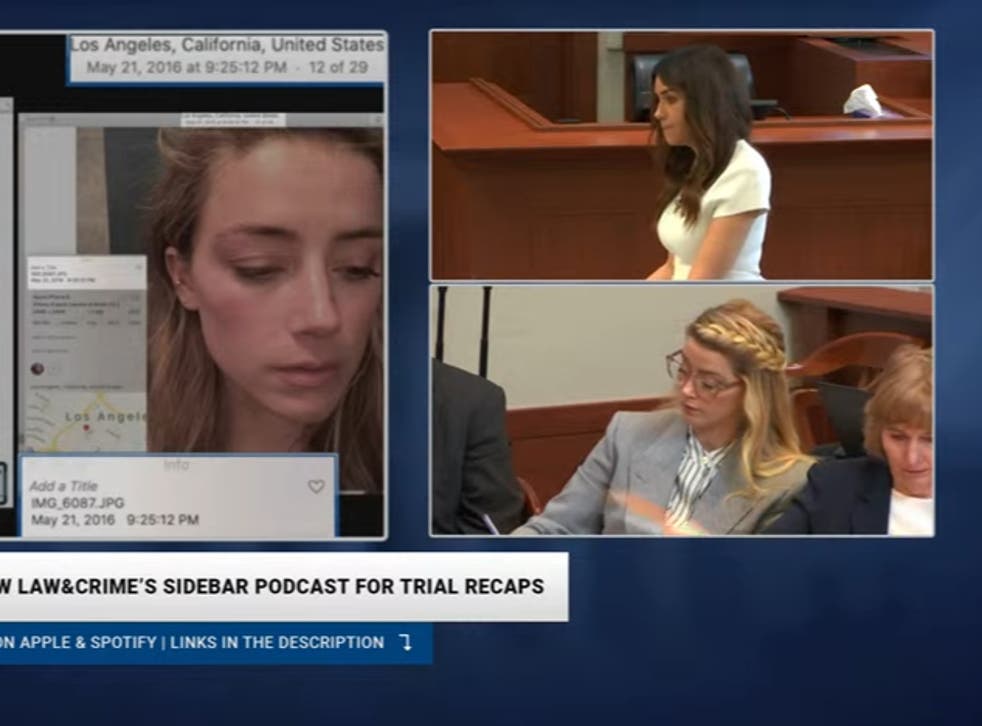 Read in English
La abogada de Johnny Depp, Camille Vasquez, indicó que era un "acto de profunda crueldad... para las verdaderas supervivientes" que Amber Heard "se presentara como una figura pública que representa el abuso doméstico".
En su alegato final del viernes (27 de mayo) en el tribunal de circuito del condado de Fairfax, Virginia, Vasquez dijo al jurado: "La montaña de pruebas de que Depp abusó de Heard simplemente no existe".
"Lo que tenemos es una montaña de acusaciones no probadas que son descabelladas, exageradas e inverosímiles. Y no se puede elegir cuáles de estas acusaciones descabelladas creer y cuáles ignorar", continuó, añadiendo: "O se cree todo, o nada. O Depp agredió sexualmente a Heard con una botella en Australia, o Heard se subió al estrado, delante de todos ustedes, y se inventó esa horrible historia de abusos".
"O es una víctima de un abuso en verdad horrible o es una mujer que está dispuesta a decir absolutamente cualquier cosa".
Dirigiéndose a los miembros del jurado en el último día del multimillonario juicio por difamación antes de que pase a la deliberación del jurado, Vasquez señaló que era "perturbador" que Heard "inventara las horribles historias de abuso que testificó en la sala".
"Pero este caso no se reduce a si se cree a Heard o a Depp", continuó, añadiendo: "Este caso se reduce a si se cree a Heard o se cree a Depp, a [la hermana] Christi Dembrowski, a [el guardaespaldas] Sean Bett, a Malcom Connelly, Travis McGivern, Starling Jenkins, Keenan Wyatt, el Dr. Kipper, a las enfermeras Debbie Lloyd y Erin Falati, Tara Roberts, Ben King, Kate James, Kate Moss, al Dr. Colbert, Morgan Knight, Morgan Tremaine, a los agentes [de la policía de Los Ángeles] Melissa Saenz, Tyler Hadden, al agente William Gatton y Beverly Leonard".
Tras enumerar los testigos que habían comparecido por Depp en el juicio, Vasquez afirmó: "Lo que Heard testificó en esta sala es la historia de demasiadas mujeres. Pero la abrumadora evidencia, el peso de esa evidencia, muestra que no es su historia. No es la historia de Heard".
"Fue un acto de profunda crueldad, no solo para Depp, sino para las verdaderas supervivientes del abuso doméstico, que Heard se presentara como una figura pública que representaba el abuso doméstico", finalizó.
Depp demandó a su exmujer por difamación por un artículo de opinión que escribió en 2018 para The Washington Post en el que se describía a sí misma como "una figura pública que representa el abuso doméstico".
El actor de Pirates of the Caribbean no es nombrado en el artículo, titulado "Hablé contra la violencia sexual - y me enfrenté a la ira de nuestra cultura. Esto tiene que cambiar".
Sin embargo, Depp afirma que el artículo insinúa falsamente que es un abusador doméstico -algo que él niega rotundamente- y que le ha hecho luchar por conseguir papeles en Hollywood. Interpuso una demanda por US$50 millones.
Heard, por su parte, presentó una contrademanda por US$100 millones, y acusa a Depp de haber orquestado una "campaña de desprestigio" contra ella y describe su demanda como una continuación del "abuso y el acoso".
Register for free to continue reading
Registration is a free and easy way to support our truly independent journalism
By registering, you will also enjoy limited access to Premium articles, exclusive newsletters, commenting, and virtual events with our leading journalists
Already have an account? sign in
Register for free to continue reading
Registration is a free and easy way to support our truly independent journalism
By registering, you will also enjoy limited access to Premium articles, exclusive newsletters, commenting, and virtual events with our leading journalists
Already have an account? sign in