Sergei Dovlatov protagoniza el Doodle de Google del 3 de septiembre
Dovlatov es considerado uno de los escritores rusos más importantes de los últimos años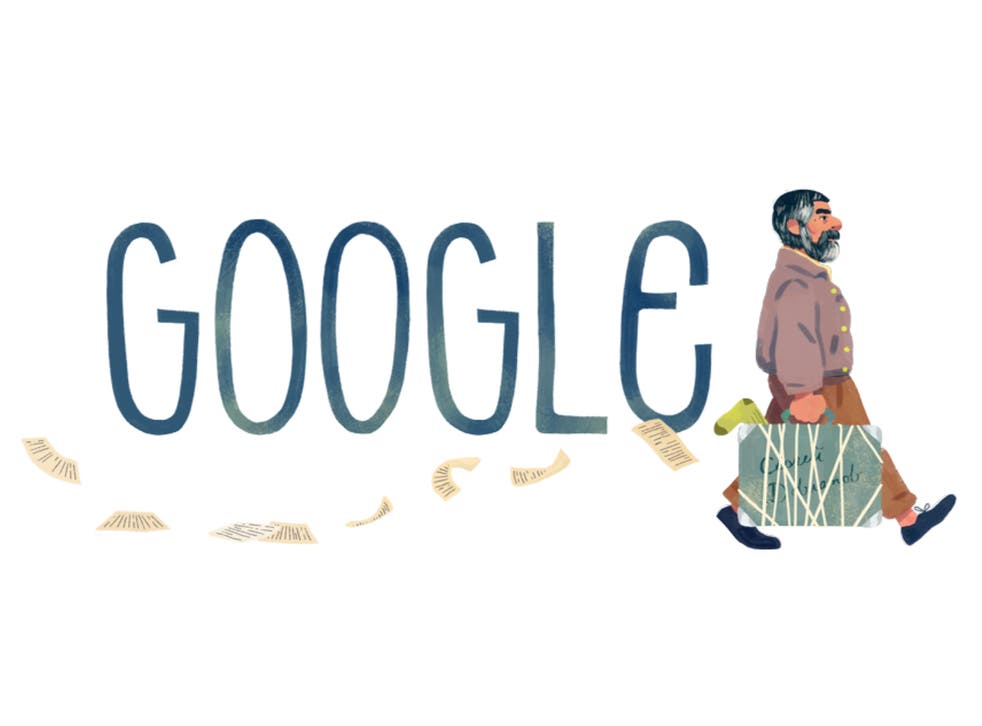 Este 3 de septiembre, Google cambió su clásica imagen y con su Doodle recordó el nacimiento del célebre escritor Sergei Dovlatov. En la imagen se puede ver al fallecido periodista y autor ruso caminar, dejando un rastro de manuscritos a su paso y cargando una maleta, en una recreación de su arribo a Estados Unidos.
Dovlatov nació un día como hoy pero de 1941 en la ciudad de Ufa, Rusia, en el seno de una familia ligada a las artes. Apenas con tres años de edad, se muda junto a su familia a Leningrado—hoy conocida como San Petersburgo—y ahí incursiona en el mundo de la escritura al trabajar en una imprenta.
Ingresó a la Facultad Estatal de San Petersburgo para estudiar el idioma finés, pero fue expulsado de esta carrera dos años más tarde. Dovlatov entonces se enlista en el ejército para cumplir con su servicio militar obligatorio y fungió como guardia de un campo de prisioneros en Komi.
En esa época comienza a escribir la novela titulada "La Zona", en donde relata sus experiencias en el ejército. Tras cumplir con sus compromisos militares, regresa a San Petersburgo y realiza diversos trabajos, siempre ligado al periodismo y las letras.
En 1974 se mudó a Tallin, Estonia, y trabaja en un periódico local, en donde encuentra mayor libertad para escribir. Cerca de publicar su primer libro, Dovlatov sufre un duro golpe después de que la KGB confiscó algunos de sus escritos y destruyó las galeras de imprenta de su trabajo. Este grupo de seguridad soviético también forzó al periódico a que lo despidiera.
Frustrado por la falta de libertades y la imposibilidad de desarrollarse como autor en la Unión Soviética, Dovlatov decide salir del país y emigra a Estados Unidos en 1979. En ese año arriba a Nueva York con solo una maleta, en búsqueda de un nuevo comienzo.
En territorio neoyorquino finalmente gozó de reconocimiento y libertad literaria. En 1980, The New Yorker publica por primera vez una historia corta de la autoría de Dovlatov, quien comenzó a ser conocido por los lectores. A partir de ese momento escribió un libro anual hasta el año de su muerte.
Leer más: Google celebra el nacimiento de Ángela Peralta con su Doodle del 6 de julio
A mediados de la década 1980 funda el diario The New American y en 1986 publica "La Maleta", una de sus obras más famosas, en donde cuenta los artículos que escogió para llevar a Estados Unidos una vez que decidió salir de la URSS.
Dovlatov murió sorpresivamente en 1990 con 48 años de edad y sin haber visto una sola de sus obras publicada en territorio soviético. Tras su fallecimiento, fue reconocido por la ciudad de Nueva York, que renombró una calle en su honor, y finalmente su trabajo se abrió paso en Rusia, en donde se ha convertido en una figura por su talento literario.
Register for free to continue reading
Registration is a free and easy way to support our truly independent journalism
By registering, you will also enjoy limited access to Premium articles, exclusive newsletters, commenting, and virtual events with our leading journalists
Already have an account? sign in
Register for free to continue reading
Registration is a free and easy way to support our truly independent journalism
By registering, you will also enjoy limited access to Premium articles, exclusive newsletters, commenting, and virtual events with our leading journalists
Already have an account? sign in