Dom Phillips y Bruno Pereira: ¿Quiénes son los hombres que desaparecieron en la Amazonía?
Los hombres han estado desaparecidos desde el 5 de junio.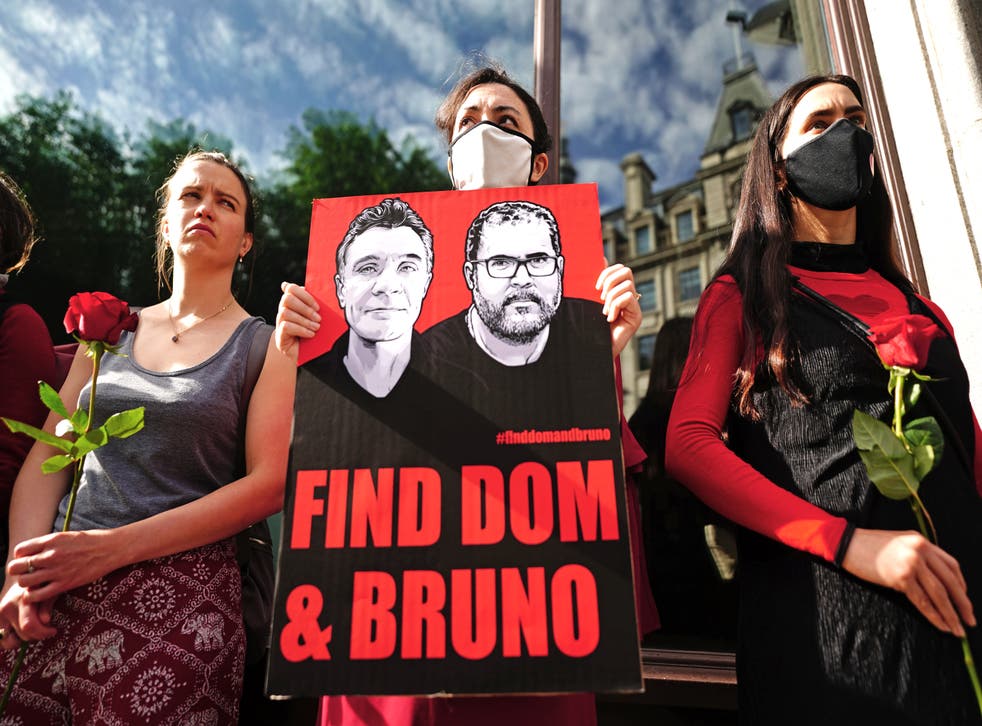 Read in English
Dom Phillips, un periodista británico, y Bruno Pereira, un experto en asuntos indígenas brasileños, están desaparecidos desde el 5 de junio mientras viajaban en una parte remota de la selva amazónica en el oeste de Brasil.
Phillips, de 57 años, ha escrito para The Guardian, The Financial Times y otros diarios y viajaba a Brasil por motivos de trabajo con Pereira, un exasesor del gobierno, cuando desaparecieron.
A ambos se les vio por última vez en la región Javari del Amazonas, cerca de la frontera con Perú. La familia de Phillips sospecha que ambos están muertos.
Un periodista brasileño dijo que los cuerpos de ambos hombres fueron encontrados en la selva, pero las autoridades brasileñas aún no han confirmado estos informes.
El lunes, se encontraron artículos pertenecientes a ambos hombres desaparecidos, incluida su ropa y la tarjeta de identificación de salud de Phillips, según la policía local.
Se cree que la desaparición de los dos hombres está relacionada con la pesca ilegal, ya que, según los informes, a Pereira lo amenazaron personas involucradas en la actividad de contrabando antes de desaparecer.
¿Quién es Dom Phillips?
Phillips, de 57 años, es un periodista independiente que ha vivido en Brasil durante más de 10 años en la ciudad nororiental de Salvador y ha informado sobre asuntos del país durante los últimos 15 años.
Phillips estaba en el Amazonas para realizar una investigación para un libro sobre el medio ambiente, con el apoyo de la Fundación Alicia Patterson. Anteriormente, había escrito sobre la deforestación y otros problemas ambientales en Brasil.
Su esposa, Alessandra Sampaio, y su suegra han dicho que creen que ambos están muertos. Un periodista brasileño, Andre Trigueiro, informó que la esposa de Phillips confirmó que se encontraron los cuerpos de ambos hombres.
¿Quién es Bruno Pereira?
Pereira, de 41 años, es padre de tres hijos y experto en asuntos indígenas en Brasil.
Ha trabajado para Funai, la agencia de derechos indígenas del gobierno brasileño, y sus antiguos colegas lo han descrito como un "héroe".
A Pereira lo despidieron de su cargo en Funai en lo que se consideró una medida por motivos políticos, poco después de que el presidente Jair Bolsonaro asumiera el poder en el país.
Según los informes, había recibido amenazas por su trabajo en el seguimiento de actividades ilegales en la región y la desaparición de ambos se relacionó con el comercio de pesca ilegal.
Register for free to continue reading
Registration is a free and easy way to support our truly independent journalism
By registering, you will also enjoy limited access to Premium articles, exclusive newsletters, commenting, and virtual events with our leading journalists
Already have an account? sign in
Register for free to continue reading
Registration is a free and easy way to support our truly independent journalism
By registering, you will also enjoy limited access to Premium articles, exclusive newsletters, commenting, and virtual events with our leading journalists
Already have an account? sign in