Huracán Zeta azota Luisiana con fuertes vientos, inundaciones y apagones
Casi 300.000 usuarios estaban sin electricidad en Luisiana, incluyendo más de 230.000 en el área metropolitana de Nueva Orleans.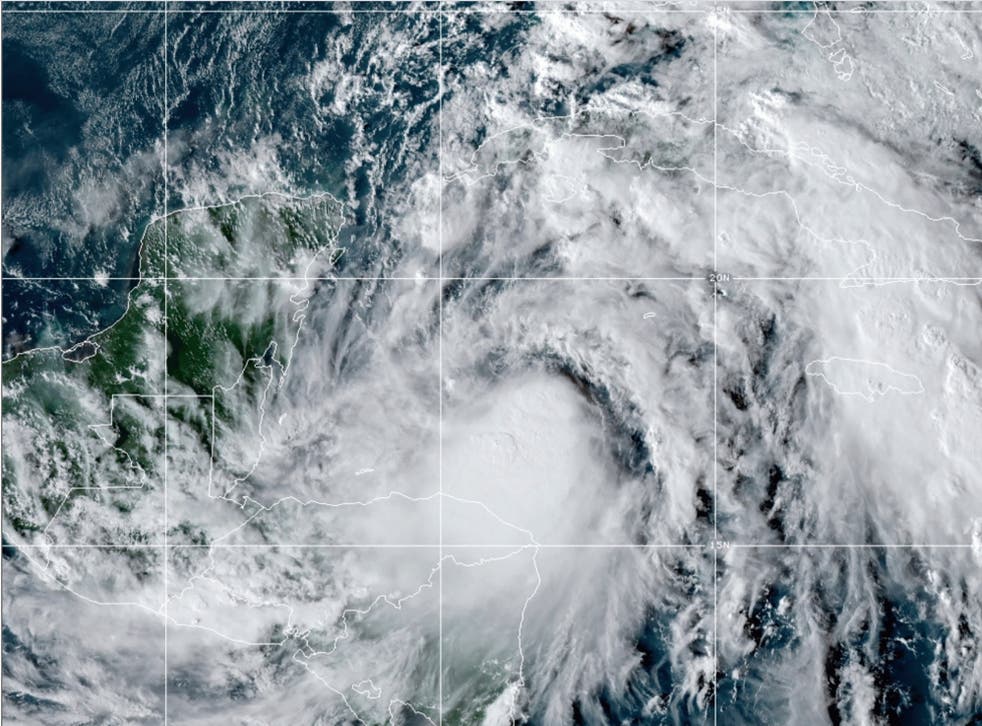 El huracán Zeta golpeó Luisiana el miércoles y tenía a Nueva Orleans en su camino, azotando casas y negocios con lluvia y fuertes vientos, dejando sin electricidad a miles de personas y amenazando generar marejadas de tres metros (9 pies) tierra adentro en una región que ha sufrido numerosas tormentas este año.
Los caminos estaban inundados cerca de la costa, donde los meteorólogos dijeron que Zeta tocó tierra en el área de Terrebone Bay cerca de Cocodrie, un poblado pesquero ubicado al final de una carretera, el cual cuenta con un laboratorio marino pero pocos residentes de tiempo completo, si es que hay alguno.
Chorros de agua caían de los tejados en el famoso Barrio Francés de Nueva Orleans, donde el viento mecía los carteles junto a restaurantes y bares, y las palmeras en Canal Street se sacudían con furia. Algunos árboles ya habían caído, y uno que se desplomó sobre cables del tendido eléctrico generó un intenso destello anaranjado.
Casi 300.000 usuarios estaban sin electricidad en Luisiana, incluyendo más de 230.000 en el área metropolitana de Nueva Orleans.
Zeta tenía vientos máximos sostenidos de 177 kilómetros por hora (110 millas por hora) como huracán de categoría 2, y es la 27ma tormenta con nombre en una temporada de gran actividad en el Atlántico cuando falta más de un mes para que concluya. Fijó un récord al volverse el 11mo meteoro con nombre en azotar el territorio continental estadounidense en una temporada, dos más que los nueve registrados en 1916.
Se emitieron avisos de tormenta tropical que abarcan hasta las montañas del norte de Georgia, algo sumamente inusual para esa región.
Se había pronosticado que Zeta arribaría como un huracán relativamente débil de categoría 1, pero los residentes de Luisiana se despertaron con pronósticos actualizados de que llegaría a tierra con categoría 2 en la parte suroriental del estado.
"La buena noticia para nosotros — y hay que tomar las buenas noticias donde las encuentres — es que la tormenta tenía una velocidad de desplazamiento de 17 millas por hora (27 kilómetros por hora). Se pronostica que eso aumentará, así que llegará y saldrá del área relativamente rápido, y luego podremos evaluar los daños con mayor rapidez", dijo el gobernador John Bel Edwards en una entrevista con The Weather Channel.
Las autoridades exhortaron a los residentes a tomar precauciones y prepararse para guarecerse donde estén.
"No creo que tengamos tanta suerte con esta", dijo el director de emergencias de la ciudad, Collin Arnold.
___
Plaisance reportó desde Laffite, Luisiana, y Santana desde Shell Beach, Luisiana.
Los periodistas de The Associated Press Gerald Herbert en Nueva Orleans; Jay Reeves, en Birmingham, Alabama; Melinda Deslatte en Baton Rouge, Luisiana; Seth Borenstein en Kensington, Maryland; Jeff Martin en Marietta, Georgia; y Gabriel Alcocer en Cancún, México, contribuyeron con este despacho.
Register for free to continue reading
Registration is a free and easy way to support our truly independent journalism
By registering, you will also enjoy limited access to Premium articles, exclusive newsletters, commenting, and virtual events with our leading journalists
Already have an account? sign in