Huracán Zeta impacta las costas de Luisiana
El ciclón tocó tierra este miércoles y se dirige hacia la ciudad de Nueva Orleans, en donde podría dejar hasta nueve metros de agua salada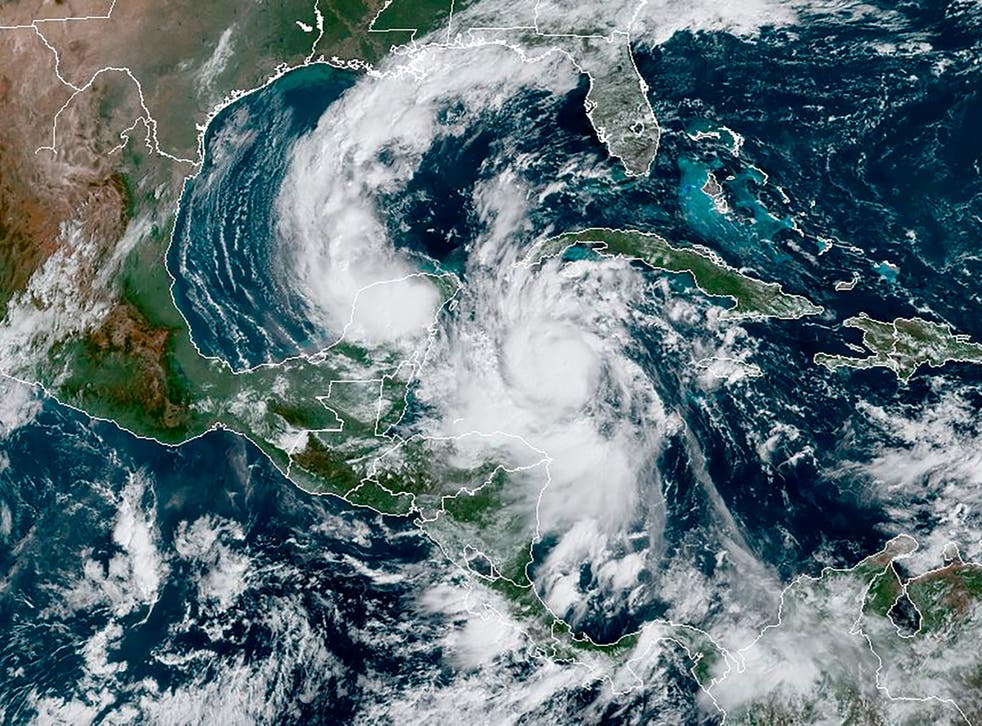 El huracán Zeta tocó tierra el miércoles en la costa de Luisiana y se dirige exactamente a Nueva Orleans, amenazando con llevar hasta 3 metros (9 pies) de agua salada tierra adentro y azotar residencias y negocios con fuertes vientos en una región de la costa del Golfo de México que ya ha sido castigada por varias tormentas este año.
Algunos caminos quedaron inundados cerca de la costa, donde los meteorólogos señalaron que Zeta tocó tierra en las inmediaciones de Terrebone Bay, cerca de Cocodrie, un poblado pesquero. Fuertes lluvias azotaron el Barrio Francés de Nueva Orleans, donde los residentes se alistaban para la llegada de Zeta, aunque algunas personas aún caminaban con sombrillas por Bourbon Street. Los icónicos tranvías se encontraban parados y la alcaldía cerró sus operaciones, informó la alcaldesa LaToya Cantrell.
Zeta tenía vientos máximos sostenidos de 177 km/h (110 mph) como huracán de categoría 2.
Se emitieron avisos de tormenta tropical que abarcan hasta el norte de las montañas de Georgia, algo sumamente inusual para esa región. Nueva Orleans ha estado dentro del área de alerta de siete tormentas previas que han virado hacia el este o el oeste esta temporada. Zeta, sin embargo, mantiene su trayectoria.
"No creo que tengamos tanta suerte con esta", dijo el director de emergencias de la ciudad, Collin Arnold.
Los pronósticos iniciales indicaban que Zeta tocaría tierra como un huracán relativamente débil de categoría 1, pero los habitantes de Luisiana despertaron con pronósticos de que el ciclón llegaría al sureste del estado como una tormenta de categoría 2.
"La buena noticia para nosotros — y uno toma las buenas noticias donde pueda hallarlas— es que la velocidad de la tormenta es de 27 km/h (17 mph). Esa velocidad está proyectada a aumentar, así que va a entrar y salir de la zona relativamente rápido, y luego podremos evaluar los daños más rápido", dijo el gobernador John Bel Edwards en una entrevista con The Weather Channel.
Las autoridades instaron a la población a tomar precauciones y a prepararse para resguardarse en interiores, mientras que la actividad habitual en Nueva Orleans se redujo por la mañana al aproximarse y fortalecerse la tormenta. El tráfico disminuyó y restaurantes y cafeterías cerraron.
"Este año, las tormentas han estado llegando una tras otra. Han estado evadiendo Nueva Orleans, pero finalmente se decidieron a venir", dijo Curt Brumfield, trabajador de una tienda de galletas mientras colocaba cajas vacías en la basura y otros empleados tapiaban las ventanas del establecimiento.
___
Plaisance reportó desde Laffite, Luisiana, y Santana desde Shell Beach, Luisiana.
Los periodistas de The Associated Press Gerald Herbert en Nueva Orleans; Jay Reeves, en Birmingham, Alabama; Melinda Deslatte en Baton Rouge, Luisiana; Seth Borenstein en Kensington, Maryland; Jeff Martin en Marietta, Georgia; y Gabriel Alcocer en Cancún, México, contribuyeron con este despacho.
Register for free to continue reading
Registration is a free and easy way to support our truly independent journalism
By registering, you will also enjoy limited access to Premium articles, exclusive newsletters, commenting, and virtual events with our leading journalists
Already have an account? sign in
Register for free to continue reading
Registration is a free and easy way to support our truly independent journalism
By registering, you will also enjoy limited access to Premium articles, exclusive newsletters, commenting, and virtual events with our leading journalists
Already have an account? sign in