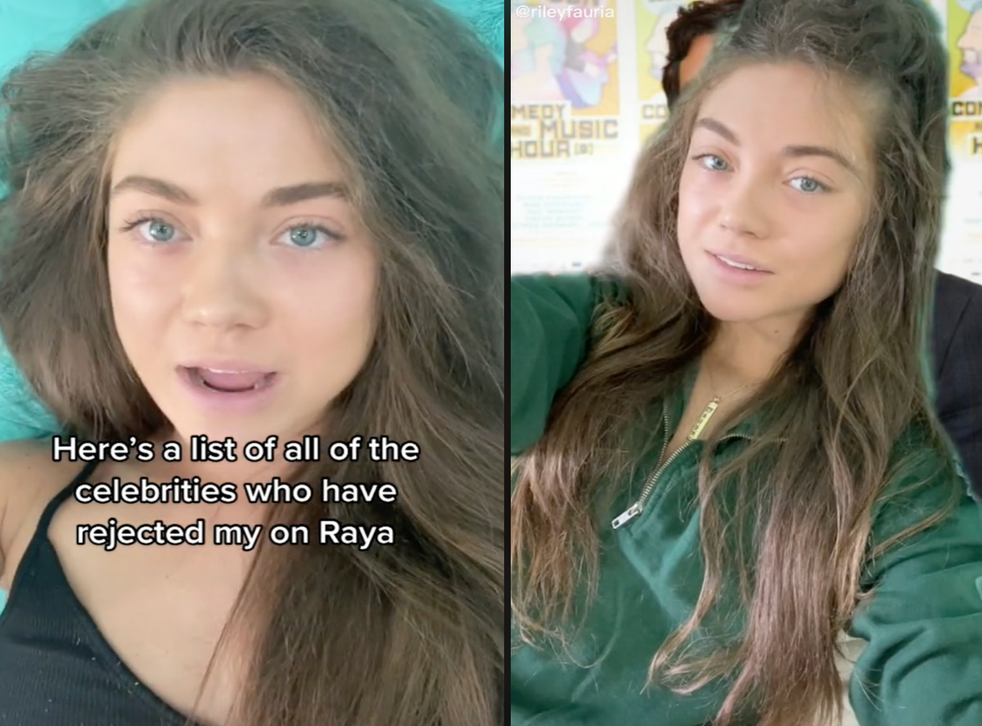 Mujer revela lista de celebridades masculinas que, según ella, la rechazaron en la aplicación de citas Raya
"Real, realmente estoy reviviendo algunas viejas heridas en este momento"
Read in English
Una mujer compartió una lista de celebridades que, según ella, la rechazaron en Raya, una aplicación de membresía que se puede usar para concertar citas románticas.
Según su sitio web oficial, Raya tiene como objetivo crear una comunidad segura en la que las personas puedan "reunirse e interactuar con otros" en todo el mundo. Sin embargo, para tener acceso a Raya, los usuarios deben completar una breve solicitud y, cuando son aceptados, deben pagar una cuota de membresía.
Dado que muchas celebridades han dicho que usaron Raya como una aplicación de citas, una mujer llamada Riley (@rileyfauria) compartió una serie de vídeos de TikTok sobre las estrellas que la rechazaron.
En su primer clip, Riley comenzó mencionando a Chris Rock, antes de decir a modo de broma que ahora era "del bando de Will Smith". Esta fue una referencia a que el actor apareció en los titulares por abofetear a Rock en el escenario en los Oscar en marzo pasado.
A continuación, mencionó al "pequeño amigo de Chris Rock, David Spade", y afirmó que "Adam Sandler es mejor" que Rock y Spade.
Riley siguió compartiendo aún más nombres de estrellas que la rechazaron en Raya, entre quienes estuvieron Diplo, Brody Jenner, Ethan Cutkosky y Drew Starkey.
En el pie de foto, señaló que se ha encontrado con muchas celebridades en la aplicación y escribió: "Podría hacer como 100 vídeos sobre Raya. Claramente tengo problemas con esa aplicación".
A partir del 16 de junio, el vídeo de Riley tiene más de un millón de visitas, y los usuarios de TikTok comparten en los comentarios sus experiencias con Raya y expresan cómo esperan ver a las celebridades en él.
"También he sido rechazada por el 100 por ciento de esos hombres", escribió alguien.
"Hice match con un jugador de fútbol de Polonia con un millón de seguidores, pero lo busqué en Google y está casado y con hijos", afirmó alguien más.
Una tercera persona bromeó: "Chica, ¿puedes dejar el código de referencia porque yo también quiero que me rechacen?".
En un segundo vídeo, Riley mencionó aún más celebridades que presuntamente la rechazaron. Comenzó describiendo al "hombre de The Office", refiriéndose a BJ Novak. Luego mencionó a Bryce Vine, Mike Posner, Trevor Noah, Julian Edelman y Charlie Puth.
En su tercer vídeo, dijo que John Mayer, Tom Felton, Zedd, Tyler Cameron y Nick Kroll también estaban entre los hombres que nunca hicieron match con ella.
"Creo que probablemente debería dejar de hacer esto", dijo al final del clip. "Real, realmente estoy reviviendo algunas viejas heridas en este momento".
Más tarde, Riley compartió su cuarta y última parte de la serie en TikTok, donde observó cómo un famoso TikToker, Aaron Maternowski, @curlyfuq, la había rechazado.
Según Riley, Zane Hijazi y Nat o Alex Wolff, los hermanos que protagonizaron la serie de Nickelodeon The Naked Brothers Band, también la habían rechazado.
En declaraciones para The Independent, Riley expresó lo interesante que era ver qué celebridades estaban en Raya, ya que "van desde 'estrellas' de los principales medios hasta influencers menos conocidos de TikTok".
Afirmó que después de publicar su TikTok, se pusieron en contacto con ella algunas de las celebridades masculinas que dijo que la habían rechazado. "Se comunicaron conmigo en Instagram y dijeron que vieron mi TikTok y pensaron que fue divertido", explicó. "¡Dijeron que no vieron mi perfil y si lo hubieran hecho, habrían deslizado mi perfil hacia el sí!".
Register for free to continue reading
Registration is a free and easy way to support our truly independent journalism
By registering, you will also enjoy limited access to Premium articles, exclusive newsletters, commenting, and virtual events with our leading journalists
Already have an account? sign in
Register for free to continue reading
Registration is a free and easy way to support our truly independent journalism
By registering, you will also enjoy limited access to Premium articles, exclusive newsletters, commenting, and virtual events with our leading journalists
Already have an account? sign in