La posición inclinada de Saturno resulta de colisión con una luna, según científicos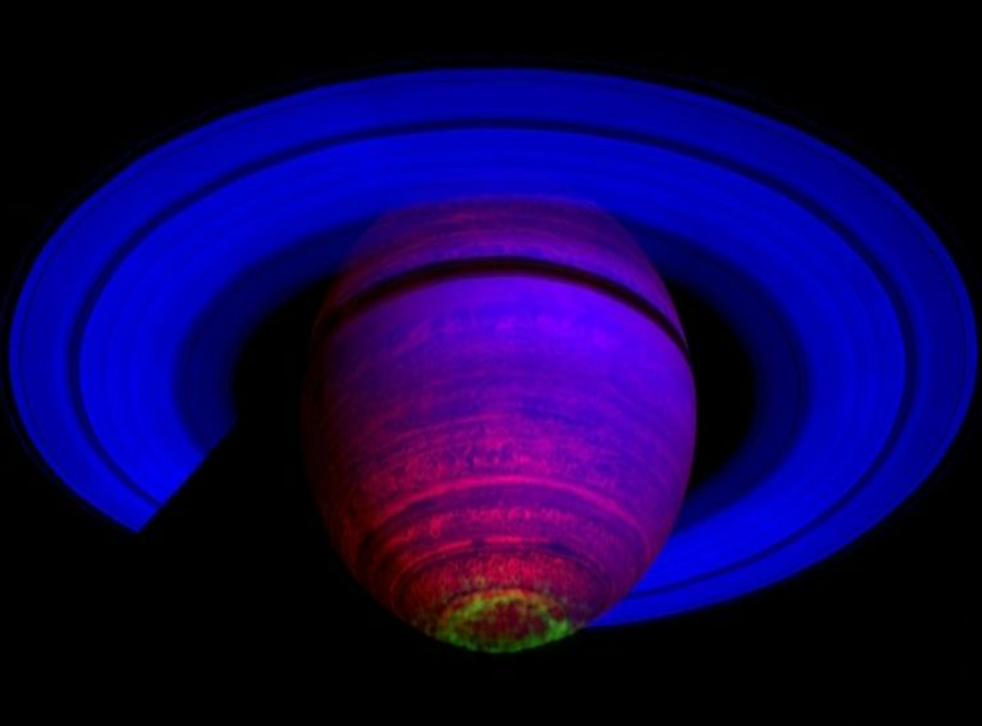 Read in English
La posición inclinada de Saturno resulta de una colisión con una de sus lunas , sugiere un nuevo estudio.
Incluso en las imágenes, está claro que nuestro vecino cercano tiene algo extraño: sus anillos giran en un ángulo de aproximadamente 25 grados con respecto a su órbita alrededor del Sol. Pero no está tan claro cómo llegó a adoptar esta posición inclinada. Los científicos piensan que quizá tenga algo que ver con Neptuno, su vecino cercano, ya que la inclinación es similar a su órbita.
Ahora, los científicos han sugerido que los dos alguna vez estuvieron sincronizados y orbitaban en una alineación ordenada o en sincronía.
Esa alineación se rompió en algún momento de la historia, cuando una luna causó estragos entre los dos, sugiere un nuevo estudio.
Hoy en día, Saturno tiene 83 lunas. Pero en el pasado pudo haber tenido un satélite extra, el cual desapareció y que los científicos han llamado Chrysalis.
Todas esas lunas orbitaban alrededor de Saturno y lo mantenían alineado de forma perfecta con Neptuno, dicen los científicos, con esa suave sincronía que duró miles de millones de años.
Sin embargo, hace unos 160 millones de años, Chrysalis salió de esa alineación ordenada y se desvió demasiado cerca de Saturno. La luna se desgarró y su pérdida alejó a Saturno de Neptuno, lo cual dejó al planeta fuera de su alineación.
Además, los anillos de Saturno pueden haberse formado a partir de los trozos en los que se rompió Chrysalis.
Eso ayuda a explicar dos misterios a la vez: que Chrysalis es la causa de la inclinación y la edad inexplicable de los anillos, los cuales tienen solo 100 millones de años y son mucho más jóvenes que el planeta en sí.
"Al igual que la crisálida de una mariposa, este satélite estuvo inactivo durante mucho tiempo y de repente se activó, y surgieron los anillos", dijo Jack Wisdom, profesor de ciencias planetarias en el MIT y autor principal del nuevo estudio.
El equipo utilizó datos detallados sobre Saturno, incluidas las medidas tomadas cuando la sonda Cassini se estrelló contra el planeta, para construir una simulación precisa de Saturno. Esos modelos indicaron que los planetas alguna vez pudieron haber estado sincronizados entre sí, pero se habían separado.
Una luna podría ser suficiente para causar esos problemas, creen los científicos. Habría orbitado alrededor de Saturno hasta hace 200 o 100 millones de años, cuando cayó en una órbita caótica que lo acercó a otros satélites y luego rozó a Saturno, lo que lo destrozó.
"Es una historia bastante buena, pero como cualquier otro resultado, tendrá que someterse a la examinación de terceros", comentó Wisdom. "Pero parece que este satélite perdido era solo una crisálida, esperaba su inestabilidad".
La investigación se describe en un artículo, 'Loss of a satellite could explain Saturn's obliquity and young rings', publicado en la revista Science.
Register for free to continue reading
Registration is a free and easy way to support our truly independent journalism
By registering, you will also enjoy limited access to Premium articles, exclusive newsletters, commenting, and virtual events with our leading journalists
Already have an account? sign in
Register for free to continue reading
Registration is a free and easy way to support our truly independent journalism
By registering, you will also enjoy limited access to Premium articles, exclusive newsletters, commenting, and virtual events with our leading journalists
Already have an account? sign in