Amber Heard es acusada de retocar fotografías de heridas tras pelear con Johnny Depp
La abogada Camille Vasquez trató de refutar el testimonio de Amber Heard de que Johnny Depp abusó de ella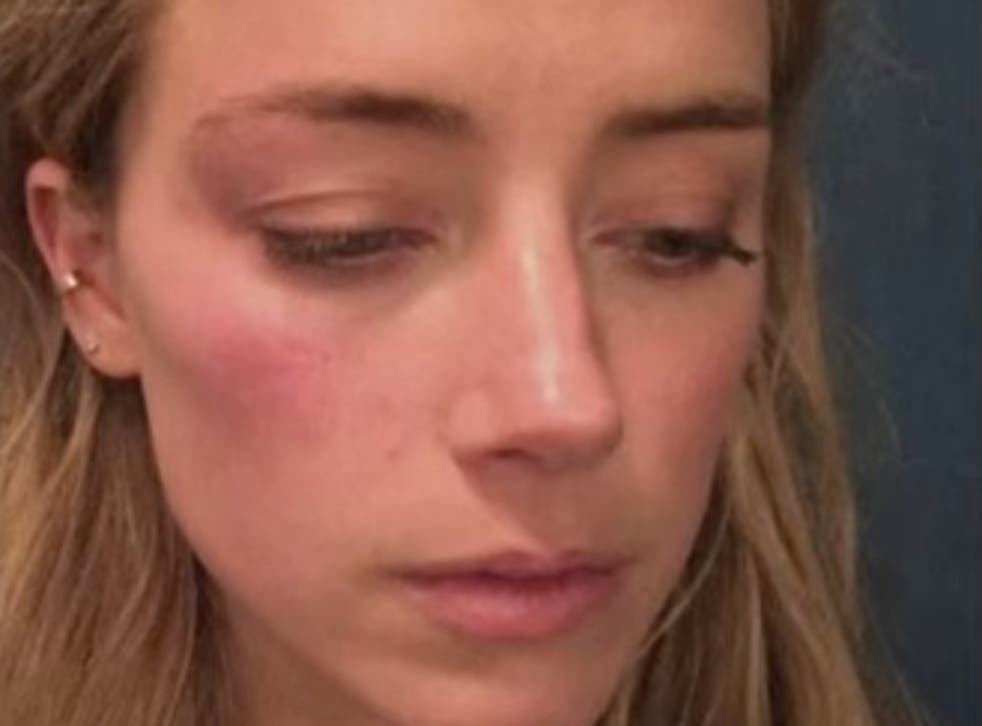 Read in English
La abogada de Johnny Depp acusó a Amber Heard de retocar imágenes con Photoshop para que pareciera que había sufrido lesiones a manos de su exesposo.
El tribunal en Fairfax, Virginia, escuchó el martes por la mañana un intenso intercambio de opiniones entre la actriz de Aquaman y la abogada Camille Vasquez mientras el equipo de Depp buscaba desmantelar el testimonio de Heard durante el juicio por difamación multimillonario de la expareja.
Vasquez acusó a Heard de "editar fotografías", afirmó que mejoró la saturación en algunas de las imágenes para que su rostro pareciera más rojo.
Heard negó las acusaciones e insistió: "No, no la toqué".
Al tribunal se le mostraron dos fotos diferentes del rostro de Heard tomadas en mayo de 2016, donde una imagen más clara que la otra.
Heard testificó que tomó las imágenes con "iluminación diferente", y dijo que cree que una de las imágenes fue tomada durante el día y otra durante la noche.
Ella añadió que cree que tenía una luz de espejo de tocador encendida en una de las imágenes.
La abogada de Depp continuó al afirmar que los agentes de policía que acudieron a la casa de la pareja esa noche testificaron que no vieron ninguna herida visible en el rostro de Heard en ese momento.
La abogada le comentó a Heard que el testimonio de los policías era "inconveniente" para ella.
Depp demanda a su exesposa por difamación debido un artículo de opinión de 2018 que ella escribió para The Washington Post, donde se describía a sí misma como "una figura pública que representa el abuso doméstico".
El actor de Pirates of the Caribbean no se nombra en el artículo, el cual se titula "I spoke up against sexual violence – and faced our culture's wrath. That has to change. [Me pronuncié en contra de la violencia sexual y enfrenté la ira de nuestra cultura. Eso tiene que cambiar]".
Sin embargo, Depp afirma que implica falsamente que él es un abusador doméstico, algo que él niega rotundamente, y que le presentó dificultades para conseguir papeles en Hollywood. Él la demanda por US$50 millones.
Heard lo contrademanda por US$100 millones, acusa a Depp de orquestar una "campaña de difamación" en su contra y describe su demanda como una continuación del "abuso y acoso".
Register for free to continue reading
Registration is a free and easy way to support our truly independent journalism
By registering, you will also enjoy limited access to Premium articles, exclusive newsletters, commenting, and virtual events with our leading journalists
Already have an account? sign in
Register for free to continue reading
Registration is a free and easy way to support our truly independent journalism
By registering, you will also enjoy limited access to Premium articles, exclusive newsletters, commenting, and virtual events with our leading journalists
Already have an account? sign in