Kamala Harris felicita a su hijastra por su graduación universitaria
"Estoy tan orgullosa de ti. Sigue soñando con ambición y no hay nada que no puedas lograr", escribe la vicepresidenta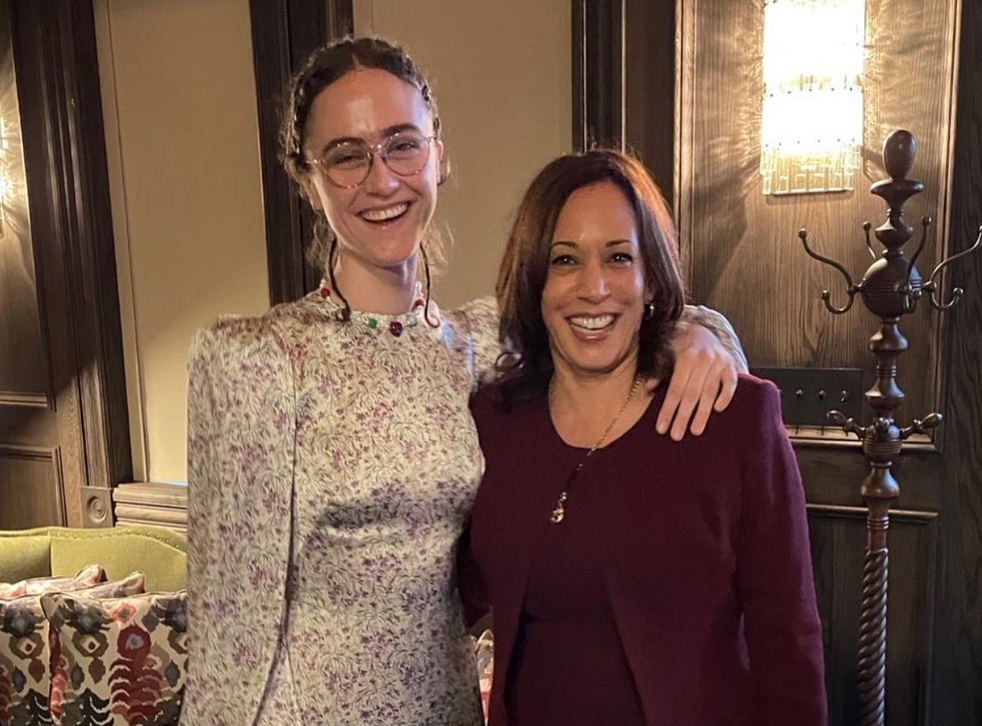 Read in English
La vicepresidenta Kamala Harris fue una "Momala" extremadamente orgullosa este fin de semana al felicitar a su hijastra por graduarse de la universidad.
La vicepresidenta Harris compartió una foto de ella con Ella Emhoff, hija de su esposo y segundo caballero Doug Emhoff.
"Felicitaciones a nuestra hija Ella por su graduación. Estoy tan orgulloso de ti. Sigue soñando con ambición y no hay nada que no puedas lograr. Con amor, Momala", escribió el vicepresidente.
La vicepresidenta Harris y su esposo hicieron una visita discreta a la ciudad de Nueva York el viernes para asistir a la ceremonia virtual de graduación de la Escuela de Diseño Parsons de The New School. Emhoff, de 21 años, obtuvo una licenciatura en Bellas Artes de la escuela.
No solo la vicepresidenta estaba orgullosa de sus logros. Emhoff también compartió una foto de la ceremonia con su hija con su toga y birrete de graduación.
"Mi querida Ella, ¡somos unos padres tan orgullosos!", escribió Emhoff en Instagram el viernes.
"Los amamos mucho y esperamos con ansias todo lo que hagan en el futuro. Y, para los otros graduados de la Clase de 2021, grandes felicitaciones", agregó en su pie de foto.
Emhoff ha lanzado una carrera en la moda después de firmar con IMG Models en enero. Hizo su debut en la pasarela en febrero para Proenza Schouler durante la Semana de la Moda de Nueva York.
La joven de 21 años también consiguió su primera portada de revista este año, apareciendo en la revista de moda europea Dust en febrero.
The Second Gentleman también comparte un hijo, Cole Emhoff, de 26 años, con su primera esposa, Kerstin Emhoff.
Lee más: Dos policías de Chicago heridos tras disparar en el lado oeste de la ciudad
En entrevistas anteriores, Harris ha hablado de su estrecha relación con sus hijastros. Ella y Emhoff no tienen hijos juntos.
"Mis hijos no me llaman madrastra, me llaman ´Momala´. Somos una familia muy moderna. Su mamá es una amiga cercana", dijo la vicepresidenta a People en agosto de 2020.
Register for free to continue reading
Registration is a free and easy way to support our truly independent journalism
By registering, you will also enjoy limited access to Premium articles, exclusive newsletters, commenting, and virtual events with our leading journalists
Already have an account? sign in
Register for free to continue reading
Registration is a free and easy way to support our truly independent journalism
By registering, you will also enjoy limited access to Premium articles, exclusive newsletters, commenting, and virtual events with our leading journalists
Already have an account? sign in