Diane Kruger se opone a que los paparazzi fotografíen a su hija de tres años
Kruger tiene una hija de tres años con su prometido Norman Reedus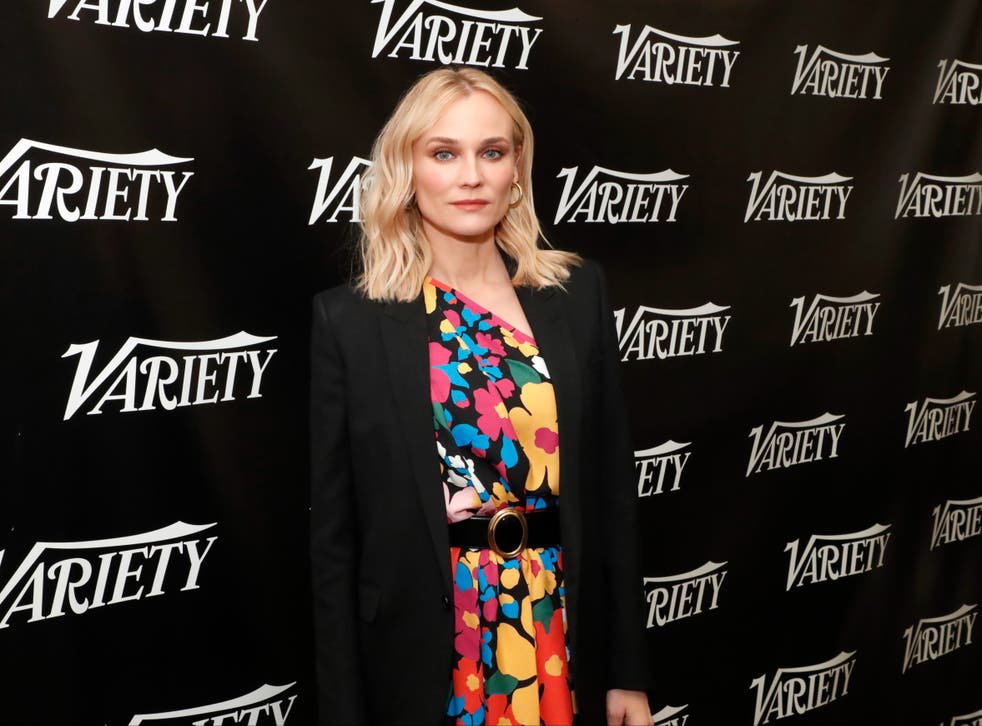 Read in English
Diane Kruger se sinceró sobre las dificultades para proteger la privacidad de su hija de tres años mientras vive en el ojo público.
En una reciente entrevista con The Sunday Times, la actriz y modelo de 45 años comentó que ser fotografiada mientras sale con su hija en la ciudad de Nueva York le causa frustración. "Lo odio y me vuelve loca", afirmó Kruger.
La estrella de Inglourious Basterds ha sido notoriamente protectora de la privacidad de su hija, que comparte con su prometido Norman Reedus. Los dos aún no han revelado su nombre.
"Cuando estoy con mi hija y le sacan fotos, casi he llegado a pegarle a unos cuantos", señaló. "Si los veo y son lo suficientemente valientes como para no alejarse, al cien por cien soy esa loca que grita al otro lado de la calle".
Kruger dio la bienvenida a su primera hija con la estrella de The Walking Dead, Reedus, de 53 años, en noviembre de 2018. Aunque los dos son notoriamente privados cuando se trata de ella, la pareja ha compartido ocasionalmente fotos familiares que no muestran su rostro en las redes sociales.
En 2019, la actriz germano-estadounidense suplicó públicamente a los fans que no volvieran a publicar imágenes de su recién nacida después de que se publicaran fotos de paparazzi con su bebé sin permiso.
"Queridos fans, queridos no fans, queridos paparazzi y cualquier persona con conciencia. Acabamos de ser etiquetados en estas fotos de paparazzi de mí y nuestra hija. Estas fotos fueron tomadas sin nuestro consentimiento y exponen a un bebé vulnerable e inocente", tituló Kruger su post de Instagram.
"Aunque entendemos que algunas personas quieran ver una foto de nuestra hija, nosotros, como padres, lo único que queremos es que crezca en la intimidad y con seguridad", escribió.
Kruger -que protagoniza la nueva serie Swimming with Sharks, disponible en exclusiva en el canal Roku- también detalló cómo el hecho de tener un hijo propio ha cambiado su propia relación con su madre.
"Puedo ver cómo ella lo intentó y lo hizo lo mejor posible, ya sabes", dijo. "Todas las cosas que les reprochas a tus padres cuando creces, desaparecen porque finalmente entiendes lo que se necesita".
Kruger, que dio a luz a su primer hijo cuando tenía 42 años, ha reflexionado anteriormente sobre por qué se "alegra" de no haber tenido un hijo a los treinta años, explicando por qué cree que le habría "molestado" ser madre antes.
"Estoy muy contenta de no haber tenido un hijo a los 30 años", indicó en una entrevista con el Sunday Telegraph. "Creo que me habría resentido absolutamente por todas las cosas a las que tienes que renunciar, porque hoy estoy feliz de hacerlo", explicó. "He estado en todas las fiestas, he estado en todos los países que quería visitar. Así que estoy cien por cien preparada y dispuesta a darle a mi hijo esa atención".
Kruger y Reedus llevan saliendo desde marzo de 2017. La estrella de The Walking Dead ya es padre de su hijo Mingus Lucien Reedus, de 22 años, con la supermodelo Helena Christensen, con quien salió durante cinco años antes de separarse en 2003.
Register for free to continue reading
Registration is a free and easy way to support our truly independent journalism
By registering, you will also enjoy limited access to Premium articles, exclusive newsletters, commenting, and virtual events with our leading journalists
Already have an account? sign in
Register for free to continue reading
Registration is a free and easy way to support our truly independent journalism
By registering, you will also enjoy limited access to Premium articles, exclusive newsletters, commenting, and virtual events with our leading journalists
Already have an account? sign in