Enorme caimán se pasea en medio de un campo de golf en Florida
El caimán fue visto en Valencia Golf and Country Club en un vídeo publicado en redes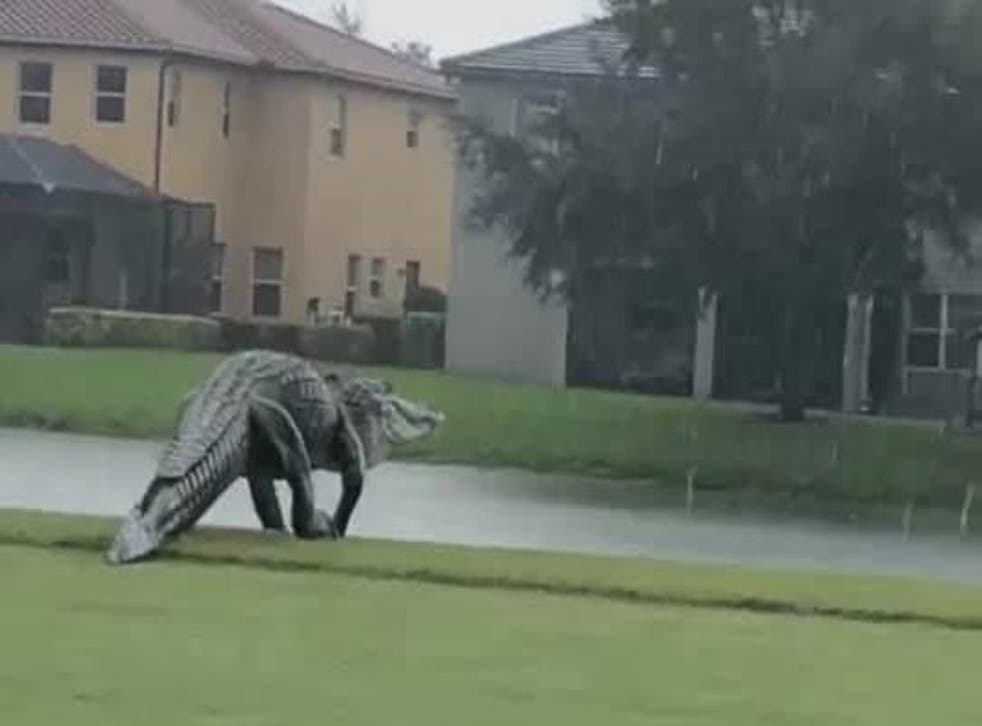 Read in English
Los residentes de Florida están más acostumbrados que la mayoría a ver caimanes y cocodrilos. Pero un enorme caimán deambulando por los greens de un campo de golf de Nápoles sorprendió a los ciudadanos. 
"¡ENORME CAIMÁN DE LA FLORIDA!" dijo Matt Devitt, meteorólogo de WINK News. "Sí, este monstruo es real".
El caimán fue visto en Valencia Golf and Country Club en un video publicado en línea el miércoles.
Caminó como un pato por el green, dirigiéndose hacia un estanque junto al hoyo 17 del campo de 18 hoyos.
Muchos pensaron que el enorme animal había sido retocado con Photoshop, hasta que se compartió el video para demostrar que la criatura era real.
Tanto los cocodrilos como los caimanes viven en Florida, siendo los Everglades el único lugar del mundo en el que ambos coexisten.
Los cocodrilos son mucho más raros, con solo alrededor de 1,500 en el estado, y están clasificados como una especie amenazada. Tienen hocicos más largos y puntiagudos y muestran sus dientes cuando la boca está cerrada; los caimanes tienen hocicos más cortos y redondeados y sus dientes desaparecen cuando sus bocas están cerradas.
Los cocodrilos también son típicamente de color más claro, con tostados y marrones; los caimanes son más oscuros, mostrando más tonos grises y negros.
Los cocodrilos viven mucho más tiempo, con un promedio de vida de 70 a 100 años, mientras que los caimanes solo viven en promedio 30 a 50 años.
Se estima que 1.3 millones de caimanes viven en Florida, según Florida Fish and Wildlife, pero solo se han reportado cinco muertes relacionadas con caimanes en el estado desde 2010, y solo 25 en los 71 años desde 1948-2019.
En mayo, una mujer de 58 años de Carolina del Sur, Cynthia Covert, se ahogó cuando un caimán la arrastró bajo el agua cerca de su casa en la isla Kiawah.
La última muerte en Florida fue en junio de 2018, cuando Shizuka Matsuki, de 47 años, fue asesinada por un caimán de 12 pies en Davie, al sureste de Fort Lauderdale.
Register for free to continue reading
Registration is a free and easy way to support our truly independent journalism
By registering, you will also enjoy limited access to Premium articles, exclusive newsletters, commenting, and virtual events with our leading journalists
Already have an account? sign in