Trump quiere encarcelar a Assange para 'mantenerlo callado', dice abogado a tribunal
La fiscalía describe el reclamo como "solo una conjetura"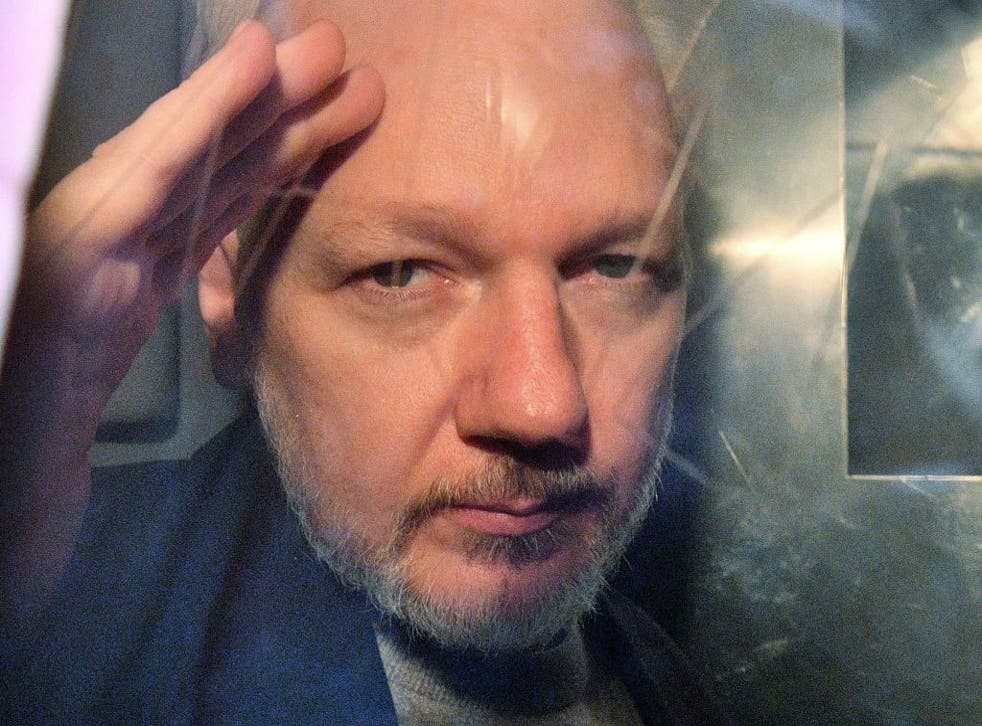 Read in English
El presidente Donald Trump tiene un gran interés en que el fundador de WikiLeaks, Julian Assange, sea encarcelado, dijo un abogado estadounidense a un tribunal inglés.
El abogado estadounidense Eric Lewis hizo el reclamo en una declaración de testigo dada en la audiencia de extradición de Assange en Londres el martes.
Esto ocurre cuando el australiano de 49 años, que actualmente se encuentra recluido en la prisión de Belmarsh, está tratando de luchar contra la extradición a los Estados Unidos, donde enfrenta 18 cargos luego de la filtración de documentos clasificados en 2010 y 2011.
"WikiLeaks y Assange representan una amenaza para la legitimidad de la campaña (electoral) de Trump que está desesperado por aplastar desviando la atención y encarcelando a Assange", afirmó el abogado.
"WikiLeaks es una tema sensible para Trump debido a los vínculos probatorios entre su campaña y WikiLeaks", agregó.
Trump elogió a WikiLeaks en 2016, el año en que la organización filtró correos electrónicos del Comité Nacional Demócrata para un "indudable beneficio de Trump", según Lewis, quien además de abogado es director de Independent Digital News and Media, editor de The Independent.
El Tribunal Penal Central de Inglaterra y Gales (Old Bailey) escuchó que el presidente comentó durante su campaña: "Me encanta WikiLeaks".
Tres años más tarde, Trump dijo que no sabía nada sobre WikiLeaks salvo que tenía "algo" que ver con Assange, afirmó.
En su declaración, Lewis también dijo: "El enjuiciamiento de Julian Assange es parte de los esfuerzos de Trump para distraer la atención de la ayuda que WikiLeaks le prestó al centrar la atención en las filtraciones anteriores, que son mucho más potentes políticamente para él.
"Quiere llevar al señor Assange a la cárcel y mantenerlo callado".
El fiscal estadounidense en el caso desafió al señor Lewis por esta afirmación, sugiriendo que era "solo una conjetura".
La fiscalía también impugnó la declaración de Lewis de que el fundador de WikiLeaks podría enfrentarse a 175 años de prisión si es declarado culpable en Estados Unidos, y lo describió como una "frase pegadiza" para la defensa.
El señor Lewis respondió que la longitud de esta oración era una "probabilidad" razonable.
La audiencia de extradición continúa y durará cuatro semanas.
Register for free to continue reading
Registration is a free and easy way to support our truly independent journalism
By registering, you will also enjoy limited access to Premium articles, exclusive newsletters, commenting, and virtual events with our leading journalists
Already have an account? sign in