Kourtney Kardashian y Travis Barker se casaron en Las Vegas después de los Grammy, según informes
Según los informes, la pareja intercambió votos la madrugada del lunes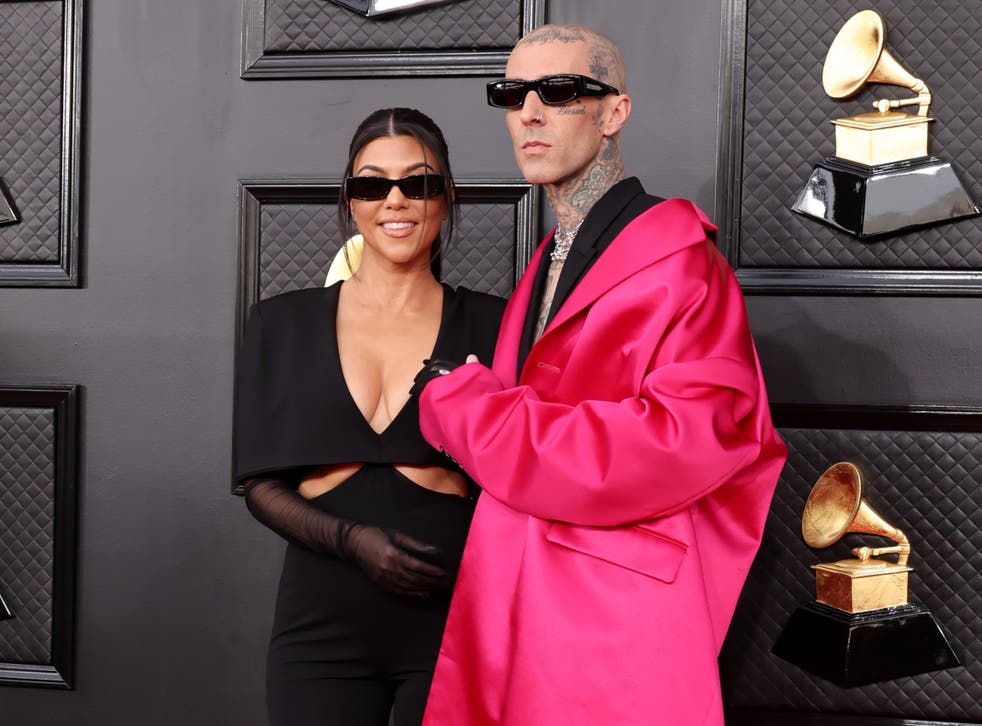 Read in English
Kourtney Kardashian y Travis Barker se casaron, según los informes.
El martes, TMZ informó que la protagonista de Keeping Up With The Kardashians, de 42 años, y el baterista de Blink-182, de 46, se casaron en Las Vegas, Nevada, el lunes por la mañana. Esto después de asistir por primera vez a la 64ª entrega anual de los premios Grammy.
La pareja caminó por la alfombra roja en el evento con atuendos completamente negros antes de que Barker, quien también se complementó con una chaqueta rosa brillante, subiera al escenario para actuar, y el medio informó que luego tuvieron una ceremonia de boda a la 1:30 am en un capilla de bodas de Las Vegas.
Según TMZ, la pareja prohibió que se tomaran fotos por parte de la sede y, en cambio, optó por traer su propio fotógrafo. Según los informes, también vinieron preparados con una licencia de matrimonio, dijeron las fuentes al medio, quien detalló que el dueño de la capilla sirvió como testigo mientras un imitador de Elvis oficiaba la boda.
Sin embargo, la boda en Las Vegas no será la única ceremonia que tendrá la pareja de celebridades, ya que el medio señala que, según los informes, habrá "varias" otras celebraciones para las nupcias de Kardashian y Barker.
Kardashian y Barker salen desde principios de 2021, y la fundadora de Poosh hizo oficial su relación en Instagram en febrero de ese año.
La pareja se comprometió en octubre de 2021, y la madre de tres hijos mostró su anillo de diamantes de forma ovalada en Instagram el 17 de octubre.
El presunto matrimonio de la pareja ocurre después de una serie de salidas públicas de la pareja, donde se sabe que muestran su amor y afecto mientras posan en la alfombra roja y en las redes sociales.
Hasta el momento, ni Kardashian ni Barker han compartido ninguna pista sobre su estado de recién casados en las redes sociales. El matrimonio de la pareja se da poco antes del estreno del último reality show de la famosa familia, The Kardashians, el cual se transmitirá en Hulu el 14 de abril.
Register for free to continue reading
Registration is a free and easy way to support our truly independent journalism
By registering, you will also enjoy limited access to Premium articles, exclusive newsletters, commenting, and virtual events with our leading journalists
Already have an account? sign in
Register for free to continue reading
Registration is a free and easy way to support our truly independent journalism
By registering, you will also enjoy limited access to Premium articles, exclusive newsletters, commenting, and virtual events with our leading journalists
Already have an account? sign in