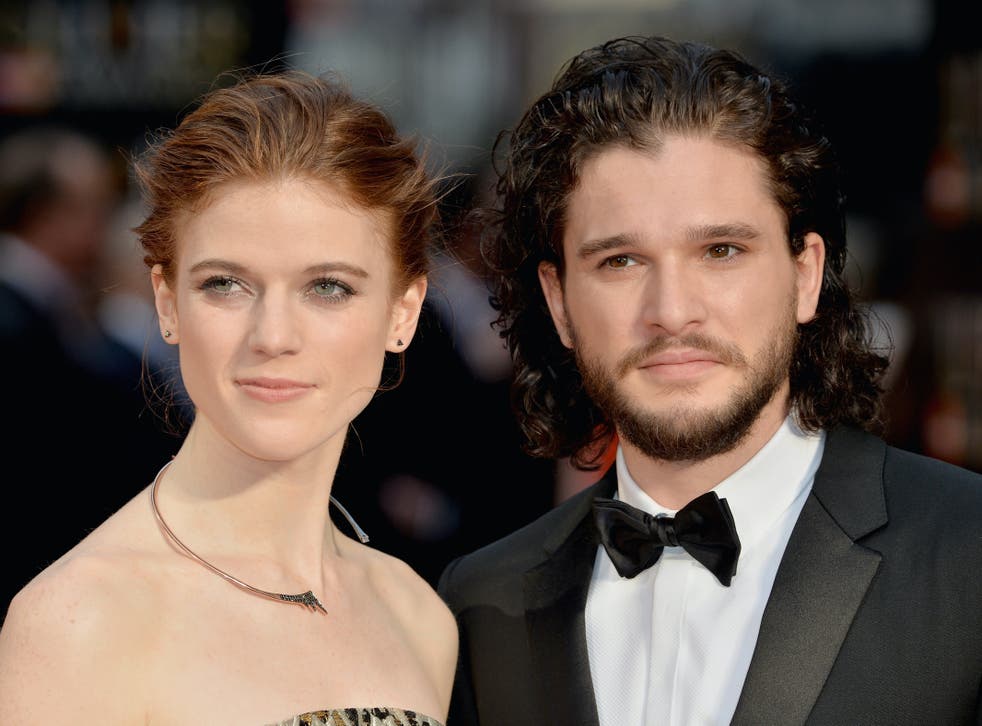 Las estrellas de Game of Thrones, Kit Harington y Rose Leslie, esperan a su primer hijo
La pareja se conoció en el set de la serie de HBO como los personajes Ygritte y Jon Snow
Read in English
Las estrellas de 'Game of Thrones', Kit Harington y Rose Leslie, esperan a su primer hijo.
La noticia del embarazo de Leslie se reveló el sábado, cuando se compartió en Instagram una foto del actor tomada para una entrevista de una revista.
La imagen, de la publicación digital Make Magazine, mostraba a Leslie sonriendo con las manos en las caderas mientras mostraba su creciente panza.
Al compartir la imagen en su cuenta personal, la editora de moda Ursula Lake escribió: "¡Una sesión fotográfica muy especial para todo el equipo femenino que captura a Rose en este maravilloso momento mientras se prepara para la maternidad por primera vez!"
En la entrevista adjunta, Leslie habló sobre la casa de la pareja en la campiña inglesa y dijo que estaba deseando formar una familia allí, después de años de vivir en Nueva York.
"Qué cosa tan gloriosa poder correr al campo y recuperarme", dijo.
"Es un gran privilegio estar rodeado de vegetación, cantos de pájaros y setos, y de nuestros encantadores vecinos. Es tan pacífico".
La pareja interpretó a Ygritte y Jon Snow en la serie de HBO Game of Thrones, en la que también tuvieron una relación en pantalla.
En el programa, el personaje de Leslie, de 33 años, se hizo conocido por la frase: "No sabes nada, Jon Snow".
Leslie y Harington se casaron en 2018 después de salir durante seis años.
La boda tuvo lugar en el castillo de su familia en Wardhill, Aberdeenshire, con la presencia de los ex compañeros de reparto Maisie Williams, Peter Dinklage, Emilia Clarke y Sophie Turner.
La pareja dio el paso tradicional de anunciar su compromiso en The Times.
El anuncio decía: "El compromiso se anuncia entre Kit, hijo menor de David y Deborah Harington de Worcestershire, y Rose, hija mediana de Sebastian y Candy Leslie de Aberdeenshire".
Register for free to continue reading
Registration is a free and easy way to support our truly independent journalism
By registering, you will also enjoy limited access to Premium articles, exclusive newsletters, commenting, and virtual events with our leading journalists
Already have an account? sign in
Register for free to continue reading
Registration is a free and easy way to support our truly independent journalism
By registering, you will also enjoy limited access to Premium articles, exclusive newsletters, commenting, and virtual events with our leading journalists
Already have an account? sign in