Gorra racista "Black Lives Don't Matter" es retirada de Amazon
"Varias personas lo denunciaron y el material racista debe eliminarse de inmediato" dice la abogada Alexandra Wilson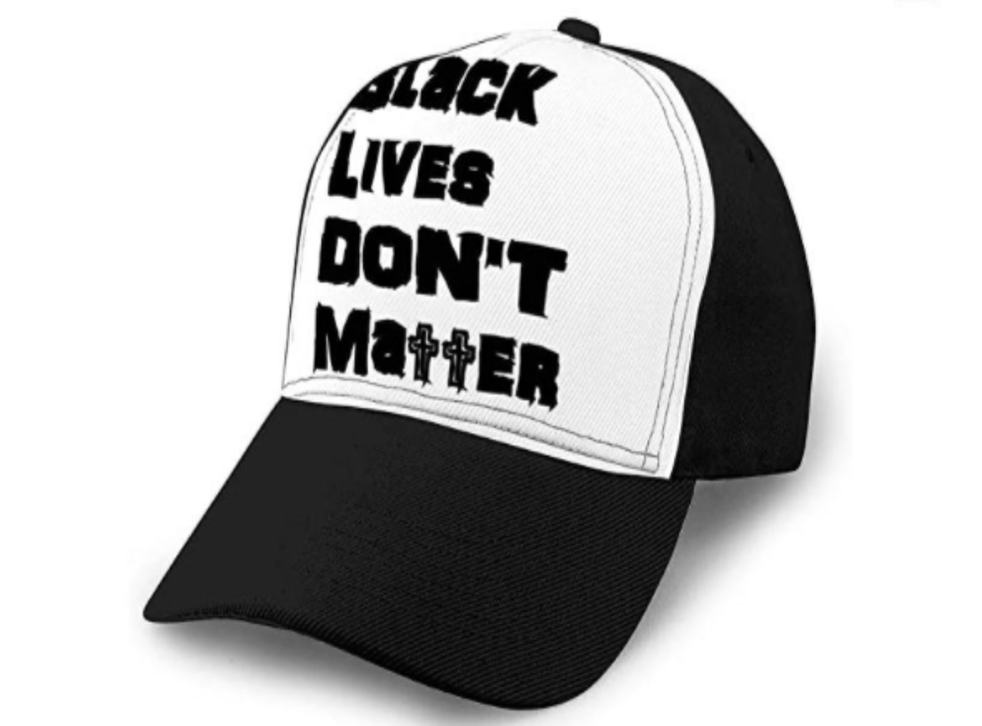 Read in English
Una gorra con el lema "Black Lives Don't Matter" ha sido retirada de la venta en Amazon después de numerosas quejas sobre el artículo.
La abogada Alexandra Wilson tuiteó sobre el artículo el fin de semana con una captura de pantalla de su venta en el sitio web: "Esto no está bien. @Amazon ¿por qué se vende este sombrero racista en su sitio?
"¿No hay controles en su lugar? Esto es sinceramente vergonzoso", continuó.
Una persona respondió diciendo: "Esto es impactante. Es basura racista y nunca debería haber entrado en su sitio en primer lugar.
"¿Qué vas a hacer para asegurarte de que este tipo de cosas no vuelva a suceder?"
Para el lunes, el artículo, que costaba £12, había sido retirado de la venta en Amazon.
Pero Wilson le dijo a The Independent: "Es realmente decepcionante que haya tardado un poco en quitarlo. Varias personas lo denunciaron y el material racista debe eliminarse de inmediato.
"Los sitios web como Amazon deben tener mejores controles tanto para sus descripciones como para sus fotos porque esta no es la primera vez que sucede algo así".
Un portavoz de Amazon dijo a The Independent: "Todos los vendedores deben seguir nuestras pautas de venta y aquellos que no lo hagan estarán sujetos a acciones, incluida la posible eliminación de su cuenta. El producto en cuestión ya no está disponible".
Las propias pautas de Amazon para vendedores prohíben la inclusión de productos que "promuevan, inciten o glorifiquen el odio, la violencia, la intolerancia racial, sexual o religiosa".
Dice: "Mantenemos estas políticas para garantizar un entorno acogedor para nuestros clientes globales y socios de ventas para hacer negocios mientras ofrecemos la más amplia selección de artículos del mundo. Promovemos la confianza y el respeto, así como el cumplimiento de la ley.
"Actuamos con criterio al permitir o prohibir listados y tenemos en cuenta nuestra comunidad global de clientes y las diferencias y sensibilidades culturales al revisar y tomar una decisión sobre los productos".
Las políticas de "Productos ofensivos" de Amazon se aplican a todos los productos, excepto a libros, música, videos y DVD. Esta es una categoría separada.
El mes pasado, Amazon eliminó una lista de un par de zapatos descritos como "n**** marrones" después de una queja del parlamentario laborista David Lammy.
El secretario de estado de justicia en la sombra dijo que se encontró con el descriptor después de intentar comprar un par de zapatos en el sitio.
"Solo comprar zapatos marrones esta noche conduce a esta microagresión racista", escribió "¿Es 2020 o 1720? Amazon, por favor, quítelo ".
Register for free to continue reading
Registration is a free and easy way to support our truly independent journalism
By registering, you will also enjoy limited access to Premium articles, exclusive newsletters, commenting, and virtual events with our leading journalists
Already have an account? sign in
Register for free to continue reading
Registration is a free and easy way to support our truly independent journalism
By registering, you will also enjoy limited access to Premium articles, exclusive newsletters, commenting, and virtual events with our leading journalists
Already have an account? sign in