Sarah Harding, cantante de 'Girls Aloud', confirma que ha sido diagnosticada con cáncer de mama
La famosa reveló con gran tristeza que el cáncer se ha extendido a otras partes de su cuerpo.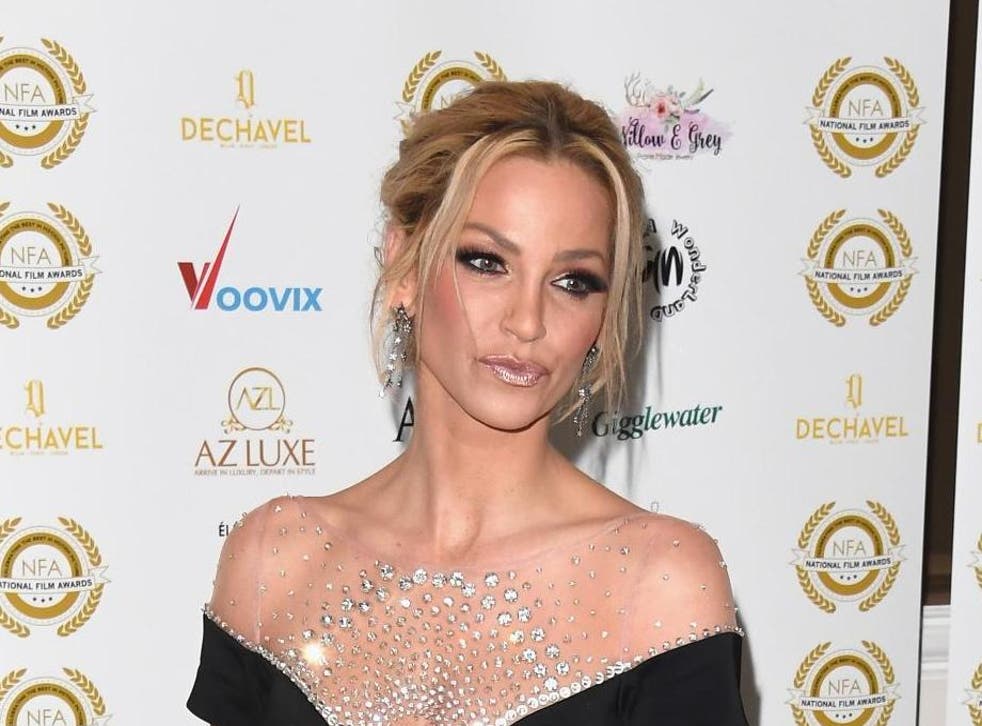 Read in English
La estrella de Girls Aloud , Sarah Harding, ha sido diagnosticada con cáncer de mama.
La cantante de 38 años, que actuó con el grupo "Sound of the Underground" de 2002 a 2013, dio la noticia cuando compartió una selfie desde el hospital en Twitter el miércoles (26 de agosto).
"No hay una manera fácil de decir esto y en realidad ni siquiera se siente real escribir esto, pero aquí va", escribió.
"A principios de este año me diagnosticaron cáncer de mama y hace un par de semanas recibí la devastadora noticia de que el cáncer ha avanzado a otras partes de mi cuerpo".
En una publicación separada en Instagram, Harding explicó que se estaba sometiendo a sesiones de quimioterapia semanales y agradeció a sus fanáticos por ver cómo estaba mientras estaba fuera de las redes sociales.
"Entiendo que esto podría ser impactante de leer en las redes sociales y esa no es realmente mi intención", dijo. "Pero la semana pasada se mencionó en las redes que me habían atendido en el hospital, así que siento que ahora es el momento de que la gente sepa lo que está sucediendo y esta es la mejor manera que se me ocurre para hacerlo".
Alabando a su familia y amigos por ayudarla durante este momento difícil, Harding rindió un homenaje especial a "los maravillosos médicos y enfermeras del NHS que han sido y siguen siendo héroes".
"Estoy haciendo todo lo posible para mantener una actitud positiva y los mantendré informados sobre cómo me está yendo. Mientras tanto, espero que todos comprendan y respeten mi solicitud de privacidad durante este momento difícil ", dijo.
Harding saltó a la fama en 2002 después de ganar un lugar en Girls Aloud dentro de la serie de competencia de telerrealidad 'Popstars: The Rivals'.
Durante su tiempo juntas, el grupo de chicas británico-irlandés obtuvo 20 sencillos consecutivos entre los 10 primeros, cuatro de los cuales llegaron al número uno.
La banda tomó caminos separados en 2013, y Harding siguió una carrera en la actuación y lanzó su propio álbum, titulado 'Threads', en 2015. En 2017, ganó 'Celebrity Big Brother'.
En reacción a la noticia, la cantante de Girls Aloud, Nadine Coyle, comentó en la publicación de Instagram de su compañera de banda: "¡¡¡Te amo !!! ¡Siempre has podido hacer milagros cuando los necesitas! Estoy aquí para el [sic] todo el camino y siempre lo estaré !!! "
Aparentemente, en respuesta a la noticia, su compañera de grupo Cheryl tuiteó un emoji de corazón roto.
Register for free to continue reading
Registration is a free and easy way to support our truly independent journalism
By registering, you will also enjoy limited access to Premium articles, exclusive newsletters, commenting, and virtual events with our leading journalists
Already have an account? sign in