Revelan inéditas fotos del nuevo elenco de Gossip Girl
A diferencia de la serie original, el reboot contará con un elenco principal compuesto por hombres y mujeres de color, algo que antes carecía notablemente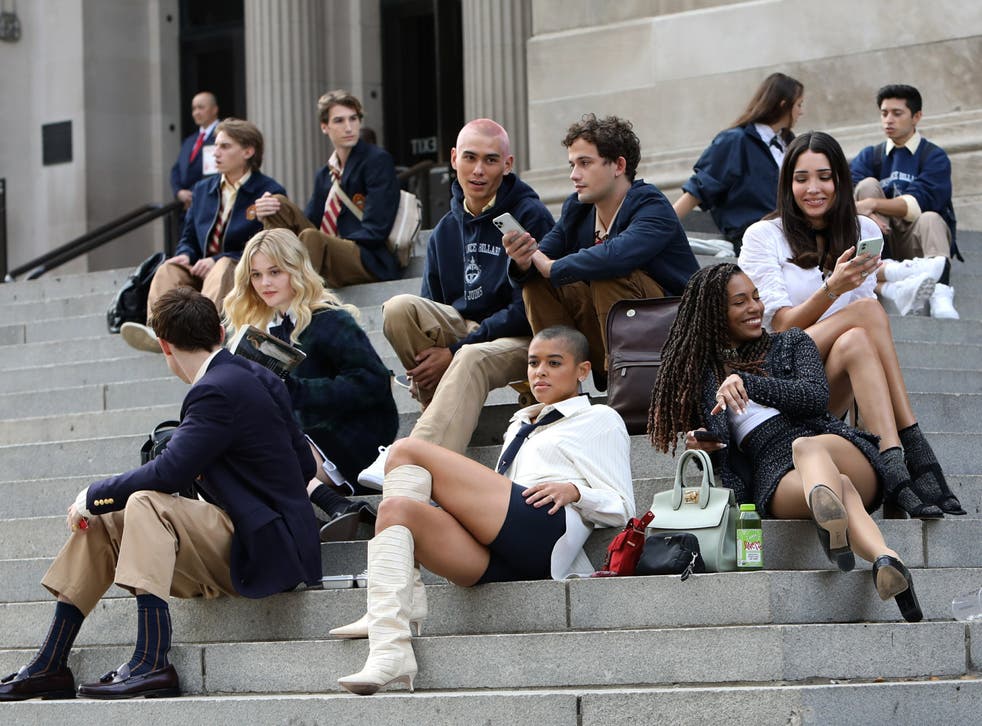 Read in English
Fans de Gossip Girl, abróchense el cinturón, ya que las nuevas fotografías del set del tan esperado reboot han ofrecido un adelanto de cómo los icónicos guardarropas de los personajes originales se reinventarán para la era moderna.
El reboot de HBO, que se lanzará en 2021, se establecerá ocho años después de la conclusión del original, que finalizó en 2012.
Se presentará a los espectadores a un nuevo grupo de estudiantes de escuelas privadas que también estarán bajo el radar de Gossip Girl , pero esta vez en la era de las redes sociales.
Gossip Girl se basa en los libros del mismo nombre de Cecily von Ziegesar y se estrenó en 2007, dando fama mundial a sus estrellas Blake Lively, Leighton Meester, Penn Badgley, Chace Crawford, Ed Westwick y Taylor Momsen.
Pero no fue solo la historia dramática y el brillante escenario de la ciudad de Nueva York lo que convirtió a Gossip Girl en la serie de culto en la que se convirtió. Fue la moda.
Gracias al galardonado diseñador de vestuario Eric Daman, quien anteriormente trabajó junto a Patricia Field en Sex and the City, el drama adolescente se hizo famoso por su destreza en el vestuario.
Serena Van Der Woodsen era famosa por su estilo desenfadado, mientras que Blair Waldorf convirtió el plaid y las diademas en un look característico.
Los fanáticos del programa estarán encantados de escuchar que el reboot parece estar tomando la moda no menos en serio esta vez, y Daman también confirmó su participación en abril.
"El reparto se ve realmente increíble y es surrealista ser invitado a ser parte de él", dijo Daman a Fashionista, "Creo que va a ser emocionante, definitivamente será un desafío, lo cual me encanta".
A juzgar por las fotografías recién publicadas, que muestran al nuevo elenco recostado en los escalones del Museo Metropolitano de Arte (un lugar de encuentro histórico para Serena y Blair en la serie original), Daman ha actualizado la estética preparatoriana del programa para la era de la Generación Z.
Atrás quedaron las cintas para la cabeza, los conjuntos kitsch y los calcetines hasta la rodilla. Las fotos del nuevo elenco, que incluye a la bloguera de moda Tavi Gevinson, los muestran luciendo una variedad de tendencias contemporáneas, que incluyen botas hasta la rodilla, pantalones cortos de ciclismo y tacones de plataforma plana.
Y en lugar de tacones de aguja altísimos, incluso hay algunas zapatillas, con un adelanto del programa lanzado a principios de este año que muestra a un personaje con zapatillas Golden Goose.
Algunos de las características de la mítica serie todavía están allí, piense en camisas con cuello desabrochado, corbatas holgadas y trajes a cuadros, pero a todos se les ha dado un toque contemporáneo.
Esto se debe en parte al hecho de que el peinado y el maquillaje también son muy diferentes a los de la serie original.
En lugar de rizos y peinados perfectos, ahora tenemos cortes de pelo y trenzas con hilo de caramelo. A diferencia de la serie original de CW, el reboot de Gossip Girl también contará con un elenco principal compuesto por hombres y mujeres de color, algo que antes carecía notablemente.
Si las fotos del elenco sirven de algo, la nueva serie de Gossip Girl podría ser incluso más icónica que la anterior.
Register for free to continue reading
Registration is a free and easy way to support our truly independent journalism
By registering, you will also enjoy limited access to Premium articles, exclusive newsletters, commenting, and virtual events with our leading journalists
Already have an account? sign in
Register for free to continue reading
Registration is a free and easy way to support our truly independent journalism
By registering, you will also enjoy limited access to Premium articles, exclusive newsletters, commenting, and virtual events with our leading journalists
Already have an account? sign in