Sam Smith admite que la reacción violenta por declararse no binario ha sido "una lucha"
"La gente sigue siendo tan poco comprensiva con las personas no conformes con el género y las personas trans en todo el mundo", dijo.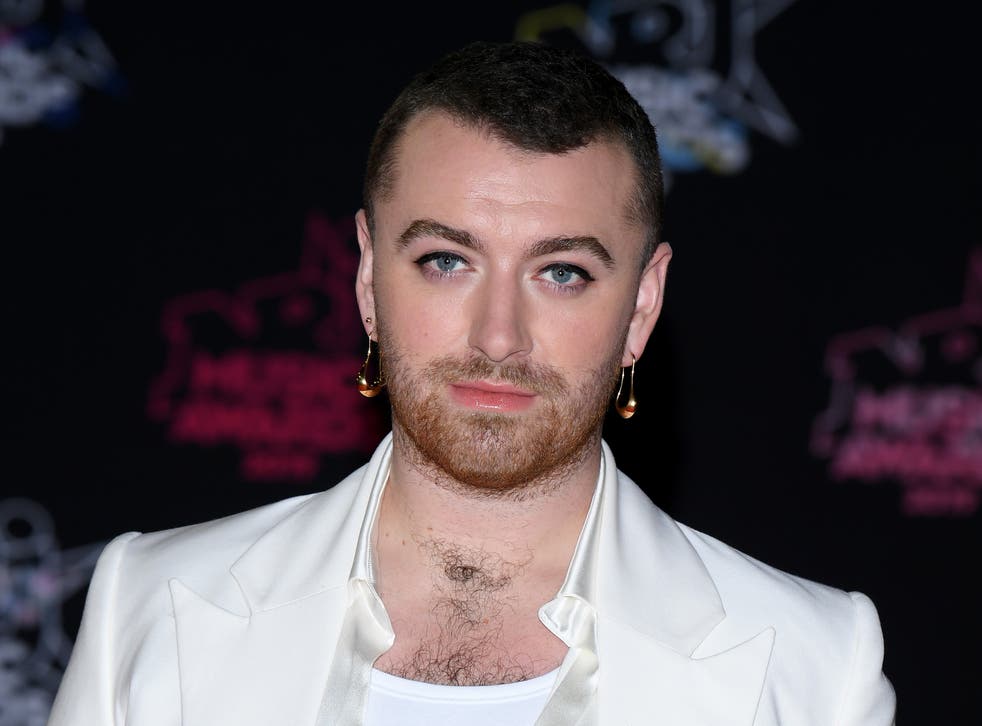 Read in English
Sam Smith ha descrito como "realmente duras" las críticas que enfrentó después de salir del clóset como no binario en 2019.
El año pasado, el cantante ganador de un Grammy anunció que era no binario y que cambiarían sus pronombres por ellos/ellas después de "toda una vida en guerra" con su identidad de género.
Citando a Lady Gaga como fundamental para ayudarle a sentirse "orgulloso de mi rareza", Smith admitió que no todos apoyaron su decisión tanto como esperaba.
Hablando con James Corden en The Late Late Show, el cantante de "Stay With Me" confesó que aunque su decisión de salir del armario fue positiva, también ha sido una "lucha".
"Quiero decir, ¿saben qué ?, en general, ha sido maravilloso", dijo.
"Siempre me he sentido de la forma en que me he sentido y poder decirle a todo el mundo eso y sentirme mucho más abierto sobre ciertas partes de mi personalidad y mi vida, ha sido absolutamente increíble".
Smith agregó que la filtración de un mensaje personal a la familia lo llevó a salir antes de lo que hubieran elegido.
"Ha sido difícil", admitió.
"En un mundo en el que no era una persona conocida, habría cambiado mis pronombres y me habría acostumbrado de manera normal, lo que de hecho intenté hacer, pero un mensaje que le envié a mi familia sobre cambiar mis pronombres se filtró de forma extraña, así que tuve que tomar la decisión de decírselo a todo el mundo y hacerlo".
Continuaron: "Ha sido increíble, pero también es realmente muy difícil ver toda la reacción y la cantidad de personas que todavía no apoyan a las personas que no se ajustan al género y las personas trans en todo el mundo.
"Definitivamente es más difícil de lo que esperaba, pero me siento bien en mi piel, que es el premio y lo maravilloso".
Smith habló de cómo salir del clóset había impactado su enfoque de la creatividad, diciendo: "Ahora siento permiso para mostrar todos los diferentes lados de mí musicalmente, ya sea bailando o sobre quién estoy cantando o sobre qué estoy cantando".
"Siento que ahora puedo mostrarme todo y poner todo de mí en mi música, mientras que antes definitivamente tenía miedo de mostrar mi feminidad. Ahora está fuera".
Corden se rió: "Él está fuera, ella está fuera, están fuera, acostúmbrate".
Smith salió como no binario en septiembre de 2019 en las redes sociales con una publicación que decía: "Hoy es un buen día, así que aquí va. Decidí que cambiaré mis pronombres a ELLOS / ELLAS. Después de toda una vida en guerra con mi género, he decidido abrazarme por lo que soy, por dentro y por fuera".
"Estoy muy emocionado y privilegiado de estar rodeado de personas que me apoyan en esta decisión, pero he estado muy nervioso por anunciar esto porque me importa demasiado lo que piense la gente, ¡pero a la mierda!
"Entiendo que habrá muchos errores de género, pero todo lo que pido es que por favor intenten. Espero que puedan verme como yo me veo ahora. Gracias".
Además de afirmar que está abierto a salir con cualquier género, Smith también dijo que salir del armario los había ayudado de otras maneras.
"Siento mucho placer, sexualmente, personalmente, todas estas cosas. Me muevo y me expreso de maneras que son simplemente maravillosas", dijo Smith a Fearne Cotton en su podcast "Happy Place".
Register for free to continue reading
Registration is a free and easy way to support our truly independent journalism
By registering, you will also enjoy limited access to Premium articles, exclusive newsletters, commenting, and virtual events with our leading journalists
Already have an account? sign in
Register for free to continue reading
Registration is a free and easy way to support our truly independent journalism
By registering, you will also enjoy limited access to Premium articles, exclusive newsletters, commenting, and virtual events with our leading journalists
Already have an account? sign in