Banksy dona 1.5 millones de dólares en pinturas a subasta benéfica
Las pinturas han estado en exhibición en el hotel Walled Off en Belén durante los últimos tres años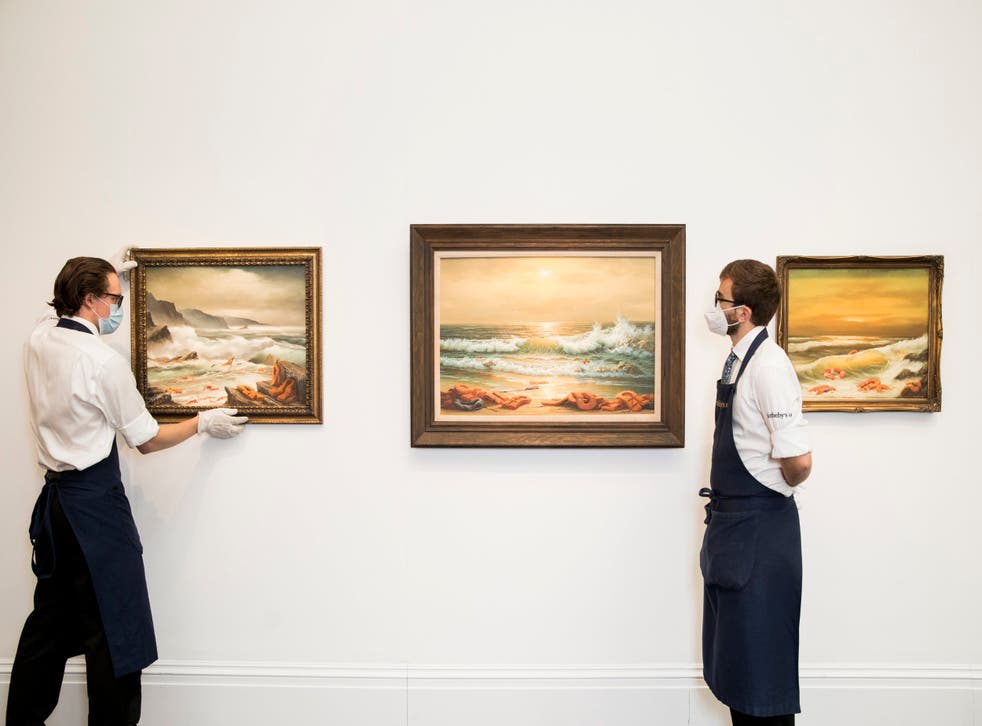 Read in English
Banksy ha donado a una subasta benéfica un tríptico de pinturas que hacen referencia a la crisis de los refugiados europeos, esto con el objetivo de recaudar fondos para un hospital en Belén.
Se estima que las obras, tituladas "Mediterranean Sea View 2017", tienen un valor de entre 1 y 1.5 millones de dólares.
Creadas originalmente para el hotel Walled Off de Banksy en Belén, donde han estado en exhibición desde su apertura, en las pinturas se agregan chalecos salvavidas y boyas abandonadas a paisajes marinos del estilo propio del siglo XIX.
El tríptico aparecerá en la venta nocturna "Rembrandt to Richter" de la casa de subastas Sotheby's el 28 de julio.
Las ganancias se destinarán a la construcción de una nueva unidad de accidentes cerebrovasculares agudos y para la compra de equipos de rehabilitación para niños para la Sociedad Árabe de Belén para la Rehabilitación.
Alex Branczik, jefe de arte contemporáneo de Sotheby's dijo: "En Mediterranean Sea View 2017, Banksy corrompe tres pinturas al óleo encontradas con sus propias ingeniosas reelaboraciones para crear algo que, mientras se hace pasar por un paisaje marino del siglo XIX, destaca uno de los temas más importantes del siglo XXI.
"En Rembrandt to Richter, este tríptico cuelga en las galerías de Sotheby's junto con obras de algunos de los más grandes paisajistas de la historia, como Bellotto, Van Goyen y Turner.
"El trabajo de Banksy, sin embargo, destaca por su potente mensaje político".
El último acto de Banksy en el Reino Unido implicó hacer un graffiti en un vagón del tren subterráneo de Londres con mensajes sobre la propagación del coronavirus.
El artista de Bristol subió una publicación titulada "Si no te enmascaras, no entras" a las redes sociales, que lo mostraba pintando con aerosol un tren de la línea Circle con representaciones estarcidas de sus características ratas.
Una criatura parecía estar estornudando gotas azules pálidas del virus a través de la ventana, mientras que otra luchaba debajo de una mascarilla. Un par de ratas más usaban la mascarilla como paracaídas.
Horas más tarde, sin embargo, Transport for London anunció que la obra de arte fue eliminada "debido a nuestra estricta política anti-graffiti". Un portavoz de Tfl dijo que Banksy podía recrear su mensaje "en un lugar más adecuado".
"Apreciamos el sentimiento de alentar a la gente a que use mascarilla, cosa que está haciendo la gran mayoría de los clientes de nuestra red de transporte", dijo el portavoz.
Informes adicionales de Press Association
Register for free to continue reading
Registration is a free and easy way to support our truly independent journalism
By registering, you will also enjoy limited access to Premium articles, exclusive newsletters, commenting, and virtual events with our leading journalists
Already have an account? sign in
Register for free to continue reading
Registration is a free and easy way to support our truly independent journalism
By registering, you will also enjoy limited access to Premium articles, exclusive newsletters, commenting, and virtual events with our leading journalists
Already have an account? sign in