Arrestan a jugador de la NFL por defraudar un programa de ayuda financiera para el Covid
Josh Bellamy fue acusado de fraude electrónico y fraude bancario, tras recibir 1.2 millones de dólares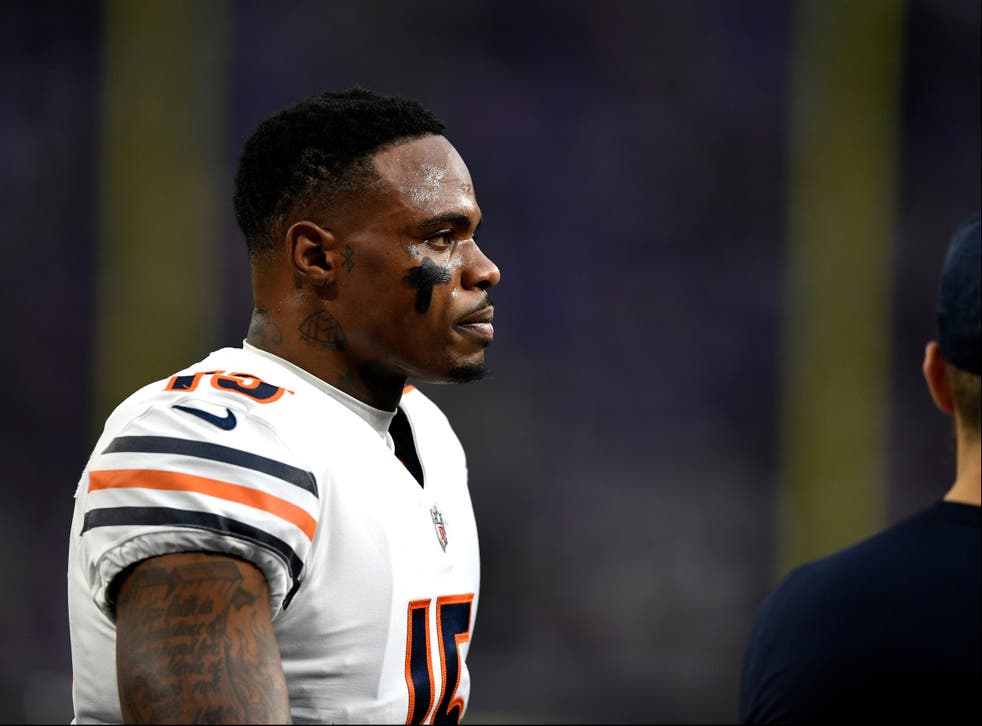 Read in English
El exjugador de la NFL Josh Bellamy ha sido arrestado y acusado de participar en un plan para estafar a un fondo de ayuda para el coronavirus, dijeron las autoridades.
Bellamy, de 31 años, de St Petersburg, Florida, fue acusado el jueves de fraude electrónico, fraude bancario y conspiración para cometer fraude electrónico y fraude bancario, según los registros judiciales.
El esquema en el que se acusa a Bellamy de haber participado presuntamente presentó solicitudes fraudulentas por más de $24 millones de dólares en fondos de ayuda para el coronavirus proporcionados por el gobierno.
Según los fiscales, Bellamy recibió más de $1.2 millones de dólares para su propia compañía, Drip Entertainment LLC y supuestamente compró más de $104,000 dólares en artículos de lujo y gastó alrededor de $62,774 en el Seminole Hard Rock Hotel and Casino.
El abogado de Bellamy, Diego Weiner, dijo a The Associated Press que es común que los atletas profesionales sean estafados por personas que supuestamente representan sus mejores intereses, y espera que el público le dé a Bellamy el beneficio de la duda.
El plan comenzó con un hombre llamado Phillip Augustin, de 51 años, de Coral Springs, que usó documentos falsificados para obtener dinero para su propia empresa y luego comenzó a trabajar con otros, según una denuncia penal. En total, 11 personas han sido acusadas en relación con el esquema.
Bellamy fue liberado con una fianza de 250,000 dólares en una audiencia el jueves en la corte federal de Tampa. El caso será procesado en un tribunal federal de Fort Lauderdale.
El ex jugador de la NFL jugó más recientemente para los New York Jets, pero fue colocado en su lista de reserva de lesionados luego de lesionarse un hombro en mayo. Firmó un acuerdo de dos años por valor de $5 millones de dólares con Nueva York en 2019, pero fue liberado de la lista de reserva de equipos el martes.
Bellamy firmó con Kansas City como agente libre no reclutado en Louisville en 2012, y pasó tiempo con San Diego y Washington antes de que Chicago lo reclamara de los waivers en 2014 y jugó cinco temporadas con ese equipo.
El Programa de Protección de Cheques de Pago, el cual supuestamente defraudó Bellamy, ofrece préstamos perdonables para pequeñas empresas para los estadounidenses que batallan económicamente por la pandemia de Covid-19.
Con información adicional de The Associated Press
Register for free to continue reading
Registration is a free and easy way to support our truly independent journalism
By registering, you will also enjoy limited access to Premium articles, exclusive newsletters, commenting, and virtual events with our leading journalists
Already have an account? sign in