The Weeknd y Doja Cat principales finalistas a los Billboard
Con 17 menciones, The Weeknd es el principal finalista a los Premios Billboard de la Música por segundo año consecutivo, seguido de Doja Cat, que obtuvo 14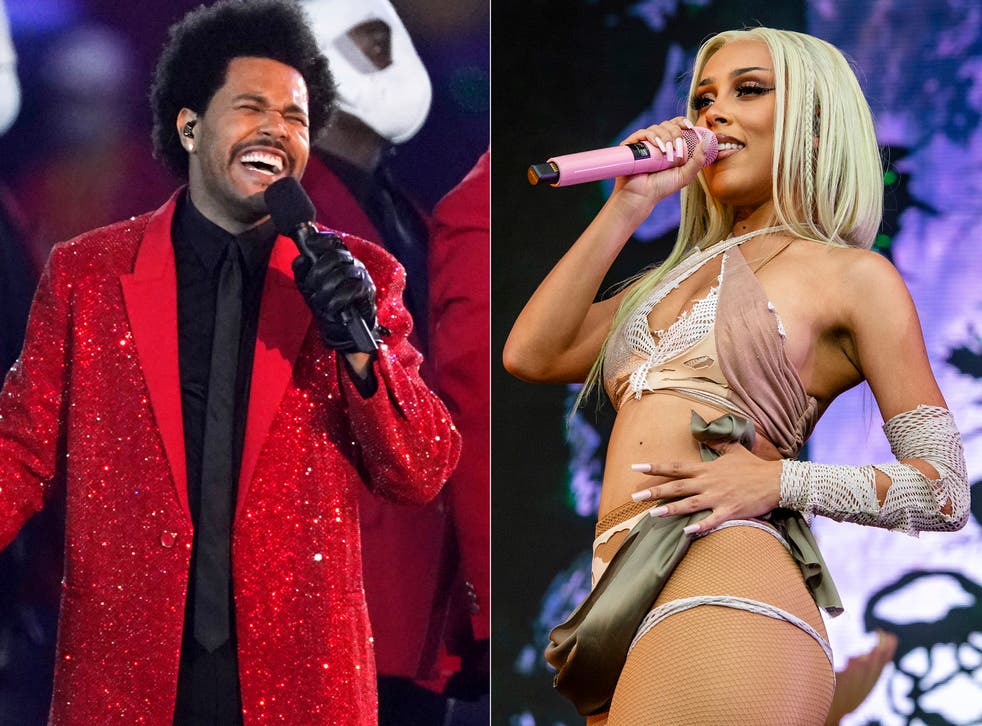 Con 17 menciones, The Weeknd es el principal finalista a los Premios Billboard de la Música por segundo año consecutivo, seguido de Doja Cat, que obtuvo 14, se anunció el viernes.
La ceremonia de los Billboard, que se entregan en 62 categorías y miden el éxito en las listas de popularidad, servicios de streaming, difusión y redes sociales, será el 15 de mayo en Las Vegas y se transmitirá en vivo por NBC y Peacock.
The Weeknd figura en los apartados de mejor artista y mejor artista, canciones en streaming, mientras que su dúo con Ariana Grande "Save Your Tears (Remix)" compite por seis premios. También compiten por el premio al mejor artista Doja Cat, Olivia Rodrigo, Taylor Swift y Drake, el artista que más Billboard ha ganado en la historia, con 29.
Doja Cat, quien recientemente ganó su primer premio Grammy por su colaboración "Kiss Me More" con SZA, es finalista en categorías como canción top 100, mejor colaboración y mejor canción viral.
Rodrigo, finalista por primera vez, continúa su racha como favorita en las premiaciones como finalista en 13 categorías, incluyendo mejor artista nuevo, mejor artista femenina y mejor artista de canciones de radio.
Justin Bieber también compite por 13 premios, entre ellos mejor artista masculino, mejor artista Hot 100 y mejor canción de streaming por "STAY" con The Kid LAROI.
Ye, quien cambió su nombre de Kanye West, es finalista a 13 premios y un gran favorito en las categorías de música cristiana y góspel. Tiene cuatro de las cinco canciones postuladas a mejor canción góspel y mejor canción cristiana, y su disco "Donda" compite por el premio al mejor álbum de rap, mejor álbum de góspel y mejor álbum cristiano.
Swift tiene la oportunidad de superar a Drake como la máxima galardonada de los Billboard. La estrella pop ocupa el segundo lugar detrás de él con 25 victorias anteriores y está nominada a siete premios este año. Pero Drake también está postulado a 11 premios, incluyendo mejor álbum Billboard 200, mejor artista de rap y mejor artista de canciones en streaming.
Este año, se agregaron cinco categorías nuevas, cuatro de las cuales se basan en las listas globales de Billboard y una mide canciones virales. Los premios de de este año toman en cuenta canciones lanzadas entre el 10 de abril de 2021 y el 26 de marzo de 2022.
Register for free to continue reading
Registration is a free and easy way to support our truly independent journalism
By registering, you will also enjoy limited access to Premium articles, exclusive newsletters, commenting, and virtual events with our leading journalists
Already have an account? sign in
Register for free to continue reading
Registration is a free and easy way to support our truly independent journalism
By registering, you will also enjoy limited access to Premium articles, exclusive newsletters, commenting, and virtual events with our leading journalists
Already have an account? sign in