NFL: Sindicato responde a apelación en caso de Watson
La Asociación de Jugadores de la NFL entrega una breve respuesta a la apelación de la liga en el caso del castigo impuesto a Deshaun Watson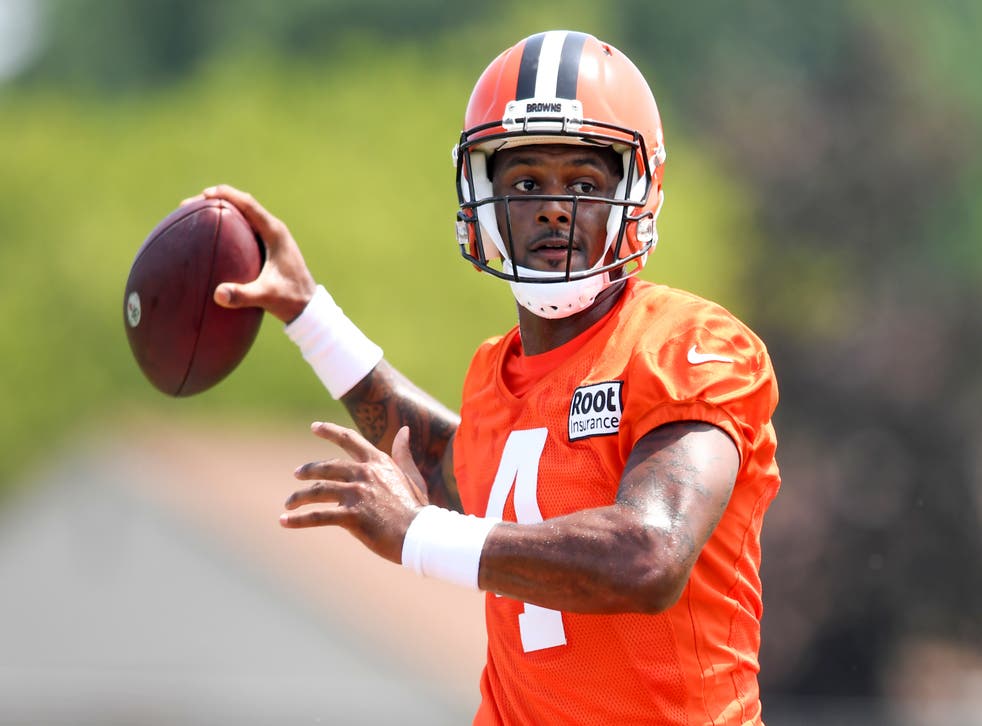 La Asociación de Jugadores de la NFL ha entregado una breve respuesta a la apelación que presentó la liga en el caso de la sanción impuesta a Deshaun Watson.
El exfiscal general de Nueva Jersey, Peter C. Harvey, cuenta ahora con la documentación necesaria para emitir su fallo.
El sindicato de los jugadores anunció la respuesta el vienres poco antes de la fecha límite para presentarla pero se a,bstuvo de revelar el contenido porque es confidencial.
El comisionado de la NFL, Roger Goodell, encomendó el jueves a Harvey que resuelva sober la apelación mediante la cual la liga busca endurecer la suspensión de seis partidos impuesta a Watson por infringir la política de conducta personal.
La NFL aclaró el viernes que no hay plazo para que Harvey emita su decisión, aunque la norma prevé que la apelación sea "procesada de manera expedita".
Watson fue suspendido por la representante disciplinaria independiente Sue L. Robinson debido a las acusaciones de agresión y acoso sexual que dos docenas de mujeres presentaron contra el jugador en Texas.
Las acusaciones se remontan a cuando Watson jugaba con los Texans de Houston.
El jugador, transferido en marzo a Cleveland, ha zanjado hasta fecha reciente 23 de 24 demandas presentadas por las mujeres. Watson rechaza haber incurrido en alguna falta.
La NFL pretende que se imponga a Watson una suspensión indefinida de al menos un año y una multa de alrededor de 8 millones de dólares, dijo el miércoles a The Associated Press una persona enterada de la apelación de la liga.
La fuente, que solicitó el anonimato porque el asunto no es del conocimiento público, dijo que Watson podría ser obligado a someterse a evaluación y tratamiento como lo determinen expertos médicos antes de su posible reactivación.
De acuerdo con el contrato colectivo, la apelación da a Goodell la autoridad de dictar el castigo, como llegó a hacerlo antes conforme al convenio.
Sin embargo, Goodell optó por designar a Harvey, socio de un despacho jurídico en Nueva York, para que resolviera y fallara en torno a la apelación.
Harvey se ha desempeñado como representante designado por Goodell para algunos casos de arbitraje y es miembro del Comité Asesor de Diversidad de la liga, creado para mejorar el entorno sobre la diversidad racial y de género en la NFL.
En 2017, Harvey fue uno de los cuatro miembros de un panel de expertos que revisó la investigación de la NFL sobre el corredor de los Cowboys de Dallas, Ezekiel Elliott, quien fue suspendido seis partidos por infringir las políticas de la liga.
El comisionado de la NFL prefirió designar a alguien más como encargado del caso de Watson, dado que el propio Goodell quería que un experto en este ámbito se enfocara únicamente en este asunto, dijo el jueves a The Associated Press una persona enterada del nombramiento.
La fuente solicitó permanecer anónima para hablar de un asunto interno.
Watson continúa practicando con los Browns, que podrían utilizar como quarterback titular a Jacoby Brissett durante la ausencia del primero.
Register for free to continue reading
Registration is a free and easy way to support our truly independent journalism
By registering, you will also enjoy limited access to Premium articles, exclusive newsletters, commenting, and virtual events with our leading journalists
Already have an account? sign in
Register for free to continue reading
Registration is a free and easy way to support our truly independent journalism
By registering, you will also enjoy limited access to Premium articles, exclusive newsletters, commenting, and virtual events with our leading journalists
Already have an account? sign in