Mineras se repliegan de zonas indígenas en Brasil
Algunas de las compañías mineras más grandes del mundo retiran sus solicitudes para explorar y extraer minerales en tierras indígenas en la selva tropical de la Amazonía en Brasil y repudian los esfuerzos del presidente Jair Bolsonaro para legalizar las actividades extractivas en esas zonas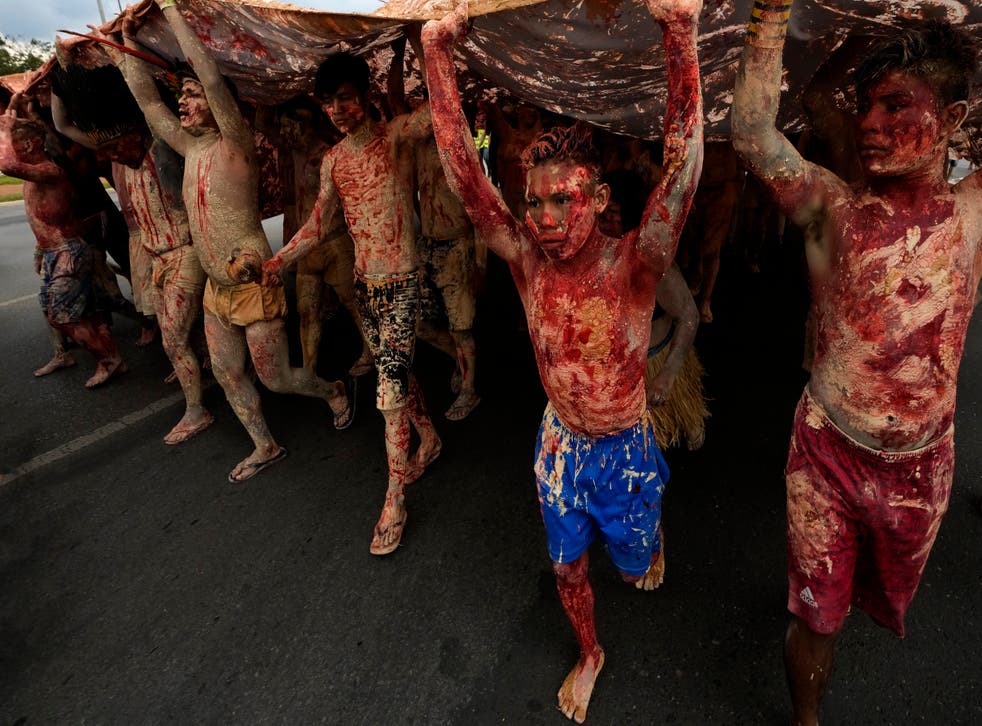 Algunas de las mineras más grandes del mundo han retirado sus solicitudes para explorar y extraer minerales en tierras indígenas en la selva tropical de la Amazonía en Brasil y han repudiado los esfuerzos del presidente Jair Bolsonaro para legalizar las actividades extractivas en esas zonas.
El Instituto Brasileño de Minería (Ibram), que representa a unas 130 empresas, efectuó este año un sondeo interno entre sus miembros, según Raul Jungmann, su presidente. Por primera vez en décadas, ninguna de las firmas ha presentado solicitudes para explorar o extraer oro, estaño níquel, hierro u otros minerales en zonas indígenas, agregó.
Ni la consulta ni sus resultados fueron informados previamente.
Los miembros de la asociación, que representan 85% de la extracción legal de minerales en Brasil, incluyen a las gigantes mineras Rio Tinto, Anglo American y Vale.
The Associated Press se comunicó con las tres compañías. Rio Tinto confirmó que retiró sus solicitudes para concesiones de exploración en 2019. Anglo American hizo lo mismo en marzo de 2021. Vale retiró sus solicitudes de concesiones para exploración y extracción en el último año.
"La postura del Ibram es que no es posible solicitar autorizaciones para realizar minería y exploraciones en tierras indígenas a menos de que se cuente con una normativa constitucional", declaró Jungmann por teléfono.
Alrededor de dos tercios de las solicitudes fueron presentadas ante la agencia federal de minería antes de que el gobierno dijera que se demarcaban en en territorios indígenas, según un estudio del geólogo Tadeu Veiga, asesor que también da clases en la Universidad Nacional de Brasilia.
El repliegue colectivo tiene lugar en momentos en que Bolsonaro insiste en que los territorios indígenas contienen recursos minerales vitales para traer prosperidad tanto a la nación como a los pueblos indígenas.
La Constitución de Brasil establece que la minería sólo puede efectuarse en territorios indígenas después de que se consiga el consentimiento informado y conforme a leyes que regulen la actividad. Más de tres décadas después, el proyecto de ley correspondiente continúa sin ser aprobada.
Bolsonaro exigía que hicieran las respectivas modificaciones incluso antes de que fuera presidente cuando era un legislador de influencia marginal.
Durante su campaña presidencial de 2018, dijo que el elemento metálico niobio, encontrado en tierras indígenas, podría convertir a Brasil en una potencia minera, pero la propuesta se quedó en el camino después de que asumiera como mandatario.
Los recursos disponibles de niobio, utilizado en aleaciones de acero, son más que suficientes para abastecer las necesidades proyectadas del mundo, según el Servicio Geológico de Estados Unidos (USGS por sus siglas en inglés).
El viernes, Bolsonaro se reunió con el ejecutivo en jefe de SpaceX y Tesla, Elon Musk, en Brasil y sugirió producir baterías con niobio, pero dijo después que el magnate no mostró interés.
"Por el momento, no lo consideran importante. Piensan que deben esperar un poco más para invertir en esta área", dijo.
Bolsonaro ha dicho reiteradamente que es excesivo que casi 14% del país sea territorio indígena, y que los gobiernos extranjeros están defendiendo los derechos de las comunidades originarias y la preservación ambiental como parte de una maniobra para aprovechar ellos mismos las riquezas minerales.
_____
La cobertura sobre clima y ambiente de The Associated Press recibe apoyo de diversas fundaciones privadas. La AP es la única responsable del contenido.
Register for free to continue reading
Registration is a free and easy way to support our truly independent journalism
By registering, you will also enjoy limited access to Premium articles, exclusive newsletters, commenting, and virtual events with our leading journalists
Already have an account? sign in
Register for free to continue reading
Registration is a free and easy way to support our truly independent journalism
By registering, you will also enjoy limited access to Premium articles, exclusive newsletters, commenting, and virtual events with our leading journalists
Already have an account? sign in