John Leguizamo afina su nuevo musical, "Kiss My Aztec!"
John Leguizamo está de vuelta con un nuevo proyecto teatral que tiene un tinte histórico
John Leguizamo afina su nuevo musical, "Kiss My Aztec!"

Show all 7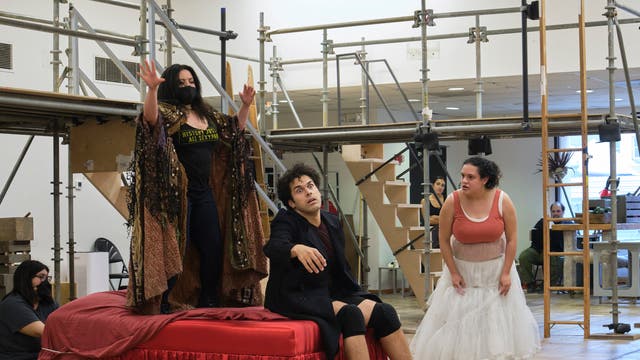 Es una tarde de ensayo para la comedia musical "Kiss My Aztec!" de John Leguizamo en Hartford, Connecticut, y el actor Joel Perez no logra aguantar la risa durante una escena picante con la actriz Krystina Alabado. Probablemente la han hecho cientos de veces. Se la saben de memoria. Pero es tan graciosa que Perez pierde el hilo por un minuto, haciendo reír a todo el elenco y equipo.
"Sigan adelante", dice el director Tony Taccone desde su asiento. Y tras un par de inhalaciones profundas, logran seguir adelante.
"Dios mío, ¡creo que es tan chistosa! ... Se van a partir de risa y al mismo tiempo se van a educar sobre lo que pasó en la conquista", dice Leguizamo a The Associated Press justo antes del ensayo.
Con un libreto de Leguizamo y Taccone, "Kiss My Aztec!" comienza el miércoles sus funciones preliminares en el teatro Hartford Stage antes de su estreno oficial el 10 de junio. Es su tercera escala después de pasar por Berkeley Repertory Theatre y La Jolla Playhouse en California, y Leguizamo, un veterano de Broadway, espera que pronto siga "el camino de la B" y llegue a casa en Nueva York.
El espectáculo viaja al siglo XVI, cuando un grupo de aztecas lidera la resistencia contra los invasores españoles. Con una guerrera feroz al timón y un payaso no tan feroz a cuestas, montan un ataque rudimentario y se enredan con la realeza, los colonizadores, estrellas de pop y hasta títeres.
La música y letra, de Benjamin Velez y David Kamp, fusiona salsa, góspel, hip hop, funk y merengue, además de algo de flamenco y pasodoble para los españoles. La coreografía es de Maija García.
Al igual que "Latin History for Morons", la última de las exitosas obras individuales de Leguizamo en Broadway, "Kiss My Aztec!" es una celebración divertida de la cultura hispana y latina. Pero a diferencia de las otras, es su primer musical, con un elenco completo, y el comediante permanece esta vez tras bambalinas.
"¡No puedo cantar ni bailar así!", explica el ganador del premio Tony, señalando que ha logrado hacer algunos trabajos musicales — incluida la cinta animada de Disney "Encanto", donde hizo la voz de Bruno — con mucho ayuda, paciencia y auto-tune. "O sea, para 'Encanto', el pobre (compositor) Lin-Manuel (Miranda) tuvo que pasar horas tratando de meterme en ese bolsillo. Me metió, eso sí, logró meterme en el bolsillo", añade entre risas.
Además de Perez y Alabado, el elenco incluye a Chad Carstarphen, Eddie Cooper, Richard Ruiz Henry, Z Infante, Jesús E. Martínez, Maria-Christina Oliveras, Desireé Rodriguez, Matt Saldivar y Brittany Williams. Angelica Beliard, KC Dela Cruz, Nicholas Caycedo y Geena Quintos son parte del reparto.
"Estos actores son absurdamente talentosos", dice Leguizamo, llamándolos una "amenaza cuádruple" al poder actuar, cantar y bailar, y ser chistosos.
El actor y dramaturgo colombiano-estadounidense, cuyos créditos en Broadway incluyen "Freak" y "Ghetto Klown", dijo que comenzó a trabajar en el musical hace años, mientras hacía su investigación para "Latin History for Morons".
"Es interesante porque, obviamente, 'Latin History for Morons' abrió la ventana a nuestras grandes e increíbles contribuciones al mundo: no habría una Revolución Industrial sin nuestro maíz, sin nuestras papas", dice Leguizamo. "El oro que nos robaron creó la era de la Ilustración, y la riqueza que nos robaron contribuyó al Renacimiento. Así que aprendí mucho y quería volver atrás y empezar a contar nuestra historia. Este musical es el nacimiento del hombre latino, que es la conquista".
"Kiss My Aztec!" fue desarrollado en el Public Theatre en 2018 y se estrenó en el Berkeley Repertory Theatre y el La Jolla Playhouse en 2019, donde recibió elogios de la crítica.
Pero pasar de hacer monólogos a un musical en toda su extensión fue un "gran desafío", admite Leguizamo. "Todo lo que tenía que hacer antes eran consultar conmigo mismo: '¿Cómo está tu agenda?' 'Oh, estoy disponible'. 'Genial. ¡Empecemos mañana!'", dice riendo. "Esto es diferente, son muchas partes móviles".
Con su humor obsceno, temas para adultos y algo de lenguaje soez, puede que no sea adecuado para toda la familia. Pero Leguizamo espera que sea la próxima gran comedia musical.
"Quiero que sea como 'The Book of Mormon', como 'Spamalot'", dice. "Quiero que sea uno de los espectáculos más divertidos jamás escritos".
___
Sigal Ratner-Arias está en Twitter como https://twitter.com/sigalratner.
Register for free to continue reading
Registration is a free and easy way to support our truly independent journalism
By registering, you will also enjoy limited access to Premium articles, exclusive newsletters, commenting, and virtual events with our leading journalists
Already have an account? sign in
Register for free to continue reading
Registration is a free and easy way to support our truly independent journalism
By registering, you will also enjoy limited access to Premium articles, exclusive newsletters, commenting, and virtual events with our leading journalists
Already have an account? sign in