Iglesias de EEUU cancelan servicios navideños debido a COVID
Varias iglesias en Estados Unidos cancelan los servicios religiosos navideños presenciales debido a la rápida propagación del coronavirus, causando tristeza y decepción entre los feligreses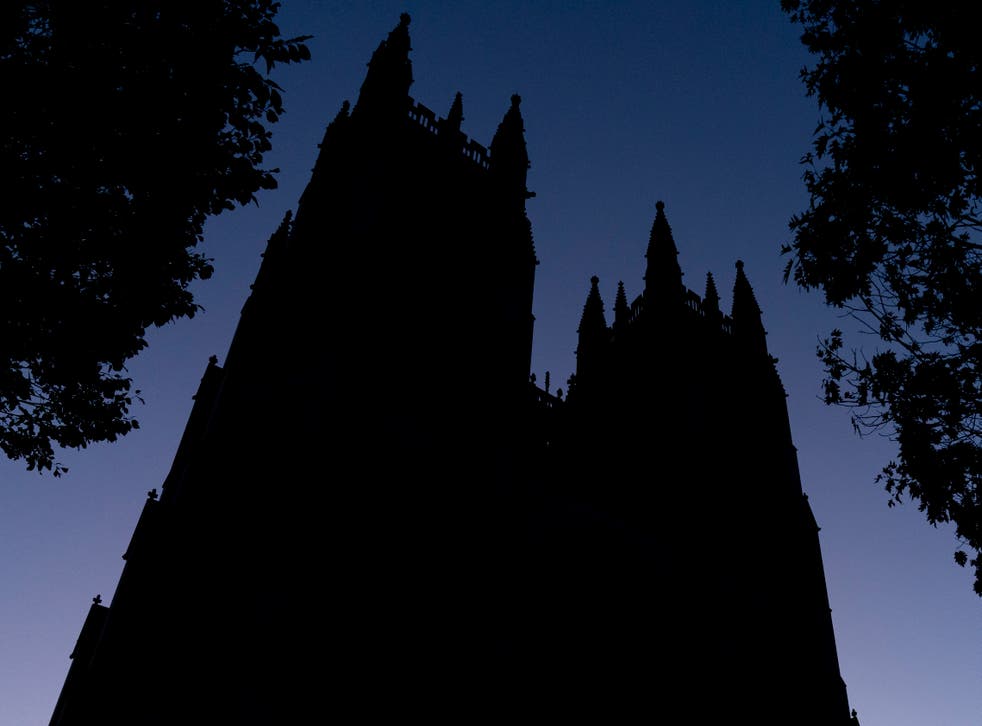 Varias iglesias en Estados Unidos han cancelado los servicios religiosos navideños presenciales debido a la rápida propagación del coronavirus, causando tristeza y decepción entre los feligreses.
Algunas iglesias celebrarán los servicios navideños al aire libre y otras planeaban usar un método híbrido de servicios en persona y por internet, con estrictas normas para los que deseen participar en persona, como mostrar constancia de vacunación y llevar la mascarilla puesta todo el tiempo.
Entre las iglesias más prominentes de Estados Unidos que están cancelando todos o parte de sus servicios navideños están la Catedral Nacional de Washington; la de St. John the Divine en la ciudad de Nueva York y la Old South Church de Boston
Nancy Taylor, ministra de Old South, declaró que la iglesia aún espera poder realizar servicios navideños el sábado en persona, pero que su popular servicio de Nochebuena solo se ofrecerá por internet.
"Los que vienen para el servicio de Nochebuena suelen ser numerosos, muchos de los cuales son visitantes, algunos de los cuales vienen de fiestas y muchos de los cuales no están acostumbrados al mandato de Boston de ponerse la mascarilla" explicó la líder religiosa en su anuncio.
"Si bien apreciamos mucho a estos invitados en circunstancias normales, estas no son circunstancias normales. Debemos darle máxima prioridad a la salud y bienestar de nuestros voluntarios y nuestro personal. Sabemos que esto es decepcionante", añadió.
Líderes de la Catedral Nacional de Washington, que normalmente recibe a unas 15.000 personas en su servicio navideño, anunciaron que todos los servicios religiosos de aquí hasta el 9 de enero serán únicamente a distancia.
"Desafortunadamente, ante la propagación de la variante ómicron por todo el mundo, nuestra ciudad parece ser líder de toda la nación en infecciones", expresó el rector de la catedral Randolph Marshall Hollerith.
"Ante el aumento de contagios, simplemente no puedo justificar la aglomeración de una cantidad de personas cuando está empeorando la situación sanitaria a nuestro alrededor", añadió.
Otra iglesia en Washington —la National City Christian Church— también canceló sus servicios navideños y anunció que todos sus servicios religiosos serán por internet hasta por lo menos el 16 de enero.
Líderes de la National City calificaron su decisión como una "que definitivamente no queremos tomar, pero sentimos que debemos tomarla".
___
La cobertura de temas religiosos de The Associated Press recibe apoyo de la Lilly Endowment mediante la Religion News Foundation. La AP es la única responsable de su contenido.
Register for free to continue reading
Registration is a free and easy way to support our truly independent journalism
By registering, you will also enjoy limited access to Premium articles, exclusive newsletters, commenting, and virtual events with our leading journalists
Already have an account? sign in