Ganador del Derby enfrenta otra dura prueba en Belmont
Después de que tantas cosas salieron bien para que Rich Strike ganara el Derby de Kentucky, parece que el caballo necesitará incluso mejor fortuna en Belmont Stakes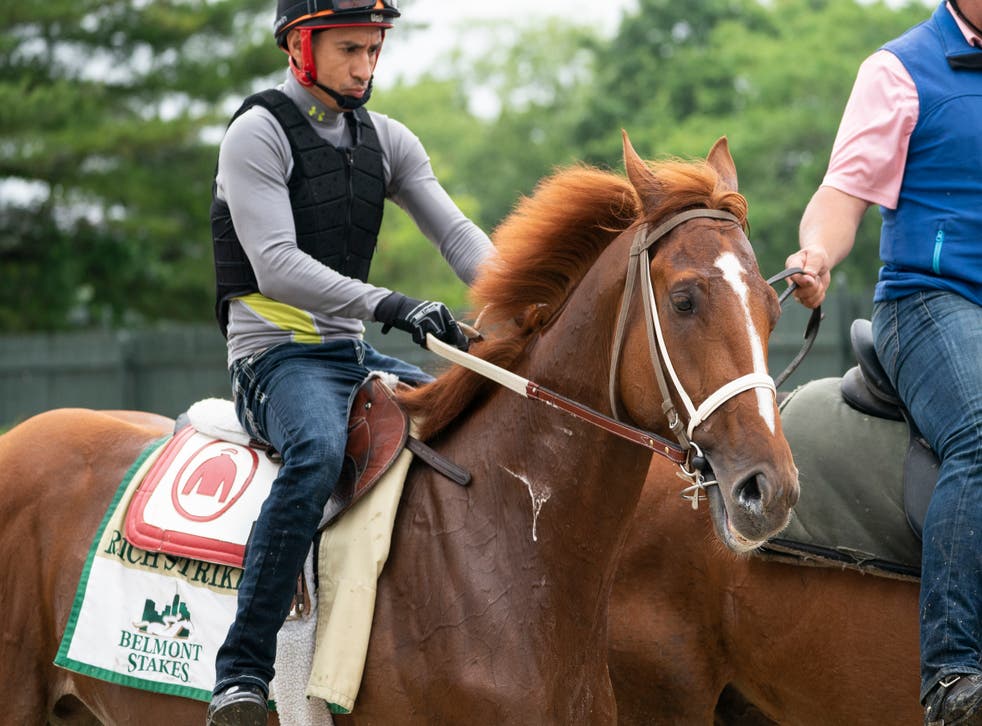 Después de que tantas cosas salieron bien para que Rich Strike ganara el Derby de Kentucky, parece que el caballo necesitará incluso mejor fortuna en Belmont Stakes.
Desde luego, no enfrenta esta vez pronósticos de 80-1, pero incluso después de que se ausentó de Preakness para descansar y concentrarse en la última carrera de la Triple Corona, pocos lo consideran el caballo a vencer entre los ocho participantes.
Esa distinción pertenece a We the People, favorito por 2-1 en la línea de apuestas de la mañana. Se trata de un caballo debutante en la pista de la Triple Corona, pero que podría marcar el paso en la carrera de milla y media.
Sobre todo, podría lucir en caso de que llueva el sábado en el estado de Nueva York.
El mes pasado, sobre el fango, We the People logró la victoria en la Peter Pan Stakes realizada en Belmont.
Y el entrenador Mark Casse considera que hay pocas posibilidades de vencer a We the People.
"Todos vamos a estar corriendo por el segundo lugar, incluso el ganador del Derby", dijo Casse, quien participaría en Belmont con Golden Glider, ubicado en un segundo lugar distante respecto de We the People en la Peter Pan del 14 de mayo.
Rich Strike rebasó a sus 19 rivales de manera asombrosa el 7 de mayo, para dar la segunda mayor sorpresa en la historia del Derby.
Para que ello ocurriera, múltiples factores debieron conjuntarse: Un buen entrenamiento en Churchill Downs durante la semana previa, el retiro de Ethereal Road para que Rich Strike pudiera correr, un buen ritmo, un viaje perfecto y el tipo de aceleración que nunca antes había mostrado en una carrera.
"¿Fue la mejor carrera de su vida? No lo sé", dijo el jockey retirado Jerry Bailey. "Sólo la historia nos dirá eso. Pero pienso que va a a correr mejor que eso en realidad, para ganar".
En Belmont, una carrera más larga, los caballos no suelen correr tan rápido en el comienzo. Se conoce a ésta como la "prueba de un campeón".
La edición 154 de Belmont sería particularmente adecuada para un ritmo más bien constante. We the People parece el único caballo con esas características, frente a Rich Strike y otros seis que se caracterizan más bien por cerrar fuerte.
Pero los repuntes al final no son comunes en una larga pista arenosa.
"La milla y media es simplemente una carrera distinta", dijo Casse, quien ganó Belmont hace tres años con Sir Winston. "Uno no quiere alejarse demasiado".
Ello depende de los jockeys. El venezolano Sonny León, de Rich Strike, mostró sin duda talento para avanzar en medio del tráfico durante el Derby.
De hecho, sus maniobras quedaron como algunas de las mejores en la historia del hipismo.
Pero León jamás ha montado antes en Belmont Park. No tiene previsto hacerlo antes de la carrera de 1,5 millones de dólares.
Register for free to continue reading
Registration is a free and easy way to support our truly independent journalism
By registering, you will also enjoy limited access to Premium articles, exclusive newsletters, commenting, and virtual events with our leading journalists
Already have an account? sign in
Register for free to continue reading
Registration is a free and easy way to support our truly independent journalism
By registering, you will also enjoy limited access to Premium articles, exclusive newsletters, commenting, and virtual events with our leading journalists
Already have an account? sign in