Fuentes AP: Celtics consideran suspender al coach Udoka
Los Celtics de Boston planean disciplinar al coach Ime Udoka, probablemente con una suspensión, debido a una relación inapropiada con un miembro de la organización, dijeron el jueves a The Associated Press dos personas con conocimiento del asunto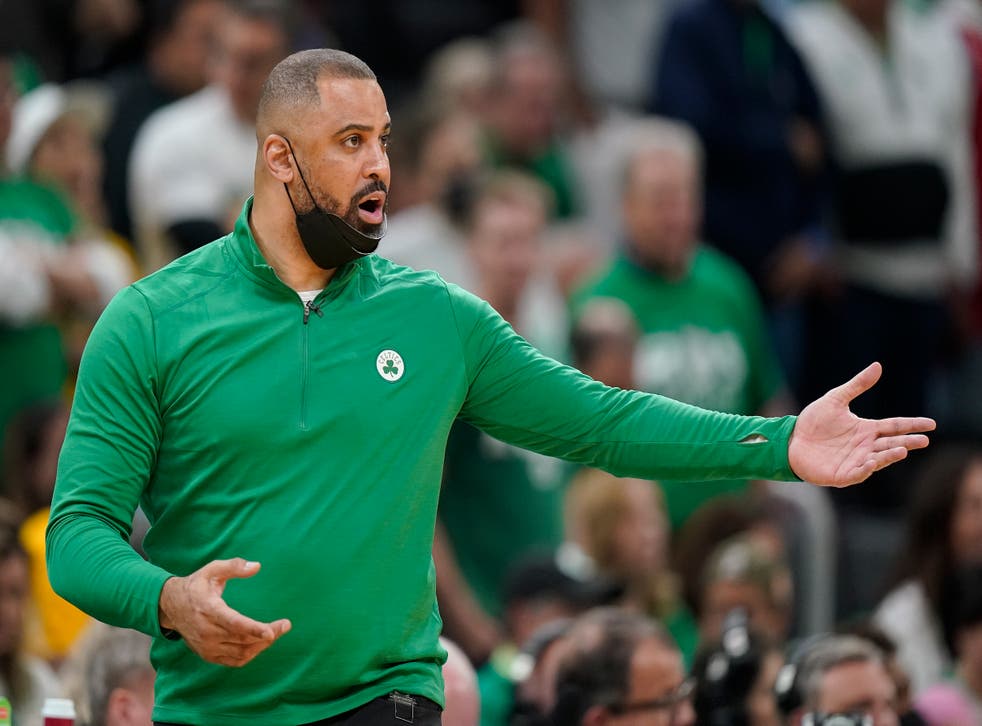 Los Celtics de Boston planean disciplinar al coach Ime Udoka, probablemente con una suspensión, debido a una relación inapropiada con un miembro de la organización, dijeron el jueves a The Associated Press dos personas con conocimiento del asunto.
Las personas hablaron con la AP a condición de mantener el anonimato porque los actuales campeones de la Conferencia Este no han revelado ningún detalle públicamente. No se ha determinado el castigo exacto, incluyendo la extensión de la posible suspensión.
ESPN fue el primer medio en informar por primera vez el miércoles por la noche que se estaba considerando una suspensión por la violación de la política del equipo. ESPN y The Athletic publicaron más tarde que la investigación de los Celtics gira en torno a si Udoka tuvo una relación inapropiada con un miembro de la organización.
Perder a Udoka sería un golpe significativo para un equipo que es ampliamente considerado entre los favoritos para pelear por el título de la NBA esta temporada, luego de quedarse a solo dos juegos de ganar el campeonato la campaña pasada —el primer año de Udoka dirigiendo a Boston.
Los Celtics inician su campamento de entrenamiento el martes. Si a Udoka no se le permite dirigir el equipo, es casi seguro que la tarea recaerá en uno de sus asistentes. Un posible candidato, Joe Mazzulla, fue entrevistado para el puesto de entrenador del Jazz de Utah este verano, un cargo que finalmente obtuvo Will Hardy —quien fue asistente de Udoka en Boston la temporada pasada.
Los otros entrenadores asistentes de Udoka son Damon Stoudemire, Ben Sullivan, Aaron Miles y Tony Dobbins.
Udoka tuvo una primera campaña brillante como entrenador de los Celtics, terminando la temporada regular con marca de 51-31 — con un récord de 26-6 en los últimos 32 partidos— y guiando a Boston a superar a Brooklyn, Milwaukee y Miami en su camino a las Finales de la NBA. Los Celtics perdieron la serie por el título ante los Warriors de Golden State en seis juegos.
Register for free to continue reading
Registration is a free and easy way to support our truly independent journalism
By registering, you will also enjoy limited access to Premium articles, exclusive newsletters, commenting, and virtual events with our leading journalists
Already have an account? sign in
Register for free to continue reading
Registration is a free and easy way to support our truly independent journalism
By registering, you will also enjoy limited access to Premium articles, exclusive newsletters, commenting, and virtual events with our leading journalists
Already have an account? sign in