Fuente AP: Panel de cámara baja interroga a Giuliani
Rudy Giuliani, que como abogado del entonces presidente Donald Trump promovió impugnaciones falsas a las elecciones 2020, se reúne durante horas con la comisión de la Cámara de Representantes que investiga el asalto al Capitolio federal del 6 de enero de 2021, informa una persona al tanto de la entrevista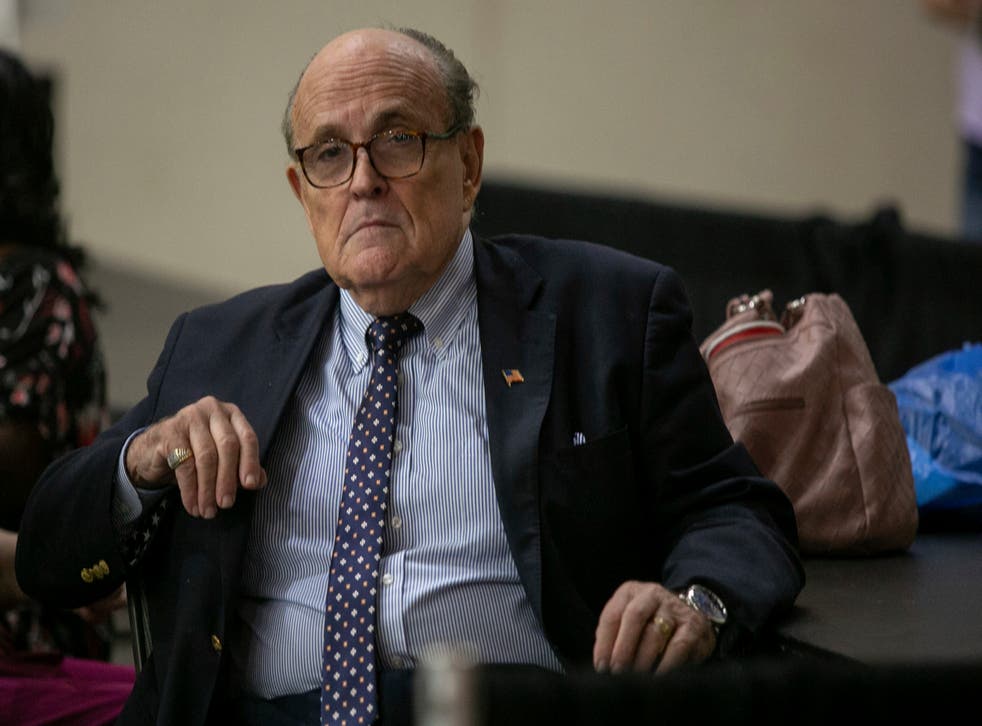 Rudy Giuliani, que como abogado del entonces presidente Donald Trump promovió impugnaciones falsas a las elecciones de 2020, se reunió durante horas con la comisión de la Cámara de Representantes que investiga el asalto al Capitolio federal del 6 de enero de 2021, informó el sábado una persona al tanto de la entrevista.
La entrevista con Giuliani se llevó a cabo de forma virtual y duró buena parte del viernes, según la fuente, que habló con The Associated Press bajo condición de anonimato a fin de discutir el encuentro privado. Un portavoz del panel se negó a comentar.
Giuliani tenía programado reunirse con la comisión a principios de este mes, pero un portavoz del panel dijo que la entrevista fue reprogramada.
El exalcalde de la ciudad de Nueva York es considerado un colaborador fundamental para la comisión, que ha entrevistado a casi 1.000 testigos, incluyendo familiares de Trump y asesores de su círculo de allegados. El panel planea llevar a cabo una serie de audiencias el próximo mes.
En enero, la comisión llamó a comparecer a Giuliani y a otros integrantes del equipo legal de Trump que intentaron revertir los resultados electorales en estados sin clara preferencia partidista mediante demandas con acusaciones infundadas de fraude electoral a gran escala.
El mismo secretario de Justicia de Trump, William Barr, ha dicho que no hubo irregularidades a gran escala que hubieran afectado el resultado de la contienda que ganó el presidente Joe Biden, además de que jueces en todo el país han desestimado las acusaciones.
Al momento de la citación, la comisión buscaba obtener registros y una entrevista con Giuliani, y quería información sobre el supuesto hecho de que Giuliani alentó a Trump a que ordenara que se incautaran las máquinas de votación y sobre sus labores por persuadir a los legisladores estatales a implementar medidas para revertir los resultados electorales.
Giuliani también fue uno de los oradores en una marcha frente a la Casa Blanca que precedió a la insurrección del 6 de enero.
CNN fue el primer medio en reportar la entrevista del viernes con Giuliani.
____
El periodista de The Associated Press Farnoush Amiri, en Washington, contribuyó a este despacho.
Register for free to continue reading
Registration is a free and easy way to support our truly independent journalism
By registering, you will also enjoy limited access to Premium articles, exclusive newsletters, commenting, and virtual events with our leading journalists
Already have an account? sign in
Register for free to continue reading
Registration is a free and easy way to support our truly independent journalism
By registering, you will also enjoy limited access to Premium articles, exclusive newsletters, commenting, and virtual events with our leading journalists
Already have an account? sign in