Encausan a hombre por agredir a fotógrafo de AP en Capitolio
Un hombre de Oklahoma que aparece en un video empujando a un fotógrafo de The Associated Press por encima de un muro afuera del Capitolio federal durante los disturbios del 6 de enero ha sido arrestado, informan las autoridades estadounidenses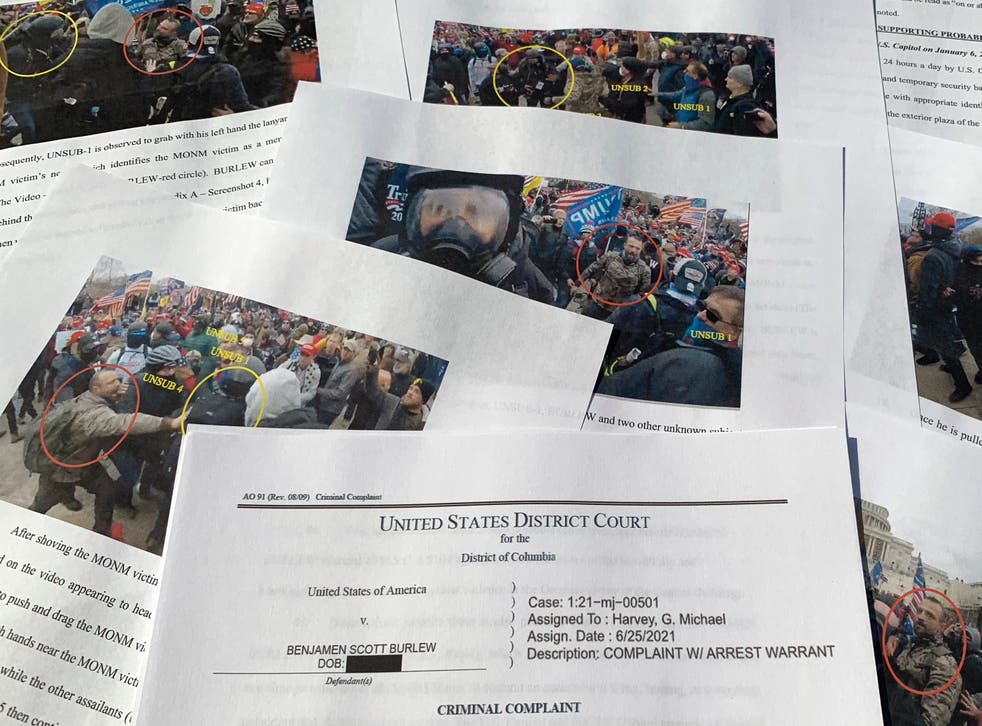 Un hombre de Oklahoma que aparece en un video empujando a un fotógrafo de The Associated Press por encima de un muro afuera del Capitolio federal durante los disturbios del 6 de enero ha sido arrestado, informaron el martes las autoridades estadounidenses.
Benjamen Scott Burlew de Miami Oklahoma, es la segunda persona en ser acusada formalmente por agredir al fotógrafo John Minchillo, que ese día documentaba a la turba de simpatizantes del expresidente Donald Trump.
Burlew está acusado de gritar, agarrar, arrastrar y finalmente empujar a Minchillo sobre un pequeño muro de piedra en los terrenos del Capitolio.
Las autoridades dijeron que Burlew estaba entre varias personas que agredieron a Minchillo, quien portaba una máscara de gas y fue arrastrado por otra persona por las escaleras exteriores por su correa bandolera con las letras de The Associated Press.
Al final de las escaleras, Burlew y otras tres personas tomaron al fotógrafo y lo empujaron, tiraron al suelo y lo volvieron a arrastrar, señaló el FBI
Momentos después, Minchillo se encontraba contra un muro de piedra. El FBI dijo que Burlew se abalanzó sobre el fotógrafo y lo empujó por encima del muro, haciendo que Minchillo cayera de espaldas. Burlew se inclinó sobre el muro para presenciar la caída de Minchillo, según los expedientes judiciales.
Burlew está acusado de agresión en jurisdicción territorial especial y de cometer actos de violencia física en terrenos restringidos, según los expedientes judiciales publicados el martes. Fue arrestado el jueves.
El abogado de Burlew no respondió a solicitudes de comentarios el martes sobre las acusaciones contra su cliente.
La portavoz de la AP, Lauren Easton, dijo que es "profundamente preocupante que se atente contra los periodistas simplemente por hacer su trabajo".
"Estas acusaciones son una señal alentadora de que los que agredieron a periodistas el 6 de enero tendrán que rendir cuentas", señaló en un correo electrónico.
El mes pasado, Alan William Byerly, de Fleetwood, Pensilvania, fue arrestado bajo cargos de agredir a Minchillo y a los policías durante los disturbios.
Varias personas más han sido acusadas de haber agredido a periodistas, de incitar a la violencia contra miembros de la prensa o de destruir equipos fotográficos que pertenecían a periodistas que cubrían los disturbios, entre ellos un equipo de video de la AP.
Una mujer de Pensilvania ha sido acusada de grabar un incidente —y de supuestamente gritar a los agresores para que rociaran con gas lacrimógeno— a un fotógrafo del New York Times durante los disturbios en el Capitolio.
Cerca de 600 personas han sido acusadas de delitos federales relacionadas con el asalto en los seis meses que han pasado desde que ocurrió. Decenas han sido encausadas de agredir a los agentes de la policía que trataban de proteger el Capitolio.
Register for free to continue reading
Registration is a free and easy way to support our truly independent journalism
By registering, you will also enjoy limited access to Premium articles, exclusive newsletters, commenting, and virtual events with our leading journalists
Already have an account? sign in
Register for free to continue reading
Registration is a free and easy way to support our truly independent journalism
By registering, you will also enjoy limited access to Premium articles, exclusive newsletters, commenting, and virtual events with our leading journalists
Already have an account? sign in