Bloqueo en puente fronterizo EEUU-Canadá entra en quinto día
Una manifestación de camioneros canadienses que bloquean un puente fronterizo con EEUU entra en su quinto día, interrumpiendo el flujo de autopartes y otros productos entre ambos países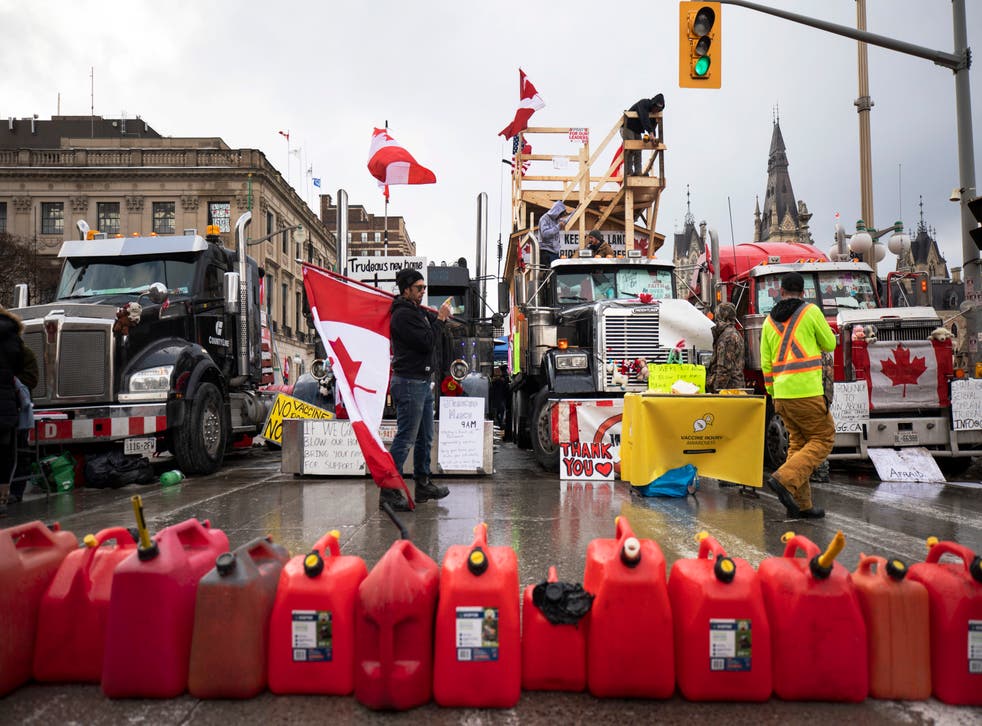 Una manifestación de camioneros canadienses que bloquean el puente Ambassador, fronterizo con Estados Unidos, entró el viernes en su quinto día, interrumpiendo el flujo de autopartes y otros productos entre ambos países. El bloqueo obligó a las plantas automotrices de ambos lados de la frontera a suspender o reducir su producción.
El gobierno de Estados Unidos instó el jueves al gobierno del primer ministro Justin Trudeau a utilizar sus competencias federales para poner fin al bloqueo de los canadienses que protestan contra las restricciones por la pandemia de coronavirus.
La Casa Blanca dijo que el secretario de Seguridad Nacional, Alejandro Mayorkas y el secretario de Transporte, Pete Buttigieg, conversaron con sus homólogos canadienses y les pidieron que ayuden a resolver el conflicto en el puente que conecta a Windsor, Ontario, con Detroit Michigan.
El ministro de Seguridad Pública de Canadá Marco Mendicino, dijo que se enviarán refuerzos de la Real Policía Montada hacia Windsor, Ottawa y Coutts, Alberta, donde también hay bloqueos fronterizos.
Un funcionario del gobierno federal dijo que no se descarta ninguna opción. El funcionario habló bajo condición de anonimato debido a que no estaba autorizado a discutir el tema en público.
Trudeau se reunió de manera virtual con miembros de la oposición el jueves y dijo también que tuvo una conversación con el alcalde de Windsor, Drew Dilkens.
Aseguró que los bloqueos de quienes participan en la llamada Caravana de la Libertad están perjudicando a trabajadores y economías a ambos lados de la frontera.
En tanto, el primer ministro conservador de Ontario, Doug Ford, tomó medidas para cortar el financiamiento de las protestas al solicitar con éxito a una corte que congele millones de dólares en donativos para la caravana realizados a través del sitio GiveSendGo. Ford se ha referido a las manifestaciones como una ocupación.
Previamente, las autoridades canadienses habían obligado a GoFundMe a cortar el financiamiento después de que los organizadores utilizaron el portal para recaudar unos 10 millones de dólares canadienses (7,8 millones de dólares). GoFundMe determinó que las labores de recaudación violaron los términos de servicio de la página debido a actividades ilícitas.
Ante la creciente presión política y económica, el alcalde de Windsor anunció que la ciudad buscará una orden judicial para poner fin a la protesta. "El daño económico no es sostenible y debe terminar", informó Dilkens.
El puente Ambassador es el cruce fronterizo de mayor actividad entre Estados Unidos y Canadá, por el que circula el 25% de todo el comercio entre los dos países y los efectos del bloqueo no tardaron en repercutir en la zona.
Ford dijo que su planta de motores en Windsor, Ontario, reabrió el jueves después de cerrar el día anterior por falta de piezas. Sin embargo, la fábrica y la planta de ensamblaje de la compañía en Oakville, Ontario, cerca de Toronto operan a capacidad reducida, precisó la automotriz.
En tanto, Estados Unidos se preparaba para la posibilidad de protestas similares, mientras que las autoridades de París y Bélgica prohibieron los bloqueos de carreteras para evitar que la situación se repita allí.
El Departamento de Seguridad Nacional de Estados Unidos informó en un comunicado enviado a policiales locales y estatales que ha recibido informes de que algunos camioneros planean "la posibilidad de bloquear carreteras en las principales ciudades" en el país una protesta contra los mandatos de vacunas y otros temas.
Según la agencia, la caravana podría comenzar en el sur de California incluso este mismo fin de semana, con la posibilidad de que afecte al tránsito en las zonas donde se llevarán a cabo actividades relacionadas con el Super Bowl y llegar a Washington en marzo, a tiempo para el discurso anual del Estado de la Unión, según una copia del boletín del martes al que tuvo acceso The Associated Press.
La Casa Blanca dijo que la agencia desplegará "personal adicional" para el Super Bowl como medida preventiva.
Las prohibiciones a los bloqueos de carreteras en Europa y la amenaza de tiempo en prisión y fuertes multas se implementaron en parte debido a los mensajes que circulaban en internet de parte de grupos que exhortan a los conductores a reunirse en París y Bruselas en los próximos días.
___
Krisher y Mike Householder informaron desde Detroit. Los periodistas de The Associated Press Aamer Madhani, Ben Fox y Amanda Seitz, en Washington, contribuyeron a este despacho.
Register for free to continue reading
Registration is a free and easy way to support our truly independent journalism
By registering, you will also enjoy limited access to Premium articles, exclusive newsletters, commenting, and virtual events with our leading journalists
Already have an account? sign in
Register for free to continue reading
Registration is a free and easy way to support our truly independent journalism
By registering, you will also enjoy limited access to Premium articles, exclusive newsletters, commenting, and virtual events with our leading journalists
Already have an account? sign in